Black Currant Balsamic Recipes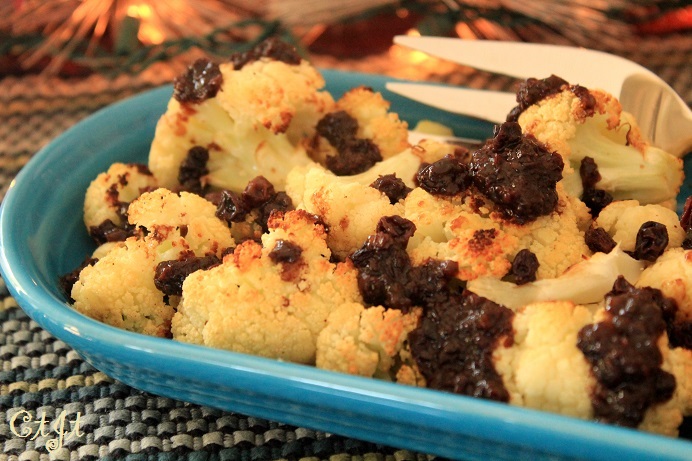 Local Roasted Cauliflower with a Black Currant Balsamic Vinaigrette
A slightly chunky currant sauce with Sigona's Black Currant infused balsamic dresses up roasted cauliflower florets to make this simple side dish special enough for a dinner party. Adapted from Vegetarian Times. Serves 4 as a side.
Ingredients:
1 small (2 lb.) head cauliflower, cut into florets, leaves and stalk discarded
2 TBL, plus 3 TBL, Sigona's Fresh Press Arbequina extra virgin olive oil, divided
2 cloves garlic, smashed
Salt & pepper, to taste
1/2 cup dried currants
2 TBL Sigona's Black Currant infused balsamic
Directions: Preheat oven to 425F degrees.
Toss the cauliflower and garlic with 2 TBL olive oil, then season with salt and pepper. Spread in a single layer on a baking sheet and roast, turning occasionally — about 25 to 30 minutes or until florets tender and are browned on edges.
Meanwhile, make the vinaigrette by placing currants in heat-proof bowl or measuring cup and cover with 1 cup boiling water. Let stand 15 minutes or until softened and plump. Reserve 1/4 cup of the soaking liquid and, separately, 1 TBL of the currants.
Drain the rest of the currants. In a food processor or blender, blend currants, reserved soaking liquid, 3 TBL olive oil and balsamic until smooth. Season with salt and pepper, if desired.
Transfer the roasted cauliflower to a serving dish. Remove garlic cloves, if desired (guests probably don't want to bite into an entire clove). Drizzle with the vinaigrette and sprinkle with reserved 1 TBL currants. Serve.