Broiled Lingcod with a Miso-Mirin Glaze
Broiling fish a good distance away from the heating element allows the fish to cook before the top becomes too blackened. This helps the flavor infuse the fish while creating the perfect crust on top. This lingcod pairs nicely with lightly dressed greens, brown rice and a white wine, such as a sauvignon blanc, which is slightly sweet, or gewürztraminer, which is quite sweet. Serves 2.
Ingredients:
3 Tbsp white miso, such as Miso Master Organic mellow white miso
2 Tbsp mirin
2 Tbsp sake
2 Tbsp water
2 filets of wild, line-caught lingcod , about 6 to 8 oz each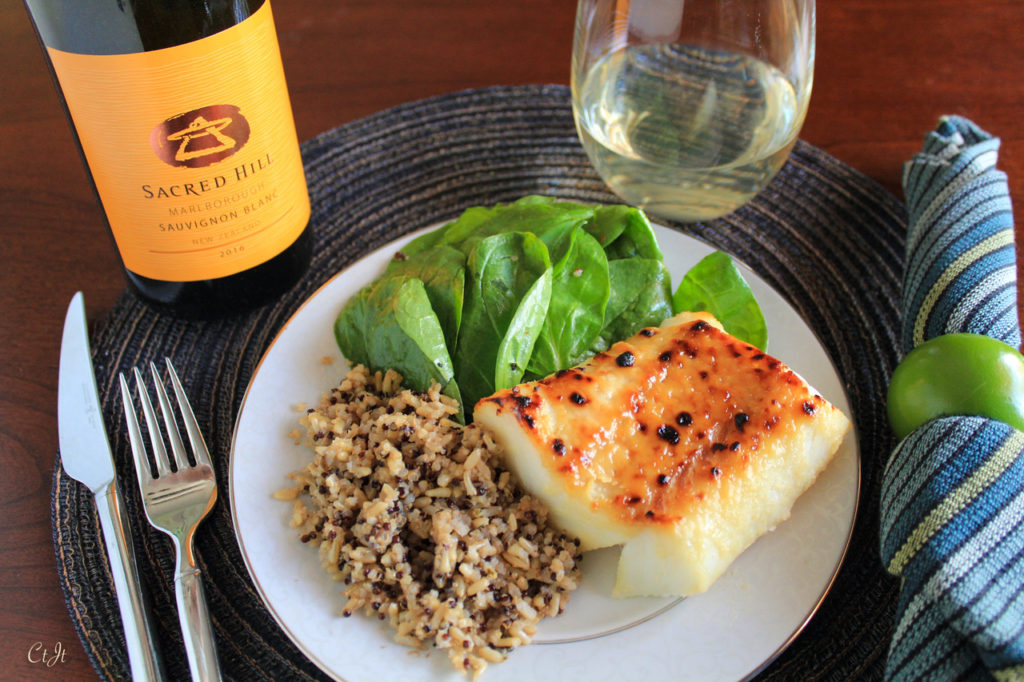 Directions: In a small bowl, mix together the miso, mirin, sake and water. Pour half of the mixture into a 9×9 rimmed baking dish. Lay the filets on top of the mixture then drizzle with the remaining miso mixture, using a brush to coat well. Marinate the filets in the fridge for at least 30 minutes.
When time to cook, adjust oven rack so it is about 10 to 12 inches away from the broiling heating element. Preheat broiler to high heat. Cover a broiler pan with foil. (If you do not have a broiler pan, line a cooling rack with foil and place it on a rimmed baking sheet).
Place the fish on the foil and brush generously again with the marinade; discard remaining marinade. Place fish in oven to broil for 10 to 12 minutes. depending on thickness or desired doneness. If necessary, move the fish up a rung or two for the last, or an additional, couple minutes to obtain a nice, bubbly-browned and crisp top. Keep an eye on the fish as it cooks so the top doesn't brown too quickly. If corners of the fish are browning too quickly, you can use foil to cover the edges while fish finishes cooking.
Serve with a side salad and brown rice, if desired.