In the Kitchen with Sigona's Featuring: Wild, Line-caught Ling Cod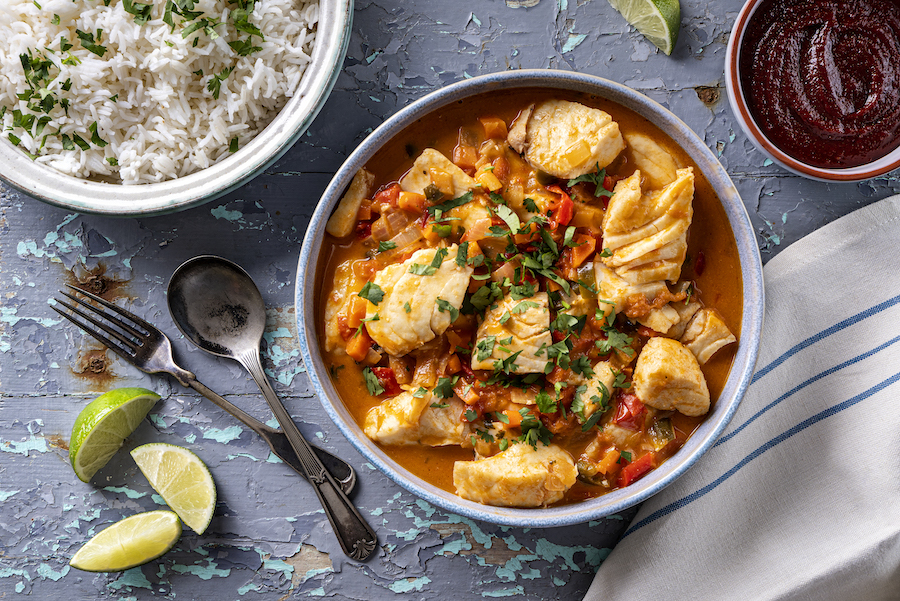 Poached Ling Cod in Tomato Curry
~ with Sigona's Spicy Calabrian Pesto Olive Oil ~
We have wild, fresh and locally caught Ling Cod from Monterey in now at our Redwood City store and we'd love for you to try it! This is an absolutely delicious fish that is incredibly versatile. Our spicy Calabrian pesto oil adds a little heat and fantastic flavor. Adapted from Bon Appetit. Serves 4.
Ingredients:
4 (5 oz. ea.) skinless cod fillets
Salt, to taste
3 Tbsp Sigona's Spicy Calabrian Pesto Oil, plus more for drizzling
Optional: 1 red chile, such as Fresno, halved, seeded, thinly sliced (add it if you like extra heat)
One 1″ piece fresh ginger, peeled, thinly sliced
3 garlic cloves, thinly sliced
4 cardamom pods, crushed
1 tsp ground coriander
1/2 tsp ground turmeric
2 pints cherry tomatoes (about 1¼ lb.)
1/4 cup unsweetened coconut cream (TIP: You can skim off the creamy layer from a can of coconut milk to get the cream)
Salt, to taste
1/2 cup fresh torn basil leaves
Serving suggestion: pair with cooked rice or cauliflower rice
Directions: Lightly season the ling cod with salt and set aside.
In a medium-large skillet, heat 3 tablespoons olive oil over medium heat. When hot add the pepper, (if using), the ginger and garlic. Cook, stirring often, until garlic has softened but hasn't started to color or burn. Stir in the spices and cook for 30 seconds or until fragrant.
Add the tomatoes and cook for about 12-15 minutes, stirring occasionally, until their skins burst and they've released their liquid. Add the coconut cream to the tomato mixture. Stir to combine then taste and season with salt as desired.
Reduce heat to medium-low. Nestle the seasoned cod into the tomato curry mixture. Cover the skillet and cook at a bare simmer – meaning a couple of small bubbles breaking through the surface every 2 to 3 seconds in different spots – for about 5 to 7 minutes or until fish is opaque throughout and beginning to flake (thicker pieces will take longer to cook).
To serve, spoon servings into individual bowls. Top with torn basil and drizzle each with about 1 teaspoon of the spicy Calabrian pesto olive oil. Pair with cooked cauliflower rice or basmati rice, if desired.
---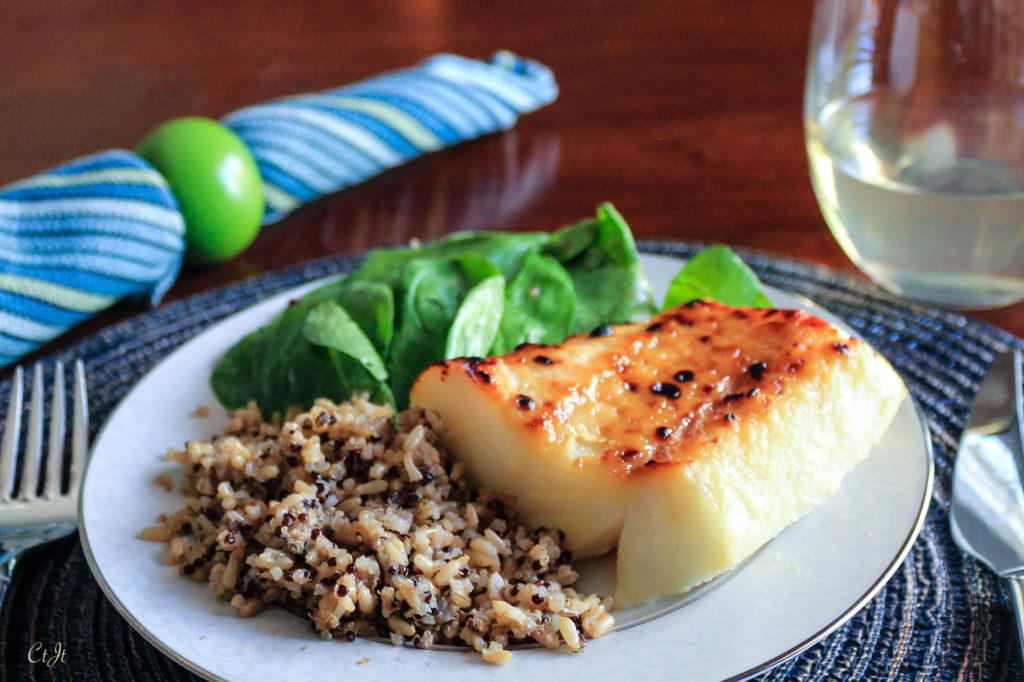 Broiled Ling Cod with a Miso-Mirin Glaze
Broiling fish a good distance away from the heating element allows the fish to cook before the top becomes too blackened. This helps the flavor infuse the fish while creating the perfect crust on top. This lingcod pairs nicely with lightly dressed greens, brown rice and a white wine, such as a sauvignon blanc, which is slightly sweet, or gewürztraminer, which is quite sweet. Serves 2.
Ingredients:
3 Tbsp white miso, such as Miso Master Organic mellow white miso
2 Tbsp mirin
2 Tbsp sake
2 Tbsp water
2 filets of wild, line-caught ling cod , about 6 to 8 oz each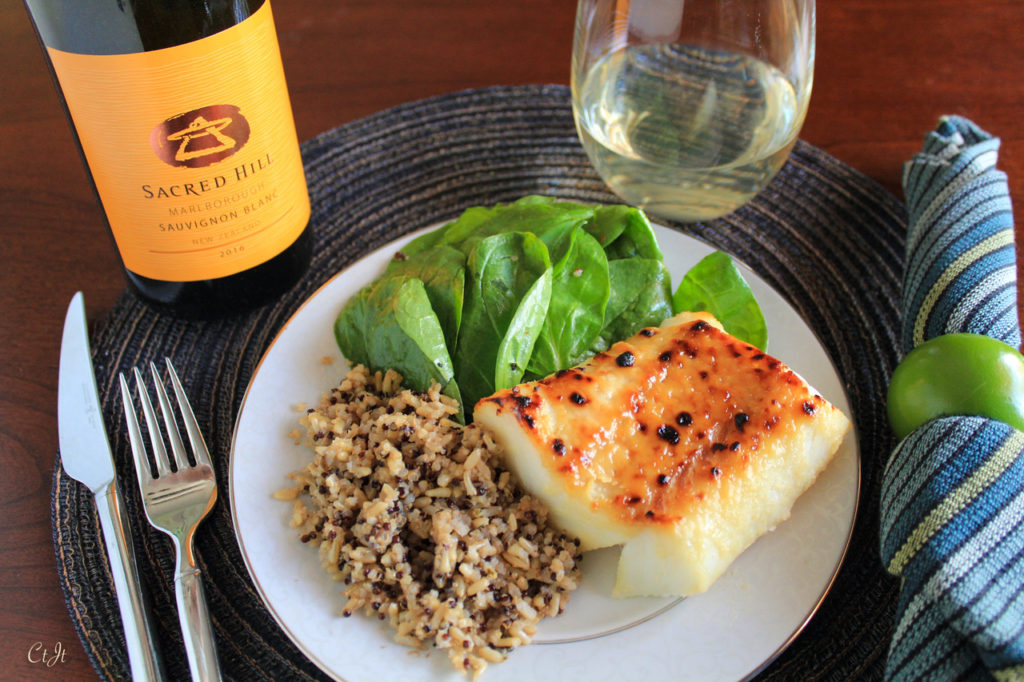 Directions: In a small bowl, mix together the miso, mirin, sake and water. Pour half of the mixture into a 9×9 rimmed baking dish. Lay the filets on top of the mixture then drizzle with the remaining miso mixture, using a brush to coat well. Marinate the filets in the fridge for at least 30 minutes.
When time to cook, adjust oven rack so it is about 10 to 12 inches away from the broiling heating element. Preheat broiler to high heat. Cover a broiler pan with foil. (If you do not have a broiler pan, line a cooling rack with foil and place it on a rimmed baking sheet).
Place the fish on the foil and brush generously again with the marinade; discard remaining marinade. Place fish in oven to broil for 10 to 12 minutes. depending on thickness or desired doneness. If necessary, move the fish up a rung or two for the last, or an additional, couple minutes to obtain a nice, bubbly-browned and crisp top. Keep an eye on the fish as it cooks so the top doesn't brown too quickly. If corners of the fish are browning too quickly, you can use foil to cover the edges while fish finishes cooking.
Serve with a side salad and brown rice, if desired.