In the Kitchen with Sigona's Featuring: Romano Beans
Sautéed Romano Beans and Heirloom Tomatoes with Garlic Oil and Oregano Balsamic
Using our infused oils and balsamics gives dishes more layers of flavor without adding more ingredients. We like to keep it simple so the flavor of the fresh produce shines when amplified by a supportive cast of herbs and seasoning. Garlic oil and oregano balsamic pack a fantastic punch of flavor for these meaty, juicy Italian beans. Serves 4.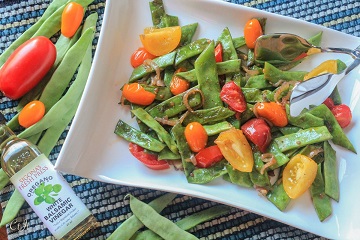 Ingredients:
1 pound Romano beans, ends trimmed, beans sliced on the diagonal into 2" pieces
3 Tbsp. Sigona's Garlic Oil, divided
1 small shallot, sliced
Salt and pepper, to taste
About 1 cup heirloom cherry or grape tomatoes, sliced
1 tsp. Sigona's Oregano Balsamic
Optional: Freshly grated Parmigiano-Reggiano
Directions: In a large skillet, heat 2 tablespoons of the olive oil over medium heat. Add the shallot, season with salt and pepper. Sauté, stirring occasionally, for about 1 to 2 minutes or until the shallot has softened but hasn't browned. Use a slotted spoon to remove the shallots from the pan, leaving oil in the skillet.
Add the remaining tablespoon of oil to the skillet over medium heat. Add the beans, season with salt and pepper. Sauté, stirring frequently, for about 3 to 5 minutes or until beans have browned but are crisp-tender.
Add the tomatoes and cooked shallots to the skillet. Cook for about 1 to 2 minutes, stirring gently, then remove from heat.
Drizzle the oregano balsamic over the mixture and gently toss to coat. Transfer to a serving dish. Serve at room temperature.
Charred Romano Beans with a Creamy Tarragon Dressing
Romano beans are longer, wider and flatter than a regular green bean, such as a Blue Lake bean. Romanos are meaty and juicy, and do well when paired with other strong flavors as they have a mild taste. This creamy tarragon dressing provides an herbaceous, citrusy note to the summery char on the beans. Adapted from Cooking Light. Serves 2 to 4.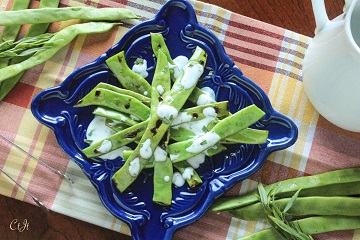 Ingredients:
2 Tbsp. plain Greek yogurt (such as 2% Fage)
2 Tbsp. whole buttermilk
2 tsp chopped fresh tarragon, plus more for garnish
1 tsp. fresh lemon juice
Salt and pepper, to taste
1 Tbsp. Sigona's Fresh Press Extra Virgin Olive Oil (For another layer of flavor, check out our infused oils, such as Meyer Lemon Fusion, Herbs de Provence or one with a little kick for some spice.)
1/2 lb. Romano beans, ends trimmed
Directions: In a small bowl, whisk together the yogurt, buttermilk, tarragon, lemon juice salt and pepper.
In a large bowl, toss the beans with the olive oil, season with salt and pepper.
Heat a large skillet over medium-high heat (more on the high side). When hot, add the beans and cook, stirring occasionally, until they're lightly charred in spots, but the beans are tender-crisp, about 3 to 5 minutes.
Remove the beans from the heat and transfer to a serving platter. Spoon the yogurt-tarragon sauce over the beans and serve.
Pasta alla Genovese with Romano Beans
Pasta alla Genovese is a rustic northern Italian dish made with simple ingredients, but the flavor is out of this world. The trick to making something simple yet flavorful is using fresh, local ingredients. Making your own pesto, for example, will make all the difference. Another trick to this dish is to use a heavy hand when salting the water. Potatoes and pasta are bland ingredients; the only way to get flavor into the two ingredients is to season the water before adding boiling them. Serves 4 to 6.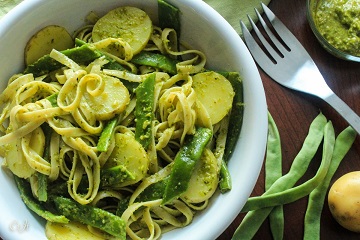 Ingredients:
3 to 4 small Yukon Gold potatoes, sliced into rounds 1/4-inch thick
Kosher salt
1 lb. long pasta, such as capellini, fettuccine, linguini, etc. (Sigona's has a wide range of fresh, locally made pastas as well as dry pasta from which to choose.)
About 1/2 to 3/4 lb. Romano beans, ends trimmed, beans sliced to pieces 2- to 3-inches long
4 to 6 oz. basil pesto, store-bought or make your own (recipe follows)
Directions: Bring salted water to a boil in a large pot. Add potatoes and boil for 10 minutes or until tender but not falling apart. Using a slotted spoon, remove the potatoes to a plate and set aside.
To the boiling water, add pasta and cook for about 6 minutes. Add beans to the pasta and continue to cook pasta and beans until pasta is al dente. Reserving about a cup of the pasta cooking water, drain the pasta and beans then place in a large bowl.
Add pesto to the pasta and toss well to coat. Add in a little of the reserved pasta water at a time, up to 4 tablespoons, to thin the pesto and make more of a sauce. Add the sliced potatoes and gently toss to coat in the pesto. Transfer to a serving dish; serve warm.
Basic Basil Pesto
One or two large bunches of basil (about 2 cups packed leaves)
1/3 cup pine nuts, toasted until golden and then cooled (optional)
2 cloves of garlic, more or less depending on how much garlic you like
1/3 to 1/2 cup Sigona's Fresh Press Extra Virgin Olive Oil
1/2 cup freshly grated Parmigiano-Reggiano or Pecorino
Sea salt and pepper, to taste
Directions: Combine the basil in with the pine nuts in a food processor and pulse a few times to  chop. Add the garlic and pulse a few more times.
Slowly add the olive oil in a constant stream while the food processor is on. Pause to scrape the sides of the bowl with a spatula once in a while to make sure all ingredients get mixed. Add the grated cheese and pulse again until blended. Season to taste with salt and pepper.