Recipe Roundup: Herbes de Provence Olive Oil
Herbes de Provence is a term use for the mixture of a collection of herbs that all work well together, with the basic recipe being a combination of lavender, rosemary, savory, thyme and bay leaf. This oil works well with poultry and pork, as well as winter squashes. It is also nice when paired with fruity balsamics, such as cranberry pear, as you'll see in some of the recipe suggestions that follow:
Simple Savory Omelette with Herbes de Provence and Fresh Veggies
Here, two French culinary concoctions combine to create one delicious dish. Herbes de Provence is the name used for a spice mixture common in the Provençal region of France, and an omelette…well, maybe just the word hails from the French language, but the popularity of the dish and its name has something to do with Napoleon Bonaparte and a now-annual omelette festival in Bessieres, France (Google it!). Long story short, our Herbes de Provence olive oil adds an infusion of flavor to an omelette without adding heaps of ingredients. More ingredients makes for a tasty omelet, but can make an omelet difficult to cook and fold! Inspired by The Olive Oil & Vinegar Lover's Cookbook. Makes 1 large omelette.
Ingredients:
2 crimini mushrooms (baby bellas), sliced
1 sweet mini pepper, diced, or 1/4 cup diced bell pepper
1 to 2 green onions, diced
Salt and pepper, to taste
3 eggs
2 Tbsp freshly grated Thomasville Tomme cheese, plus more for garnish
Half a medium avocado, peeled and sliced
Directions: Heat 1 tablespoon oil in an 8" or 10" nonstick skillet over medium heat. Add the vegetables, season with salt and pepper, and sauté for about 2 minutes. Reduce heat to medium low.
Meanwhile, whisk the eggs with the remaining tablespoon oil. Whisking well until the mixture is foamy.
Add the eggs to the skillet, pouring over the vegetables. Add the cheese and allow the egg to cook for about 1 minute before slowly swirling the pan to move the uncooked egg to the edges of the pan for another 30 seconds or until it is nearly set. Using a large rubber spatula, carefully fold the omelet in half. Cook another minute then remove from the pan.
To serve: Either present the omelet whole or divide it into halves or fourths. Top with sliced avocado and another sprinkling of cheese. Serve immediately.
---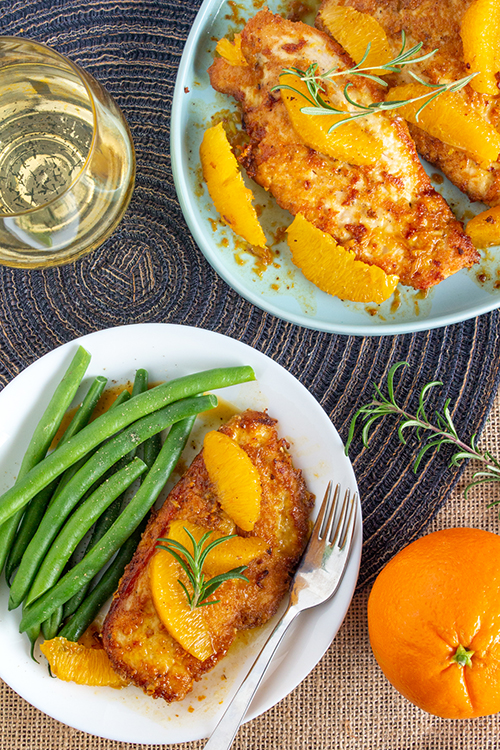 Chicken Paillards with Navel Orange Pan Sauce
The saltiness from the Parmigiano Reggiano paired with the bright citrus from the Navel oranges creates a deliciously elegant yet simple, savory dish. The sweeter the orange, the better — now is the time to get some outstanding locally grown oranges. Adapted from Eating Well. Serves 2 to 4.
Ingredients:
3 Navel oranges
2 chicken breasts, about 1.25 to 1.5 lbs. total
Salt and pepper, to taste
1 large egg, beaten
3/4 to 1 cup freshly grated Parmigiano Reggiano cheese
2 Tbsp Sigona's Herbes de Provence Fresh Press Extra Virgin Olive Oil
2 Tbsp butter, divided
Fresh herbs, for garnish
Directions: Zest and juice one of the oranges into a bowl. *Segment (see note on supreming citrus) the remaining oranges, catching the juices in the bowl of zest and juice; set the segments aside. Squeeze any remaining juice from the membranes and peels into the bowl with the zest and juice. Set aside.
Slice the chicken breasts in half horizontally to create four halves. Lay halves on a cutting board and cover with plastic wrap. Use a meat mallet, glass or small skillet to pound chicken until about 1/4 inch thick. Season with salt and pepper.
Pour the beaten egg onto a small plate. Place the grated cheese on another small plate. One at a time, dip both sides of the chicken into the egg then dredge in the cheese. Set aside.
Heat oil and 1 tablespoon of the butter in a large skillet (non-stick or cast iron) over medium-high. Add the chicken and cook, flipping once, until golden brown and cooked through, about 7 minutes total (an instant-read thermometer inserted in the thickest part should read 165 degrees F). Remove chicken and set aside.
To the same skillet, add the orange juice and zest. Bring to a boil and cook for 1 minute. Add the orange segments and remaining butter; cook, stirring gently, until butter has melted and is incorporated. Season with salt; transfer sauce to a bowl.
To serve, arrange the chicken on a serving dish or individual plates. Drizzle some of the sauce and a few orange segments over the top of each chicken breast. Garnish with herbs and serve immediately.
*Supreming citrus: Creating citrus segments takes time and patience, but is well worth the effort! To do this, cut the top and bottom off your citrus fruit. Slice the peel from the fruit, top to bottom, getting as close to the flesh as possible. Once the peel is removed, slice any remaining pieces of white pith from the fruit so no white remains. Then, working over a bowl to catch the juices, slice closely along the sides of each membrane to neatly remove the citrus segments in between. And there you have it!

---
Butternut Squash Roasted with Cranberry-Pear Balsamic and Herbes de Provence Olive Oil
This is a simple, delicious side for the holidays. Serves about 4 to 6.
Ingredients:
Directions: Preheat oven to 375°F. Line a rimmed baking sheet with foil; set aside.
In a large bowl, whisk together the balsamic and olive oil. Add the squash and toss until all pieces are coated evenly.
Use hands or a spoon to scoop the squash out onto the baking sheet, spreading it out in a single layer. Drizzle any remaining balsamic and oil on the squash. Season generously with salt and pepper.
Roast for 35 to 40 minutes; stir squash around or shake the pan at least twice while roasting so the pieces don't stick or get too crispy on the bottom. Roast until the squash is tender and has a nice caramelized color.
Taste for seasoning, transfer to a serving dish and enjoy warm. Drizzle lightly with more olive oil or balsamic, if desired.
Big Sur On a Cheese Board
This cheese is simply lovely on a cheese board, drizzled with sweet honey and served alongside Marcona almonds and salty prosciutto. Enjoy!
What you need:
• 1 round Big Sur cheese from Stepladder Creamery
• At least 1/2 cup Marcona almonds, roasted and salted or plain (look for them in the Sigona's dried fruit & nut section)
• Honey, such as a mellow-flavored option from Honey Hole Honey Co., available only at Sigona's
**Optional flavored almonds:
• 1 tsp. a Sigona's infused oil, such as Herbes de Provence, for tossing the marcona almonds
• A pinch of sea salt
Directions: Lay out half of the prosciutto on a serving tray, overlapping a little. Roll the remaining pieces; set aside. Cut a wedge out of the Big Sur and set the pieces on the prosciutto. Sprinkle the cheese and prosciutto with **almonds, add the rolled prosciutto to the tray and drizzle the entire dish with a couple tablespoons honey.
**If desired, toss the marcona almonds with an infused Sigona's Olive Oil and a pinch of salt.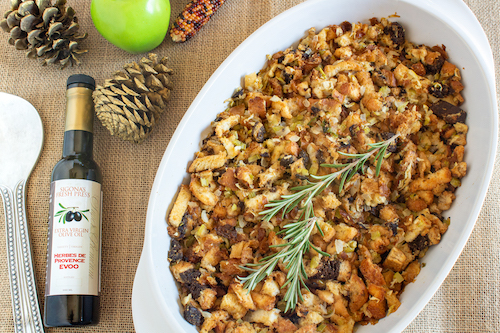 Thanksgiving Stuffing with Herbes de Provence Oil
Some like to stick to "simple is best" when it comes to stuffing for the holidays. Our Herbes de Provence infused olive oil helps keep a this must-have side simple while providing excellent flavor. Inspired by Serves 8 to 10.
Ingredients:
2 stalks celery, diced (about 1 cup)
1 medium onion, diced
Salt and pepper, to taste
2 Tbsp butter
32 oz chicken stock
1 lb. bread cubes for stuffing (use already prepped and dried cubes or make your own*)
1 Granny smith apple, quartered, cored and grated
Directions: Preheat oven to 350°F. Heat olive oil in a large pot over medium heat. Add the onion and celery; season with salt and pepper. Sauté, stirring occasionally, for about 7 minutes or until the onion and celery have softened. Add the butter and stock then bring to a simmer. Turn off the heat and stir in the bread cubes and grated apple. When combined, transfer to a baking dish.
Bake the stuffing for 30 minutes or until stuffing is nicely browned and cooked through. Serve warm.
*DIY Breadcubes for Stuffing: Preheat oven to 300°F. Cube the bread into 1/2" cubes. Spread out the cubes on one or two rimmed baking sheet(s). Place the cubes in the oven and bake, shaking pan about every 10 minutes, until the bread is lightly toasted and is totally dried out, about 40 minutes. Remove from oven and allow to cool completely before bagging or using in a recipe.
Grilled Cantaloupe with Prosciutto, Tarragon and Torn Mozzarella
We usually prefer to keep our fruit raw, but sometimes you just can't go through a summer without tossing some fruit on the grill! Grilling cantaloupe brings out a warm, brown-sugary sweetness that pairs even more deliciously with salty prosciutto. Our Herbes de Provence oil and fresh tarragon give this dish a perfect finish. Inspired by Food & Wine. Makes 8 to 10 pieces.
Ingredients:
Half a local cantaloupe, seeded
4 fresh figs, halved lengthwise (optional)
Sigona's Herbes de Provence Olive Oil, for brushing and finishing
Sea salt and freshly ground black pepper, to taste
8 to 10 slices prosciutto (one per wedge of cantaloupe)
1 (8 oz) ball fresh mozzarella
2 Tbsp chopped fresh Tarragon, plus more for garnish
Directions: Heat an indoor grill pan or outdoor grill over high heat. Brush the grates with oil.
Slice the melon into about 8 wedges that are at least 1-inch thick in the middle. Slice off and discard the rind, staying close to the fruit. Brush the cantaloupe with oil; season with salt and pepper. Grill the wedges about 2 minutes a side or until grill marks appear. If cooked much longer, the fruit will become too soft. Remove cantaloupe to a plate and allow to cool to the touch. If including figs, brush the cut side with oil and place them on the grill, cut-side down, for about 45 seconds or until grill marks appear. Remove and set aside.
When cantaloupe has cooled, wrap a slice of prosciutto around the middle of each wedge; arrange the wrapped wedges on a serving tray. Add the grilled figs around the tray, if using.
Instead of slicing the mozzarella, try tearing it. Grab hold of a corner of the cheese and pull; it will tear along it's natural fault lines, not only giving the cheese a more rustic look, but also allowing it to soak up more flavor. Dot the mozzarella around the dish.
Sprinkle the chopped tarragon on top of the fruit and cheese, season with salt and pepper and finish with a drizzling of oil. Garnish with additional sprigs of fresh tarragon. Serve at room temperature.
Watermelon & Tomato Salad with a White Balsamic Vinaigrette on a Bed of Butter Lettuce
Juicy, crisp, flavorful, salty-sweet. It's hard to decide just how to describe this fantastic summer salad. It goes perfectly with grilled meats. As for the cheese, ricotta salata is another option, or leave it off for a dairy-free dish. Serves 4.
Vinaigrette:
1/2 cup Sigona's Fresh Press Extra Olive Oil (Mix it up! Introduce another layer of flavor by using one of our infused oils, such as Garlic Oil, Meyer-Lemon Fusion Oil or Herbes de Provence Olive Oil.)
1/4 to 1/3 cup Sigona's Premium White Balsamic (start with 1/4 cup and add more if you want more zing)
About 2 Tbsp honey, such as Honey Hole Honey Co., raw, local, unfiltered honey, available only at Sigona's
1 Tbsp Dijon mustard
Salt and pepper, to taste
About 1/2 to 1 tsp. fresh minced or dried herbs and/or 1 clove garlic, to taste (dill, Italian mix or basil are nice)
Salad:
1 mini seedless watermelon, sliced into strips, cubes or triangles, rind discarded
1 cup halved cherry or grape tomatoes (different colors are lovely)
2 green onions, sliced on the bias
1 to 2 Tbsp minced fresh basil, to taste
About 2 oz. myzithra or ricotta salata cheese, shaved (leave off for dairy-free)
4 to 8 leaves of butter lettuce
Directions: Add all vinaigrette ingredients together in a jar with a lid. Shake until the mixture is emulsified (thickened) and ingredients are well incorporated.
In a large bowl add the watermelon, tomato, green onion and basil. Add about 2 tablespoons of the vinaigrette and gently toss to coat.
To serve, place a butter lettuce leaf or two on 4 individual salad or dinner plates. Top the lettuce with the watermelon salad; finish each dish with shaved myzithra. Serve remaining vinaigrette on the side.
Artichokes on the Grill
If you plan on grilling some meat as an entree, you might as well grill up some artichokes while you're at it. You can prep and steam artichokes while you take the chill off any meat you plan to grill. Serves 3 to 6.
Ingredients:
Directions: Prepare the artichokes by removing the smaller, outer and discolored leaves. Trim off the stem so the artichoke will sit upright. Cut the top fourth off of the artichoke and then use scissors to cut off any remaining sharp tips. Slice the artichokes in half and use a spoon to scoop out the fuzzy choke, also removing any purple leaves. Rub all cut edges and the hulled middle with lemon wedges.
Steam artichokes in a steamer basket over boiling water for at least 20 minutes, more if the artichokes are quite large. They are done when the heart can be easily pierced with a knife. They'll cook further on the grill.
Prepare a grill over medium-high heat. Lightly brush the artichokes all over with olive oil; season with salt and pepper. Place the artichokes on the grill, cut side down. Grill, covered, for 5 to 10 minutes, until nice grill marks appear on the cut sides of the artichokes.
Serve warm or at room temperature with your favorite dipping sauce.
Gala Apple, Sausage and Fennel Skewers
A combination of sweet, smokey and herbaceous all together on one skewer. Grilling adds depth of flavor to all the ingredients, highlighting the smokey flavor of the sausage while caramelizing the natural sugars in the apple and fennel. Inspired by Rachael Ray. Serves 2 to 4.
Ingredients:
1 bulb fennel, cut into 1-inch pieces or chunks
1 tsp. minced fennel fronds
2 locally grown Gala apples, halved, quartered and seeded; quarters cut into 3 or 4 slices each (aim for 3/4-inch wide slices)
About 16 oz. smoked sausage, such as any of Aidells sausages found at Sigona's, cut on the bias into 1-inch slices
Special equipment: at least 4 wooden* or metal skewers
*If using wooden skewers, soak them in water for at least 10 minutes before threading on ingredients.
Directions: Toss the fennel, fennel fronds, apple, sausage and olive oil together in a large bowl.
Heat an outdoor grill or indoor grill pan over medium-high heat.
Thread the ingredients onto the skewers, using a sausage-fennel-apple pattern.
Place the skewers on the grill and cook, without moving, for about 5 minutes. Flip them over and cook another 3 to 5 minutes. Close the lid of the grill or loosely cover the grill pan with foil for another 2 minutes or until the apples have softened and the sausages are warmed through. Remove the cooked skewers to a serving platter. Serve immediately.
Local Asparagus Tossed with a Sigona's Oil & Balsamic Vinaigrette
Simple, easy and, if I may, elegant. Asparagus cooks in a flash, so prepare this dish just as dinner is about ready. Even going back to Rome, the Emperor Augustus is said to have dispatched orders "to be done in less time than it takes to cook asparagus."
Ingredients:
Cook the asparagus one of two ways:
1). Place the asparagus in a steamer basket over boiling water. Cover and steam about 3 minutes or until the spears are bright green and tender, yet crisp.
2). In a large skillet, bring about 2 inches of salted water to a boil. Add asparagus to the pot in one layer and cook until tender-crisp, about 5 minutes. Drain.
Meanwhile, in a large bowl whisk together the balsamic, mustard, salt and pepper. Drizzle in the oil and whisk until the mixture is emulsified (thicker).
Toss the asparagus with the vinaigrette, transfer to a serving platter. This dish is good served warm or chilled.