The Bartender Gift Set Recipes
Find our 4-Bottle Gift Pack in our markets or online at www.sigonas.com.
These 60 ml sampler bottles are perfect for hostess gifts, budding bartenders, mixologists or for your office party gift exchange.
Included in this set:
Sigona's Cranberry-Pear Balsamic
Sigona's Lemongrass-Mint White Balsamic
Sigona's Neapolitan Herb Balsamic
Sigona's Blackberry-Ginger Balsamic
Each set contains recipes for:
Cranberry-Pear Balsamic & Seltzer Cocktail
Lemongrass-Mint Balsamic Mojito
Bloody Mary with Neapolitan Herb Balsamic
Blackberry-Ginger Bramble
Note: bottles pictured below are the 200 ml size. The Bartender kit includes 60 ml bottles.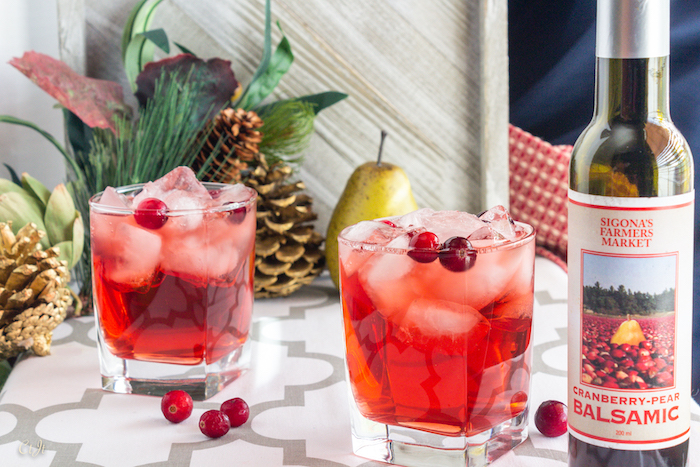 Cranberry-Pear Balsamic & Seltzer Cocktail
Holiday time calls for a signature drink, don't you think? Spiked seltzer is all the rage, so we came up with our own featuring our Cranberry Pear Balsamic. Cranberries and pears are festive foods for the holidays, so we thought it would make the perfect drink. You'll love the pretty red color! For more cocktails featuring balsamics, check out our gift pack called The Bartender. Serves 1.
Ingredients:
6 oz seltzer, club soda or tonic water
Optional: 1 oz vodka
1 to 2 oz cranberry juice, to taste, DIY or store bought (Start with 1 then taste. Keep in mind that tonic water is sweeter than seltzer, for example, so adjust to suit your taste depending on the mixer used.)
Ice
Directions: In a glass, add the seltzer, balsamic, spirits and cranberry juice. Taste and add more juice or spirits as desired (see note on cranberry juice above). Top with ice and garnish with fresh cranberries.
---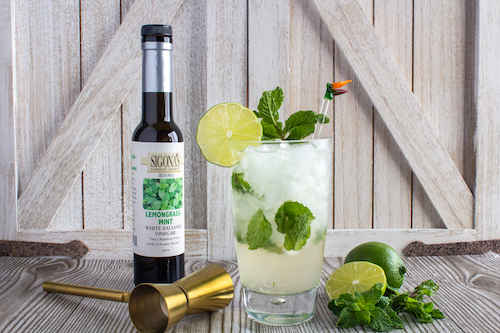 Lemongrass-Mint Balsamic Mojito
This is a light, refreshing drink that's a great to serve with foods that have a spicy kick! Serves 1.
Ingredients:
6 fresh mint leaves, plus a sprig for garnish
1 1/2 Tbsp simple syrup (see below)
1 Tbsp fresh lime juice, plus a lime slice for garnish
2 oz light Rum
club soda
Directions: Place mint, simple syrup, lime juice and balsamic in a tall, wide glass. Using a wooden spoon or a muddler, muddle the ingredients together for about 30 seconds. Add ice cubes, the rum and top with club soda. Garnish with a sprig of mint and a slice of lime.
Simple Syrup
Stir together the water and sugar in a small saucepan. Bring to a boil over medium-high heat then remove from heat and allow to cool to room temperature. Store in the fridge for up to 1 month.
---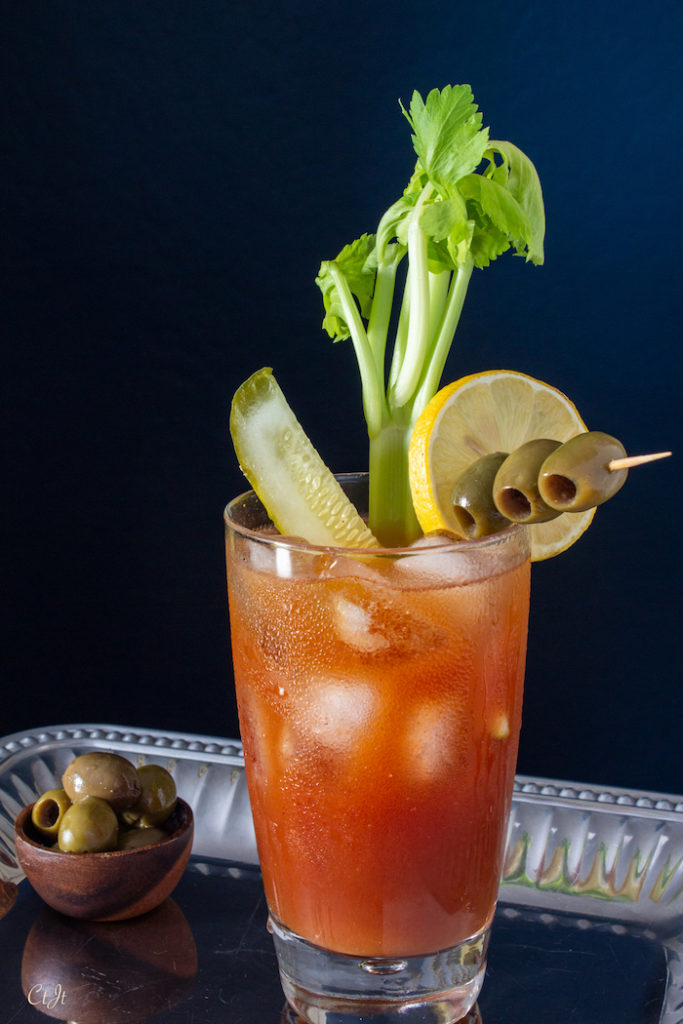 Bloody Mary with Neapolitan Herb Balsamic
In addition to seeing how many edible adornments you can add to the top of your drink, adding balsamic is an exciting way to spice up a Bloody Mary. Our Neapolitan Herb Balsamic is infused with rosemary, marjoram, thyme, garlic and sage — it's absolutely perfect for adding layers of herbaceous and tangy flavor to your drink. Serves 2.
Ingredients:
About 1/2 cup vodka
8 oz. tomato juice
1/2 Tbsp prepared horseradish, or to taste
2 1/2 tsp. Sigona's Neapolitan Herb Balsamic
1/2 tsp. Worcestershire sauce, optional
2 Tbsp fresh lemon juice, more to taste
A couple dashes hot sauce, such as Tabasco
Freshly ground paper, to taste
Ice
Suggested Garnishes
Stalks of celery
Green olives
Lemon wedge
Pickles
Cooked shrimp
Cherry tomatoes
Green chilies
Pickled vegetables (asparagus, beans, etc.)
Directions: In a pitcher, mix together the vodka, tomato juice, horseradish, balsamic, Worcestershire, lemon juice, Tabasco and pepper.
When ready to serve, fill two glasses with ice and then add the Bloody Mary mix. Add a stalk of celery and any other garnish you wish.
---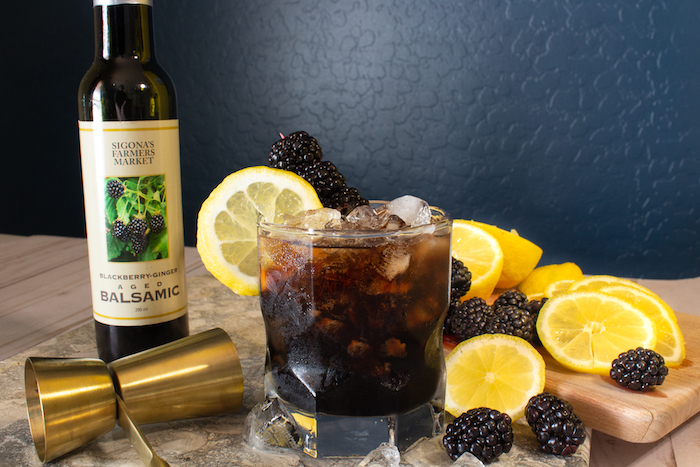 Blackberry-Ginger Bramble
The Bramble is a gin-based cocktail made famous in London in the 1980s. Instead of using simple syrup and crème de mure, a blackberry liqueur, we use our blackberry ginger balsamic, which has all the flavor and sweetness needed to create this drink. Serves 1.
Ingredients:
Directions: Fill an Old Fashioned glass with crushed ice. Stir together the gin and lemon (shake in a cocktail shaker, if you're so inclined) and then pour over the ice. Add the balsamic, garnish the glass and serve.
---