Watermelon Fries with Chili-Lime Seasoning and a Creamy Lime Dip
Watermelon Fries with Chili-Lime Seasoning and a Creamy Lime Dip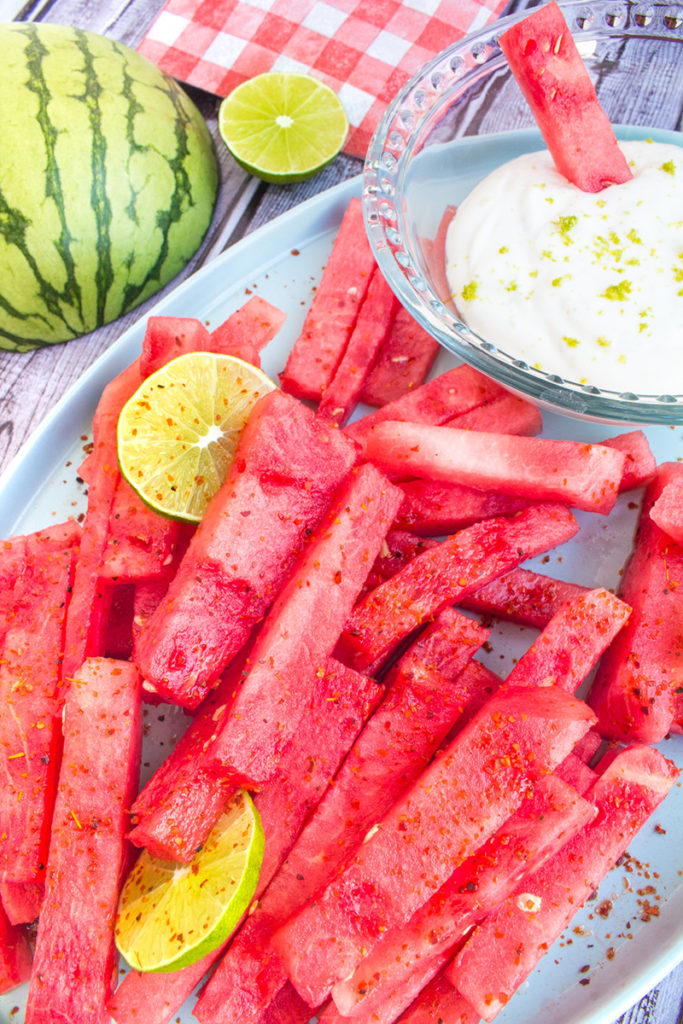 You'll love these gluten-free and vegan and dairy-free friendly fruit fries! The chili-lime seasoning adds an amazing spice and zest, and the creamy dip adds a cool, citrusy element that is simply perfection. This crisp and refreshing dish is the ultimate summer appetizer. Makes 1 cup of dip.
Ingredients:
1 mini watermelon
1 cup sour cream or plain yogurt, dairy or dairy-free, such as coconut
2 Tbsp honey
2 tsp lime zest
2 Tbsp lime juice (about 1 lime)
Chili-lime seasoning, such as Tajin
Directions: Cut off the rind from the top and bottom of the watermelon then stand it up on one end. Slice off the rest of the rind as close to the flesh as possible. Cut the watermelon into slices and then into fry-shaped sticks about 3- to 4-inches long. Arrange on a serving platter.
In a medium bowl, whisk together the yogurt, honey, zest and juice.
Just before serving, sprinkle the watermelon with the chili-lime seasoning, to taste. Plate the dipping sauce in a small bowl on the side. Serve immediately.