Rosemary's Pasture-Raised Egg Recipes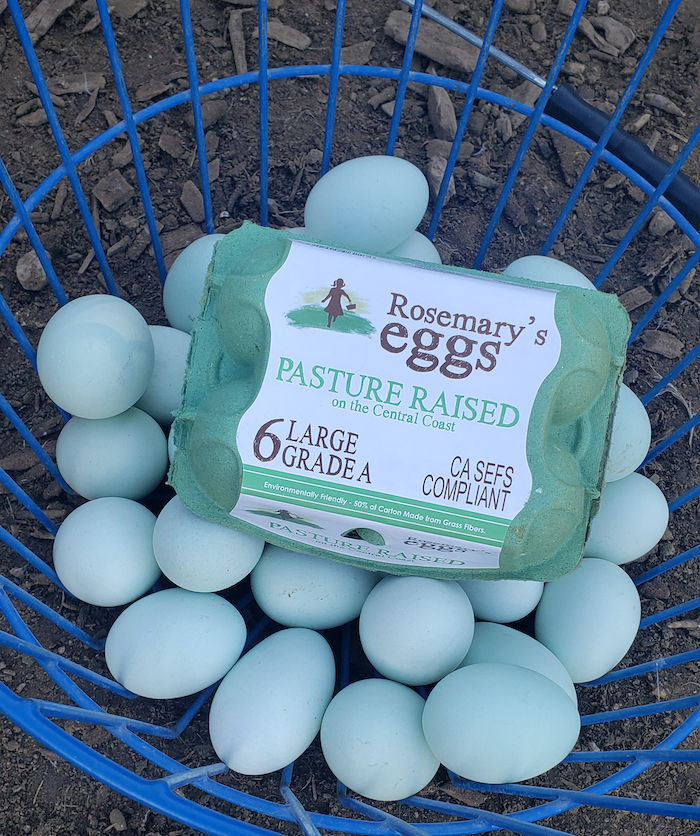 The eggs featured in these recipes are from Rosemary Farm located on California's Central Coast. They come from Azur hens, which are known for their unique blue shells. (For more info about the Azur breed, scroll down past the recipes!) The hens are pasture-raised and live a delightfully happy and healthy life. This means that they lay eggs that are exceptionally nutritious and of course a great source of protein and Omega 3s.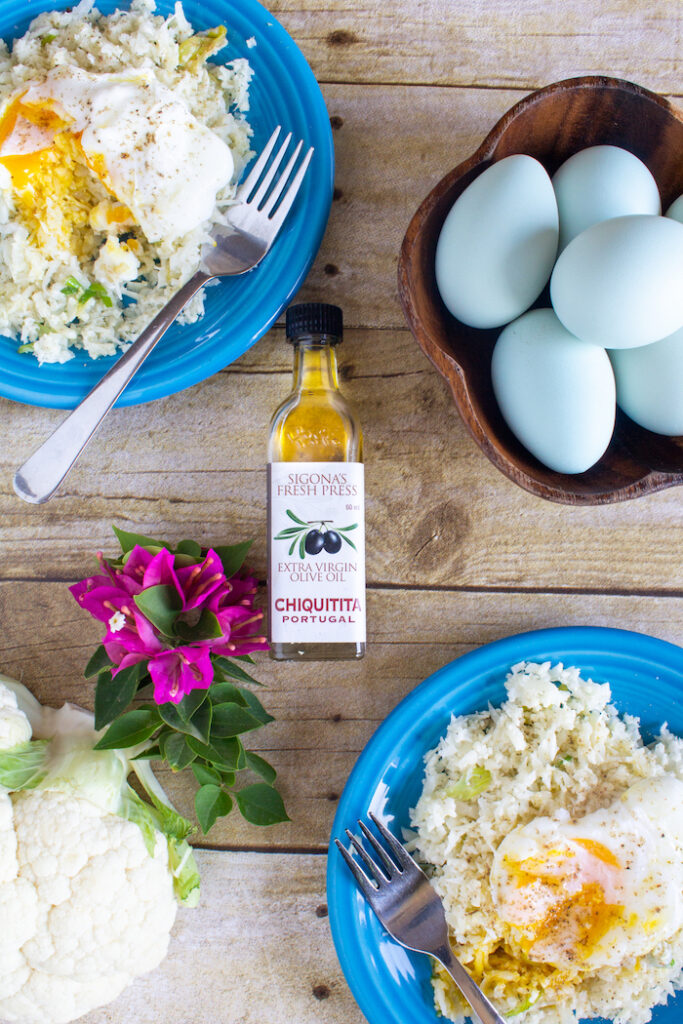 Carmelo's Poached Eggs over Cauliflower Rice with a Chiquitita Olive Oil Drizzle
Poached eggs aren't only for brunch! While they are a brunch-must, they're also a great way to add protein to any meal of the day. This dish is packed with flavor and nutrition, is dairy-free and gluten-free too! You'll love using the Chiquitita oil to cook and as a finishing oil — this new crop oil from Portugal is delicate, mild, creamy and sweet with no bitterness. Serves 2 to 4.
Ingredients:
Half a head of cauliflower, riced*
1 to 2 Tbsp Sigona's Fresh Press Chiquitita Extra Virgin Olive Oil, plus more for drizzling
Spring or green onions (scallions), sliced on an extreme bias; greens and whites separated (1 to 3 onions will do, depending on size and your flavor preference)
Salt and pepper, to taste
1/4 cup white wine, such as a sauvignon blanc or pinot grigio (chicken or vegetable stock is a suitable substitute)
Optional: 1/2 Tbsp butter
1 Tbsp white vinegar
2 to 4 farm-fresh eggs, such as Rosemary's Pasture-Raised Eggs
Directions: *To rice the cauliflower, remove the outer leaves and core then break it into florets. You can either use a box grater to grate the florets or a food processor fitted with the shredder disk blade.
Heat 1 tablespoon oil in a medium sauté pan over medium-high heat. Add the whites of the onion and cook for about 20 seconds total, flipping the pieces at least once so they gently sear, being careful they don't burn. Remove with a slotted spoon and set aside.
Reduce heat to medium/medium-high. If needed, add another tablespoon of oil to the pan then add the riced cauliflower. Stir to coat, season with salt and pepper and allow to cook, stirring frequently, for about 1 minute. Add the wine and allow it to reduce as it cooks. If desired, stir in the butter then add in both the white and green parts of the onion. Cook another minute then remove from heat; keep warm.
Meanwhile, poach the eggs. Bring a medium pot of water to a boil then reduce to low/medium-low and add 1 tablespoon of vinegar. To prepare the eggs, crack them into individual ramekins.
TIP: To help create a nicer looking poached egg, crack the eggs over a fine mesh strainer to remove excess liquid from the whites; the egg white will remain in the strainer. Discard the excess liquid. The fresher the egg, the less excess liquid there will be.
Create a whirlpool/vortex in the hot water by stirring the water in a circular motion. Gently pour one egg at a time into the center of the vortex. Allow the eggs to sit in the water to poach for 2 to 3 minutes or to your liking. The yolks should still be jiggly. Remove from the water with a slotted spoon, use a paper towel to gently pat off any excess water from the bottom and then transfer to a plate; keep warm.
To plate, spoon the cauliflower rice onto individual plates. Top with a poached egg or two then drizzle each dish with a little olive oil. After drizzling, season with salt and pepper to taste. Serve immediately.
---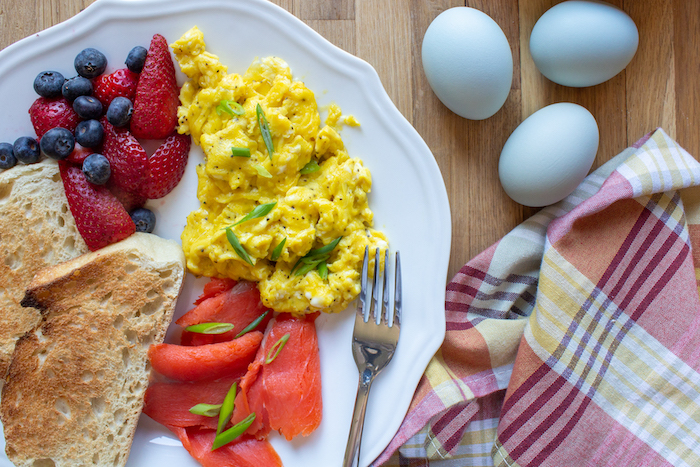 Soft Scrambled Eggs
A soft scramble can change almost anyone's mind about scrambled eggs! The key is to cook them low and slow, stirring constantly, then removing from the heat before they're all done cooking. This results in creamy, silky eggs that are absolutely fantastic. For a rich and luscious option, stir in some ricotta! We love to serve ours with some toasted bread (try our Moo-Na Lisa cheese bread!) and smoked salmon or chorizo. Serves 2.
Ingredients:
4 farm-fresh eggs, such as Rosemary's Pasture-Raised Eggs
Salt, to taste
Pepper, to taste
1 tsp butter
Optional: 2 Tbsp ricotta cheese
Green onions, spring onions or chives, sliced on an extreme bias, as garnish
Directions: Whisk the eggs together with salt and pepper until they're well mixed.
Heat a non-stick skillet over low to medium-low heat. Add the butter and allow it to melt, swirling the pan to spread the butter. Just as the butter begins to show little bubbles, add the eggs. Using a rubber spatula, stir the eggs as they cook. Shake the pan occasionally too to help move around the egg liquid as it cooks to a solid.
Just before the last of the uncooked egg has cooked, remove the eggs from the heat. If using, gently fold in the ricotta. Plate immediately and serve sprinkled with chives, green onions or spring onions.
---
About Azur Chickens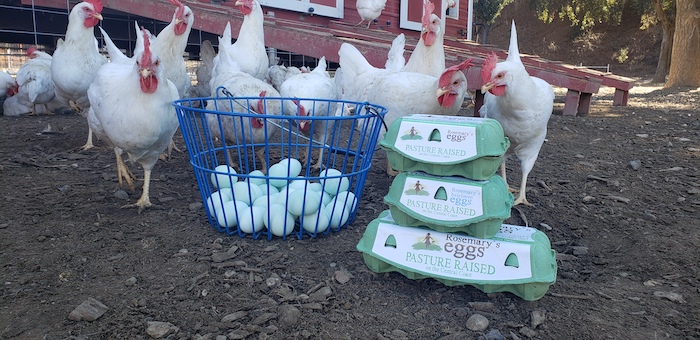 The origins of the breed can be traced back to Chile where blue egg layers were first observed by a Spanish aviculturist, Salvador Castelló, in Chile in 1914.
Castelló thought he had discovered a new a new species, which he duly put before First World's Poultry Congress in The Hague in 1921. At the time, these blue egg laying birds were thought to be unique.
The modern Azur blue egg layer can be traced back to birds rescued from a Chilean ship which foundered off the Hebridean Islands close to Scotland, and subsequently developed by George Malcolm in Scotland in the 1930s.
Bred for its unique blue egg shell color, shell strength and unique plumage, the Azur is a robust and friendly bird, ideal for small scale and backyard egg producers, producing attractive and good quality eggs.
Source: Hendrix-Genetics
For more about eggs from Rosemary Farms, visit: www.rosemaryfarm.com