November Balsamic & Olive Oil Sale Recipes
Each month, we feature a select few of our olive oils and balsamics to offer at a special price. This month we're highlighting our Pomegranate Quince Balsamic, Black Truffle Oil and Fig Balsamic. Stock up now in the store or order them online!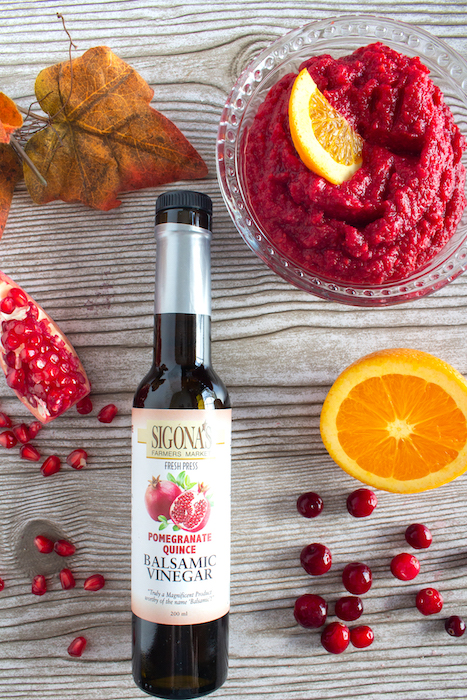 Fresh Cranberry & Orange Relish with Pomegranate-Quince White Balsamic
This beautiful, no-cook condiment is a staple at every holiday table, but it's also great to have in the fridge throughout the year for turkey sandwiches, sprucing up breakfast waffles or just slathering on a dinner roll for something special. Our Pomegranate-Quince white balsamic is tangier than our regular, richly flavored pomegranate, yet it adds just the right amount of sweetness to this relish that there is no need for added sugar. Original recipe from The Olive Oil & Vinegar Lover's Cookbook. Makes about 2 ½ cups.
Ingredients:
Directions: Place the orange (yes, peel and all), cranberries and balsamic in a food processor or blender. Begin by pulsing a few times to break up the larger pieces, then puree the mixture until completely combined. It will still be a little chunky in texture.
Let relish to sit at room temperature for 2 hours before serving, to allow the balsamic to develop the flavors. Taste; add more balsamic by the teaspoonful if necessary.
Store in the fridge in an airtight container for up to one week.
---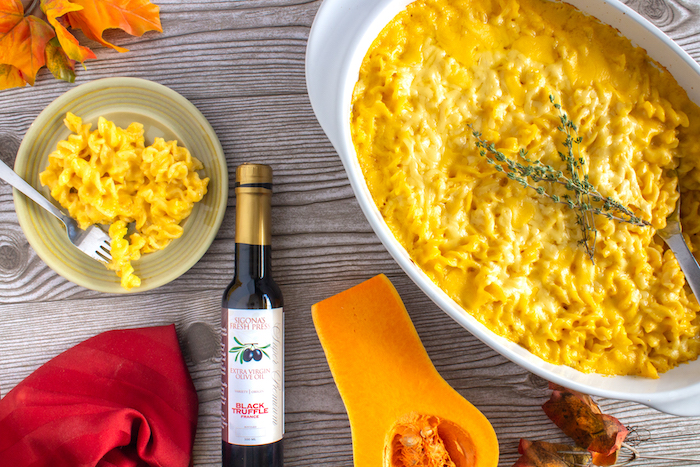 Truffled Butternut Macaroni & Cheese
This dish will fool even the most adamant squash haters. Trust us, we fooled one! There are three different cheeses in this deliciousness, but it's the butternut squash that adds the amazing orange color. There is just a hint of the truffle oil in every bite, which is as it should be. A little of the oil goes a long way! It would make a fantastic Thanksgiving side dish. Inspired by Monadnock Oil & Vinegar. Serves about 8.
Ingredients:
2 cups cubed butternut squash (about 1/2-inch cubes)
16 oz. dry macaroni or pasta shape of choice, such as fusilli
1 Tbsp Sigona's Black Truffle Oil, plus more for serving, if desired (remember, a little goes a long way).
3 Tbsp Sigona's Garlic Oil, plus 1 additional Tbsp for greasing
2 Tbsp butter
1 large shallot, minced
1/2 cup all-purpose flour
3 cups milk
1 cup heavy cream
2 cups, divided, shredded soft, young Gouda, such as Young Farmdal
2 cups shredded white cheddar, such as Moo-Net, found only at Sigona's
1/2 cup grated Pecorino Romano
Fresh black pepper, for finishing
Fresh thyme, for garnish
Directions: Preheat oven to 375°F. Grease a 13×9 inch baking dish; set aside.
Place butternut squash cubes in a medium pot and cover with water. Bring to a boil; cook for 7 to 9 minutes or until fork tender. Drain, set aside.
Cook pasta to al dente in a large pot of salted water. Drain, transfer to a large bowl, toss with 1 tablespoon of truffle oil and set aside.
In the same large pot, melt butter with 3 tablespoons garlic oil over medium heat. Add shallot and cook, stirring occasionally, until translucent. Whisk in flour, creating a paste-like texture. Slowly whisk in the milk until combined, then whisk in the heavy cream. Heat, stirring constantly until the sauce thickens; don't allow it to boil. Reduce heat to low, season with salt and pepper.
Add 1 cup of cream sauce to a blender or food processor. Add squash and puree until smooth. Add puree to remaining cream sauce, then stir in 1 cup of the gouda, all the cheddar and the Pecorino Romano.
When cheese is melted, add the pasta to the pot, scraping any remaining truffle oil from the bowl. Gently fold the pasta into the cheese mixture then transfer to the baking dish. Sprinkle remaining Gouda on top.
Bake for 25 to 30 minutes or until heated through and bubbly. Finish with freshly ground black pepper and garnish with fresh thyme, either as sprigs or stripped from the stem and sprinkled over the top. Allow guests to dot their servings with additional truffle oil, if desired (reminding them a little goes a long way).
---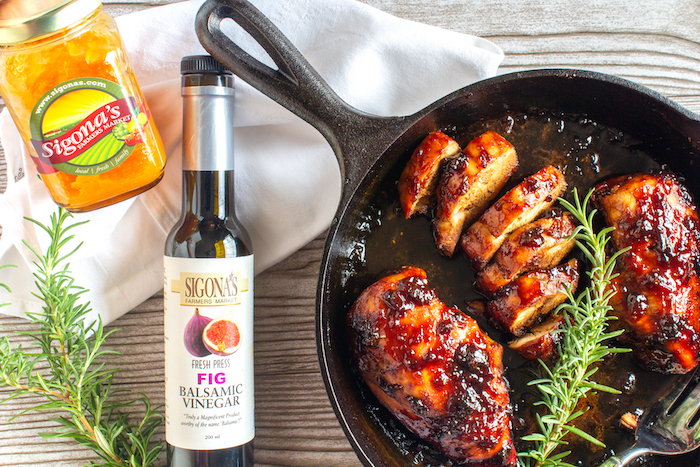 Oven-Roasted Chicken with a Fig-Apricot Glaze
As the balsamic and the jam reduce, their flavors caramelize into a deep, rich glaze that gives chicken a sweet yet savory flavor that's perfect for fall. Serve with maple-whipped sweet potatoes and a simply dressed green salad. Serves 4.
Ingredients:
2 Tbsp butter
1 shallot, diced
1 sprig of fresh rosemary, plus more for optional garnish
2 cloves garlic, minced
2 Tbsp honey, such as raw, local honey from Honey Hole Honey Co., only available at Sigona's
1/2 cup Sigona's Blenheim apricot jam
1/2 cup Sigona's Fig Balsamic
4 boneless, skinless chicken breasts or 6 boneless, skinless chicken thighs
Salt and pepper, to taste
Directions: Preheat oven to 425°F. Melt butter over medium heat in a large, oven-safe, heavy-bottomed skillet, preferably cast iron.
Add shallot and cook, stirring occasionally, until translucent. Add the garlic and cook about 30 seconds more. Stir in the honey, jam and balsamic; add the sprig of rosemary. Reduce heat to medium-low and allow mixture to cook, stirring occasionally, until reduced by about half, about 8 to 10 minutes. Remove rosemary and discard.
Season both sides of the chicken with salt and pepper then add the chicken to the skillet, spooning a bit of the balsamic mixture over the top. Place skillet in oven and roast about 30 to 35 minutes until chicken has an internal temperature of 165°F in the thickest part.
Allow chicken to rest about 5 minutes before slicing and serving.