November 2023 Olive Oil & Balsamic Sale Recipes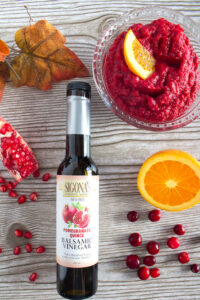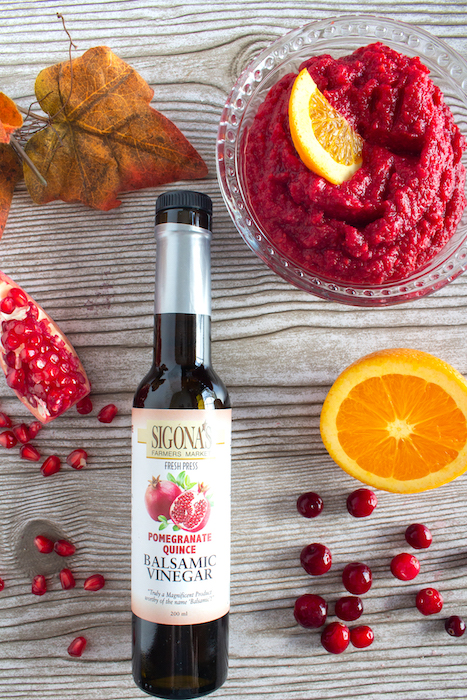 Each month we choose a new selection of infused olive oils and balsamic to put on sale so everyone can get a chance to try something new!
On sale in November:
Pomegranate-quince white balsamic
Garlic olive oil
Baklouti green chili olive oil
Honey-ginger white balsamic
Regularly priced $9.99 each, the olive oils are $2 off and the balsamics are $3 off. The sale is valid online and in our markets through November 30, 2023.
See below for serving suggestions!
See also:
Pomegranate Quince Balsamic Recipe Roundup
Recipe Roundup: Sigona's Garlic Olive Oil
Recipe Roundup: Baklouti Green Chili Oil
Recipe Roundup: Sigona's Honey Ginger Balsamic
Fresh Cranberry & Orange Relish with Pomegranate-Quince White Balsamic
This beautiful, no-cook condiment is a staple at every holiday table, but it's also great to have in the fridge throughout the year for turkey sandwiches, sprucing up breakfast waffles or just slathering on a dinner roll for something special. Our Pomegranate-Quince white balsamic is tangier than our regular, richly flavored pomegranate, yet it adds just the right amount of sweetness to this relish that there is no need for added sugar. Original recipe from The Olive Oil & Vinegar Lover's Cookbook. Makes about 2 ½ cups.
Check out this recipe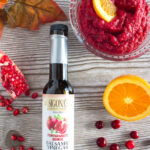 Roasted Butternut and Asian Pear Salad with a Pomegranate Vinaigrette
These flavors may scream fall, but sometimes you just need a hearty, comfort-flavored salad, right? Add cheese or leave it off for a diary-free option. Goat or Feta adds a nice salty and creamy factor, if you choose to use it, and pairs beautifully with the roasted squash and bright, juicy pomegranate seeds. Asian pears are crisp and hold up well in salads, but you can also use apple or pear. Serves about 6.
Check out this recipe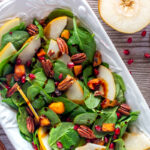 White Turkey Chili with Swiss Chard and Poblano Peppers
This hearty chili will warm your bones on a brisk fall evening. It's also a nice way to incorporate some greens into your meal. Serve with corn muffins, warm tortillas or even naan bread. Inspired by Food Network. Serves 4 to 6.
Check out this recipe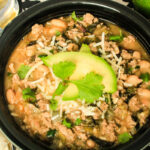 Honey-Ginger Balsamic Sautéed Green Beans
These cook all in the same skillet. There is no need for parboiling or blanching before they're sautéed with the balsamic. Serve these alongside our recipe for One Skillet Chicken with a Satsuma-Vanilla & Marmalade Glaze to make it a complete meal! Serves 4 to 6.
Check out this recipe