Halibut Piccata with Lemon & Caper Sauce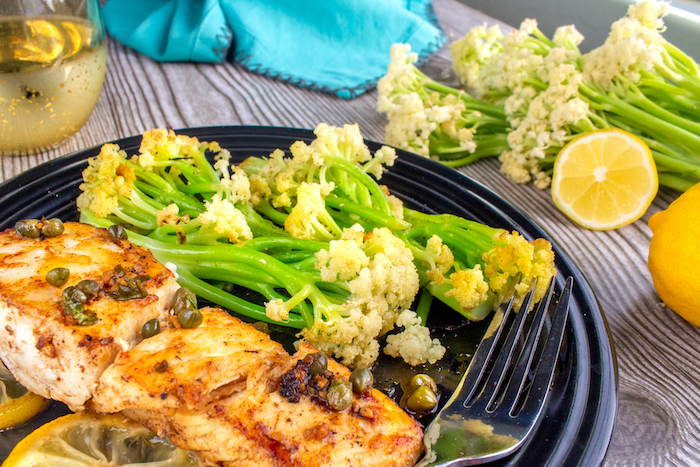 This is a simple, flavorful way to serve halibut. It pairs nicely with florentino, a baby cauliflower that's taking the vegetable world by storm. Serves 2.
Ingredients:
1 lemon
2 halibut fillets, about equal in size, skinned
2 Tbsp butter, divided (look for grass-fed butter if you're on a Keto diet)
1 Tbsp Sigona's Fresh Press Extra Virgin Olive Oil, such as Arbequina, Picual or Chiquitita
Salt and pepper, to taste
2 cloves garlic, minced
1/4 cup white wine, such as pinot grigio or sauvignon blanc (or substitute chicken or vegetable stock)
2 to 3 Tbsp capers, drained
2 Tbsp chopped fresh parsley
Directions: Cut half of the lemon into slices; juice the remaining half. Set slices and juice aside. Season both sides of the fish with salt.
Add 1 tablespoon butter and the olive oil to a medium-large skillet over medium to medium-high heat. When the butter is melted and just starting to brown, swirl the pan and add the fish and the lemon slices. Cook the fish for about 3 minutes per side, depending on thickness, until both sides have a nice sear and the fish is nearly cooked through (it will continue to cook off the heat). Note: thicker pieces will need more time.
Carefully remove the fish and lemons from the skillet and set aside. Lower heat to medium; add the garlic and cook until fragrant, then add the wine to deglaze, scraping the brown bits up off the bottom. Add the lemon juice, capers and parsley; cook for 1 minute. Turn off the heat and add the remaining butter, swirling around the pan until melted.
Place the fish back in the skillet and spoon the pan juices on the fillets. Allow the fish to sit in the sauce for about 1 minutes before plating. Serve immediately with additional pan sauce drizzled on the fillets; garnish with lemons and finish with fresh cracked pepper, if desired.
Serving suggestion: serve sautéed florentino on the side.