In the Kitchen with Sigona's featuring Morel Mushrooms
In the Kitchen with Sigona's featuring Morel Mushrooms
Morel mushrooms are cherished among famous chefs and foodies alike for their rich, creamy flavor that is described as earthy, smoky and nutty. Also, they hold their firmness better than some other wild mushrooms so they lend themselves nicely to hearty or baked dishes.
Check out some of our Morel mushroom recipes and serving suggestions below!
Carmelo's Brandy & Morel Mushroom Sauce over Grass-Fed Beef
Mushrooms and beef are a classic couple, especially when accompanied by a crisp salad and a starch, such as pasta or a baked potato. This sauce is terrific over any Marin Sun Beef, such as the Rib-Eyes or the New York Strip steaks. You can even double the recipe to top a Tri-Tip Roast. This recipe makes enough sauce to evenly top 4 servings of beef.
Ingredients:
6 large Morel mushrooms, sliced
3 TBL. Sigona's Fresh Press extra virgin olive oil
1 large shallot, finely chopped
4 TBL brandy
1 cup beef broth (any type of stock or broth will work)
2 TBL heavy cream
Salt & pepper to taste
4 servings of New York Strip steaks or Rib-Eyes (we suggest Marin Sun Farms grass-fed beef)
Directions: Season beef with salt and pepper. Sear the beef in a large sauté pan for about 1 ½ minutes on each side over a medium high flame. Turn down the heat to medium-low and cook for about another 2- 5 minutes depending on the thickness of the meat.
Remove meat from skillet and cover loosely with foil. Let rest for about 15 minutes.
In the same pan, heat the olive oil over medium high heat. Add the shallot and cook for one minute. Add the sliced morels and stir gently to coat, letting them absorb the oil and cook down a bit.
To the same pan (yes, we are fans of the 1-pan method), add the brandy to deglaze the pan and stir, scraping the bottom to loosen any leftover brown bits. Let the brandy reduce about 1-2 minutes and then add the stock and bring to a light boil. Add in the cream and reduce to low heat. Season with salt and pepper, and simmer the sauce for 1-2 minutes, stirring consistently. Once the sauce is thickened, pour it directly over the steaks. Serve immediately.
---
Salmon Roulade With Garlic Potatoes Morels and Fresh Peas
Just in time for wild King salmon season! This recipe courtesy of Luisa Ormonde of Luisa's Catering in San Carlos Time: 20 minutes. Serves 6.
Ingredients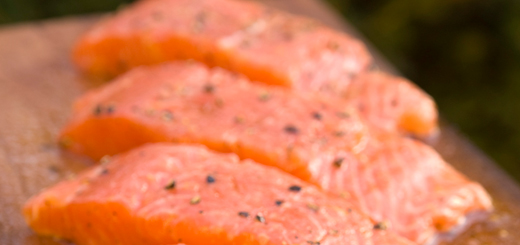 3 large Yukon Gold potatoes, peeled and quartered
2 teaspoons minced garlic
1/4 cup unsalted butter
Six 7-ounce pieces of salmon fillet, each about 1 inch wide, skin removed
Basil infused extra virgin olive oil, to brush salmon (Find it at Sigona's)
English Peas and Morels:
2 TBL butter
6 or so morel mushrooms, halved
splash of dry white wine
splash of cream
2 cups fresh English peas, shelled and steamed
a couple sprigs of fresh thyme leaves
chopped chives, for garnish
kosher salt and white pepper, to taste
Directions: Preheat the oven to 375 degrees F. Line a 9 x 13-inch baking dish with foil.
Place the potatoes in a medium saucepan, and add lightly salted water to cover. Bring to a boil, and cook until soft, about 20 minutes. Drain the potatoes and put them in a mixing bowl. Mash with garlic and 1/4 cup of the butter. Pass the potatoes through a food mill or ricer, then whip until smooth and fluffy. **See note.
Brush the salmon with basil oil and season with salt and pepper. Roll each salmon fillet into the shape of a donut, and affix the ends with a toothpick. Place them in the baking dish. With a piping bag (or ziplock with one end snipped off) fill the center of each piece with the potatoes. Lightly cover with foil (as to not squish down the filling) and bake for about 15 minutes. Remove the foil and bake until the potatoes are golden brown, about 5-8 minutes longer.
In the meantime, sauté the morels in butter. Add the wine and slightly reduce. Add the peas, thyme and cream, season with salt and pepper; keep warm.
Using a spatula, transfer the salmon fillets to warmed plates. Carefully twist out the toothpick, leaving the roll intact. Spoon peas and mushrooms on side, drizzle with sauce, sprinkle with the chives, and serve.
**Note: The potatoes may be made up to 8 hours in advance and refrigerated until ready to use.
---
Morels Stuffed with Sausage
I love the large Morels; they're easier to clean and with their hollow center they can be cut in half and stuffed. Here's a recipe adapted from The Mycological Society of San Francisco. Serves 10 as an appetizer.
Ingredients:
1 pound finely ground sausage
1 TBL minced onion
1 clove of garlic, minced
Salt and pepper to taste
1/8 tsp ground nutmeg
1 TBL chopped fresh parsley
1/3 cup cracker crumbs
20 to 25 large morels, halved lengthwise
Directions: In a sauté pan or skillet, fry the sausage quickly and break it into small pieces. Add the chopped onion and cook for 2 to 3 minutes. Remove as much fat as possible with a spoon. Add the salt and pepper, nutmeg, parsley, and cracker crumbs. Fill the morels with the mixture, mounding the filling. Place the mushrooms in a buttered shallow baking dish. Bake for 15 to 20 minutes in a preheated 450º oven.