Recipe Roundup: Sigona's Dark Chocolate Balsamic
This Dark Chocolate Balsamic Vinegar is rich and thick with the complexity of a trio of chocolates responsible for the depth of its flavor (Valrhona, Callebaut and Guittard). Drizzle it over vanilla gelato, mix with fresh berries or use it to make a zingy mole sauce.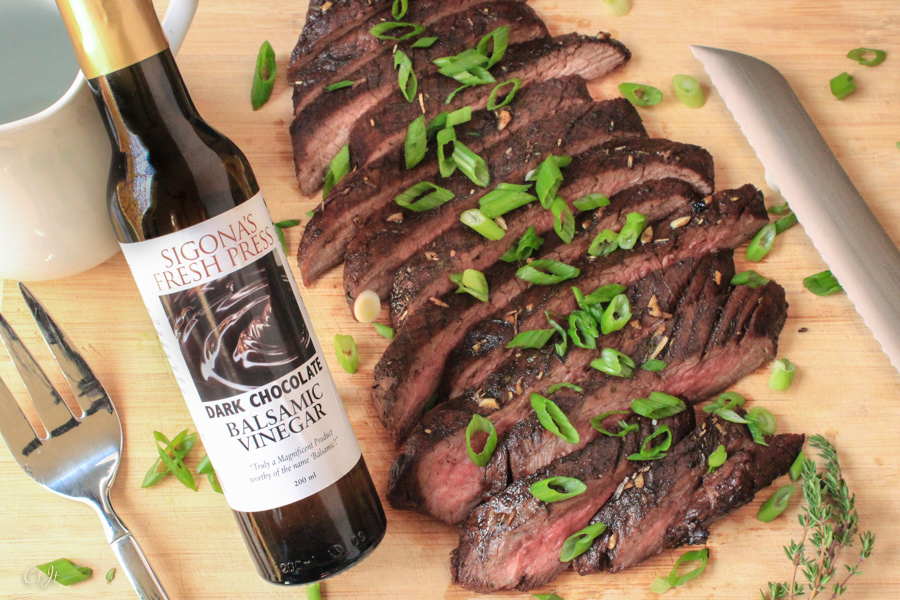 Dark Chocolate Balsamic & Herb Beef Marinade — Perfect for Flank Steak
Flank steak tends to be a tougher cut of meat, but it becomes tender and delicious after soaking in a marinade. The dark chocolate balsamic aids in the tenderization process and also adds a hint of sweetness that is nice with the savory herbs. Serve this with Oven-Roasted Carrots with a Cinnamon Pear & Blood Orange Oil Glaze. Adapted from The Olive Oil & Vinegar Lover's Cookbook. Serves 4.
Ingredients:
1 flank steak, about 2 to 3 lbs.
1/4 cup Sigona's Fresh Press Extra Virgin Olive Oil, such as the robust California Manzanillo
1/3 cup Sigona's Dark Chocolate Balsamic
2 to 3 cloves garlic, minced
2 Tbsp Dijon mustard
1 tsp Worcestershire sauce
1 tsp ground black pepper
1 tsp fresh thyme (or 1/2 tsp dried)
1/2 tsp dried rosemary
Directions: Rinse and pat dry the steak. Tenderize the cut by either piercing with a fork all over both sides or by using a kitchen tool designed for tenderizing. Set aside in a 9×13 rimmed baking dish or in a large zip-top bag.
In a medium bowl, whisk together the remaining ingredients until emulsified. Pour over the steak, cover or seal and refrigerate for at least 1 hour or overnight (preferably overnight).
To cook, preheat a grill to high heat. Add meat to hot grill, drizzling the remaining marinade over the top, and cook, flipping once, for about 3 to 4 minutes a size for medium rare. Add 1 minute more for medium; add 2 minutes more for well done. When desired doneness is reached, remove meat from grill and allow it to sit at least 5 minutes before slicing against the grain into strips bout 1-inch wide.
---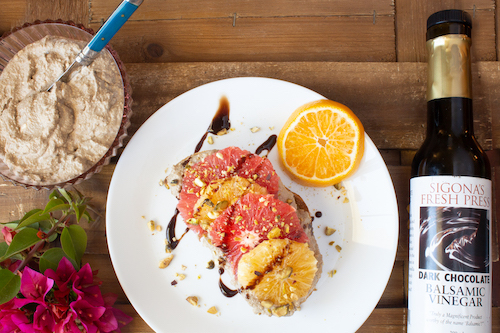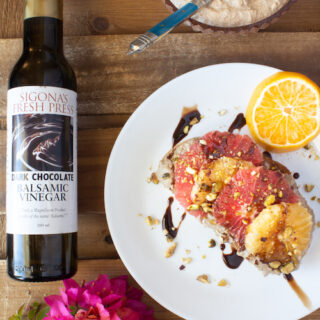 Dark Chocolate Balsamic Whipped Ricotta Toasts Topped with Slice Citrus and Crushed Pistachios
You can top ricotta toast with anything, right? We added a bit more flavor to the base layer by whipping in some of our dark chocolate balsamic. Chocolate & citrus is a classic combo we know you'll love. Serves 2 to 4.
Ingredients
Ingredients:
8

oz

1 cup whole milk ricotta

2

Tbsp

Sigona's Dark Chocolate Balsamic

plus more for drizzling, if desired

2

oranges or satsumas

2

medium pink or ruby red grapefruit

A couple tablespoons crushed pistachios

raw or roasted

4

slices

bread of choice

such as a multigrain or marbled, toasted to desired toastiness
Instructions
Whip together the ricotta and balsamic until well combined. Set aside.

Slice off the peel from the citrus fruits using a knife so no peel or pith remains: Start by cutting off the peel from the top and the bottom, then slice the peel off the sides working from top to bottom around the fruit. Cut the fruit horizontally into slices about 1/4" thick.

Spread about 2 Tbsp of the whipped ricotta onto each slice of toast. Lay the citrus slices on top, overlapping in a pattern (about 4 to 5 slices each toast). Sprinkle the toasts with crushed pistachios and drizzle with additional dark chocolate balsamic, about 1 to 2 teaspoons each, if desired.
---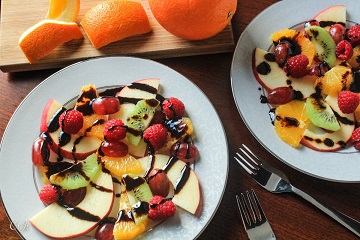 Navel Oranges, Berries, Kiwi and Apples with a Dark Chocolate Balsamic Reduction
You can use any fruits you wish in this dish. Strawberries, for example, would be a delicious addition or substitution. If your balsamic reduction hardens too much while cooling, simply place it in a container in a bowl filled with warm water and stir to bring it back to a drizzling consistency. Serves about 4.

Balsamic reduction:
Suggested fruits:
2 navel oranges, cut into suprêmes*
1 kiwi, peeled, halved lengthwise and cut into half moons
1 apple, sliced into rings about 1/4" thick, cored and sliced into half moons
16 to 20 raspberries
12 to 16 red grapes, halved lengthwise
*Citrus segments: The fruit between the peel, pith and membrane of citrus is called a suprême. To slice suprêmes, begin by slicing the top and bottom off of your citrus fruit. Slice the peel from the fruit, top to bottom, getting as close to the flesh as possible. Once the peel is removed slice any remaining pieces of pith from the fruit so no white remains. Then, slice closely along the sides of each membrane to neatly remove the sections in between. Set the segments aside, discard the rest.
Directions: Add the balsamic to a small saucepan and bring to a boil over medium-high heat. Once boiling, reduce heat to a simmer and cool, stirring occasionally, for about 10 minutes or until the balsamic has reduced by about half. Remove from heat and allow to cool for about 10 minutes.
Meanwhile, prepare the fruits as directed above. Distribute fruits between about 4 serving plates and drizzle with the balsamic reduction just before serving.
---
Recipe: Turkey Mole featuring a Dark Chocolate Balsamic Twist
Recipe by Rachel Bradley of Veronica Foods. Serves 6.
Ingredients:
2 pound boneless skinless turkey breast cut into "turkey tenders"
1 medium yellow onion, peeled and quartered
6 cloves garlic, peeled and smashed
1 sprig fresh oregano
¼ cup packed chopped cilantro
Mexican rice, accompaniment
Chopped cilantro leaves, for garnish
corn tortillas on the side
Mole Sauce:
8 dried ancho chilies, stemmed and seeded
4 pasilla chilies
1 quart chicken stock
5 tablespoons Sigona's Chipotle Extra Virgin Olive Oil
4 tablespoons pumpkin seeds
1 medium yellow onion, diced
3 cloves garlic, crushed
1/2 cinnamon stick, broken into pieces
3 black peppercorns
1/2 teaspoon coriander seeds
1/2 corn tortilla, torn into small pieces
1/3 cup Sigona's Dark Chocolate Balsamic Vinegar
3/4 teaspoon salt
Directions:
In a large pot, place the turkey, quartered onion, garlic, oregano, and cilantro. Cover with water by 2 inches and bring to a boil. Lower the heat and simmer until the turkey is just cooked through, 20 to 30 minutes. Reserve the poaching liquid. In a large heavy dry skillet, toast the chilies to a deep brown color over medium-high heat, turning, 1 to 2 minutes. Place in a bowl, cover with hot stock, and soak for 20 to 30 minutes. Drain and transfer to a blender. Puree the mixture, adding poaching liquid as necessary, to consistently blend.
In a large skillet or sauté pan, heat 1 tablespoon of Chipotle Olive Oil over medium-high heat. Add the toasted pumpkin seeds. Stir until golden brown, 2 to 3 minutes. Drain on paper towels and add to the blender with the chilies. Heat 1 tablespoon of the oil in the pan over medium heat. Add the onions and garlic and cook, stirring, until soft and starting to color, 6 to 7 minutes. Add the cinnamon and coriander seeds and cook, stirring, until golden brown, about 2 minutes. Add to the blender. Increase the heat to medium-high, add the tortilla pieces, and cook until golden brown, 1 to 2 minutes.
Add to the blender with enough of the chili soaking liquid (or chicken stock) to puree to a paste. To the skillet, heat the remaining 3 tablespoons oil over medium heat. Add the paste and simmer, stirring constantly, for 5 minutes. Add 2 cups of chicken stock, the Dark Chocolate Balsamic Vinegar, salt, and bring to a boil. Reduce the heat, and cook, stirring, to incorporate. Add the cooked Turkey and simmer, stirring occasionally, for 20 minutes, adding more stock, as needed, if the sauce becomes too thick, while basting the turkey occasionally as it cooks. Remove from the heat and adjust the seasoning, to taste.
To serve, spoon the rice into the center of a large platter. Arrange the turkey and sauce over the top, garnish with chopped cilantro, and serve with hot corn tortillas.
---
NY Strip Steak with a Tempting Dark Chocolate Balsamic Reduction & Blue Cheese Crumbles
For the steak:
· 4 New York strip steaks (we recommend 100% grass-fed Marin Sun Farms beef)
· Salt & pepper to taste
For the sauce:
· 8 oz Blue Cheese, crumbled (we recommend St. Agur blue)
· 1 cup Sigona's Dark Chocolate balsamic
· 2 TBL Plugra butter
Season meat to taste with salt and pepper, rubbing the seasoning into the meat. Grill steak 10-12 minutes or until desired doneness. During the last 3 minutes of grilling, sprinkle blue cheese over steaks. Remove from grill and allow the meat to rest for 5 minutes before serving.
Meanwhile, in a small saucepan, bring the balsamic to a boil stirring occasionally. Reduce heat to low, simmer uncovered until reduced by half, stirring occasionally. Remove from heat, add the Plugra butter and stir until melted. Once melted, drizzle over steaks and serve.