Recipe Roundup: Sigona's Smoky Chipotle Olive Oil
The smoky flavor of this infused oil is great for adding a little heat to marinades for beef, chicken or seafood. Drizzle some over vegetables or pizza for a spicy meal. It also makes for an excellent, unique dipping oil for artisan breads, finishing oil for soups, pasta or grain dishes. It also pairs well with our Blood Orange Olive Oil.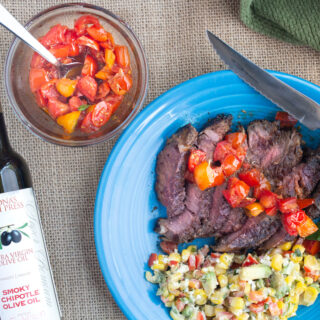 Smoky Tomato Relish
This smoky, slightly spicy condiment is perfect for grilled meats, such as a rib-eye steak. It can be prepared ahead of time, and is easily served warm or at room temperature. Adapted from The Big Book of Backyard Cooking. Makes about 1 cup.
Ingredients
3 to 4

Roma tomatoes

halved, seeded and diced

2

Tbsp

Sigona's Smoky Chipotle Olive Oil

see note

1

shallot

minced

1/2 to 1

tsp

dried rosemary

Salt

to taste

A pinch of dried thyme

2

tsp

Sigona's Tangerine Balsamic

see note
Instructions
Heat the oil in a medium skillet over medium heat. Add the shallot and cook until soft, about 2 to 3 minutes. Add the rosemary and thyme and heat until fragrant. Add the balsamic and tomatoes; stir and then turn off the heat. Allow the mixture to sit to let the flavors meld while meat is grilled. Taste and add more rosemary and/or salt if necessary.

Serve the relish spooned over the top of grilled meats.
Notes
Sigona's infused olive oils and balsamics are available in both our markets and online at www.sigonas.com.
---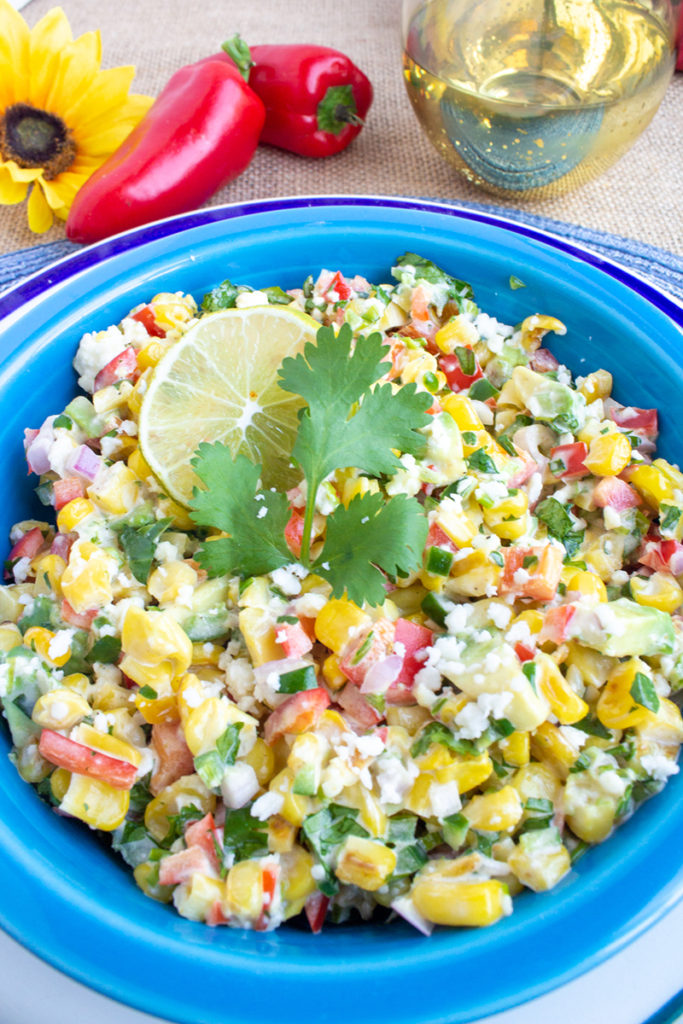 Esquites ~ Mexican Street Corn Salad
If you love elotes – and really, who doesn't – then you'll love this salad. We use our smoky chipotle oil to add another layer of flavor and a little heat to the dish, too. This is a great side for Taco Tuesday! Serves 4.
Ingredients:
2 cups of corn (about 3 to 4 ears, cut from the cob)
3 mini sweet peppers, halved, seeded and diced
3 green onions chopped
1 shallot, diced, or 1/4 cup diced red onion
Half a jalapeño pepper, seeded and minced
1/4 cup chopped fresh cilantro, plus more for garnish
1 Tbsp sour cream or plain yogurt
1 Tbsp mayonnaise
Juice of one lime
1/2 tsp cumin
Black pepper, to taste
Half a medium avocado, chopped
Crumbled cojita, about 1/2 cup, divided
Directions: Heat the chipotle oil in a medium skillet over medium-high heat. Add the corn and sauté, stirring occasionally, until fragrant and some pieces are slightly charred. Remove from heat and transfer to a large bowl.
To the same bowl, add the peppers, onions and jalapeño.
In a small bowl, whisk together the sour cream, mayo, lime juice, cumin and black pepper. Stir the dressing into the corn mixture then gently fold in the avocado and half of the cojita.
Transfer to a serving bowl, top with remaining cojita and garnish with cilantro.
---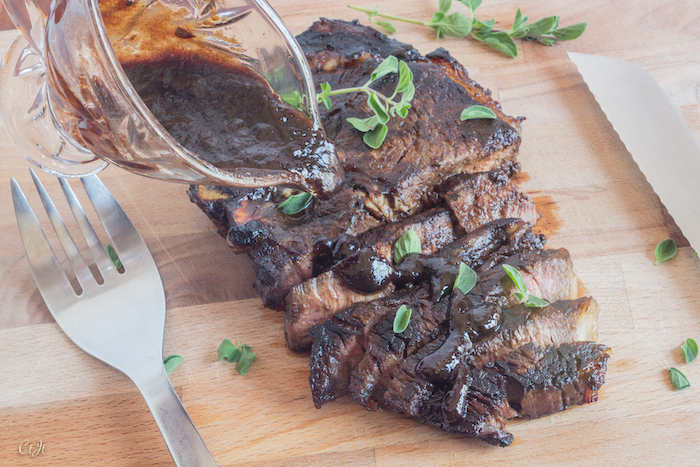 Grilled Steak with a Dark Chocolate Balsamic & Smoky Chipotle Marinade and Sauce
The combination of sweet, rich dark chocolate with the smoky, chipotle infused olive oil makes for a flavor not unlike a sweet barbecue sauce. At first you'll taste the grilled, caramelized richness from the balsamic, followed by a mellow heat from the chipotle. Reducing the marinade with red wine provides a nice sauce for finishing the steaks. Serves 2.
Ingredients:
About 1.5 lbs. ribeye steaks, about 1 to 2 steaks
1/2 cup red wine, divided
1/4 cup Smoky Chipotle Olive Oil
1/4 cup Sigona's Dark Chocolate Balsamic
1 Tbsp chopped fresh oregano, plus sprigs for optional garnish
1 tsp. salt
1/2 tsp. pepper
Directions: In a bowl, whisk together 1/4 cup of the wine with the oil, balsamic, oregano, salt and pepper.
Place the steaks in a large zip-top bag. Pour in the marinade. Place in the fridge to marinate for at least 8 hours or overnight.
Remove the marinating steak from the fridge, allowing it to sit at room temperature for at least 30 minutes before grill time. Preheat an outdoor grill over medium-high heat. Reserving the marinade, remove the steak from and place on the grill. Cook 4 to 6 minutes per side, flipping once, for medium-rare. Adjust cooking times for desired doneness. Remove from the grill and allow to rest 5 to 10 minutes before slicing and serving.
While the steaks rest, make the pan sauce. Add the reserved balsamic to a large skillet over medium-high heat. Add the reserved 1/4 cup of wine and cook, stirring occasionally, until it is reduced by half, about 5 to 10 minutes. Remove from heat and whisk well before serving.
Serve the steak sliced, against the grain, or whole, with the pan sauce drizzled over the tip. Garnish with a sprig of oregano, if desired.
---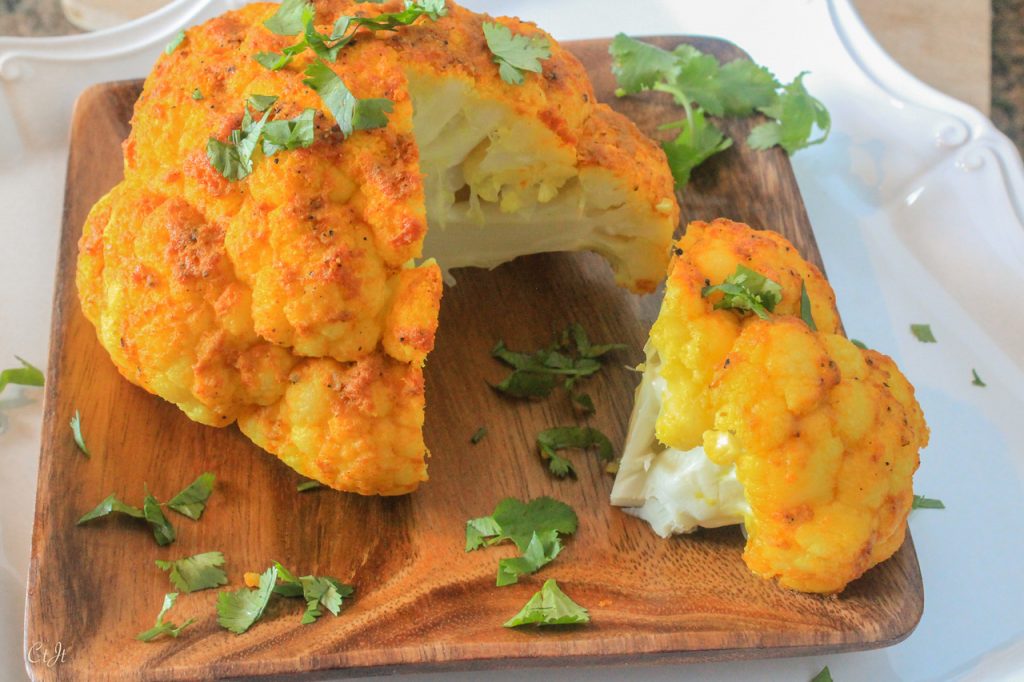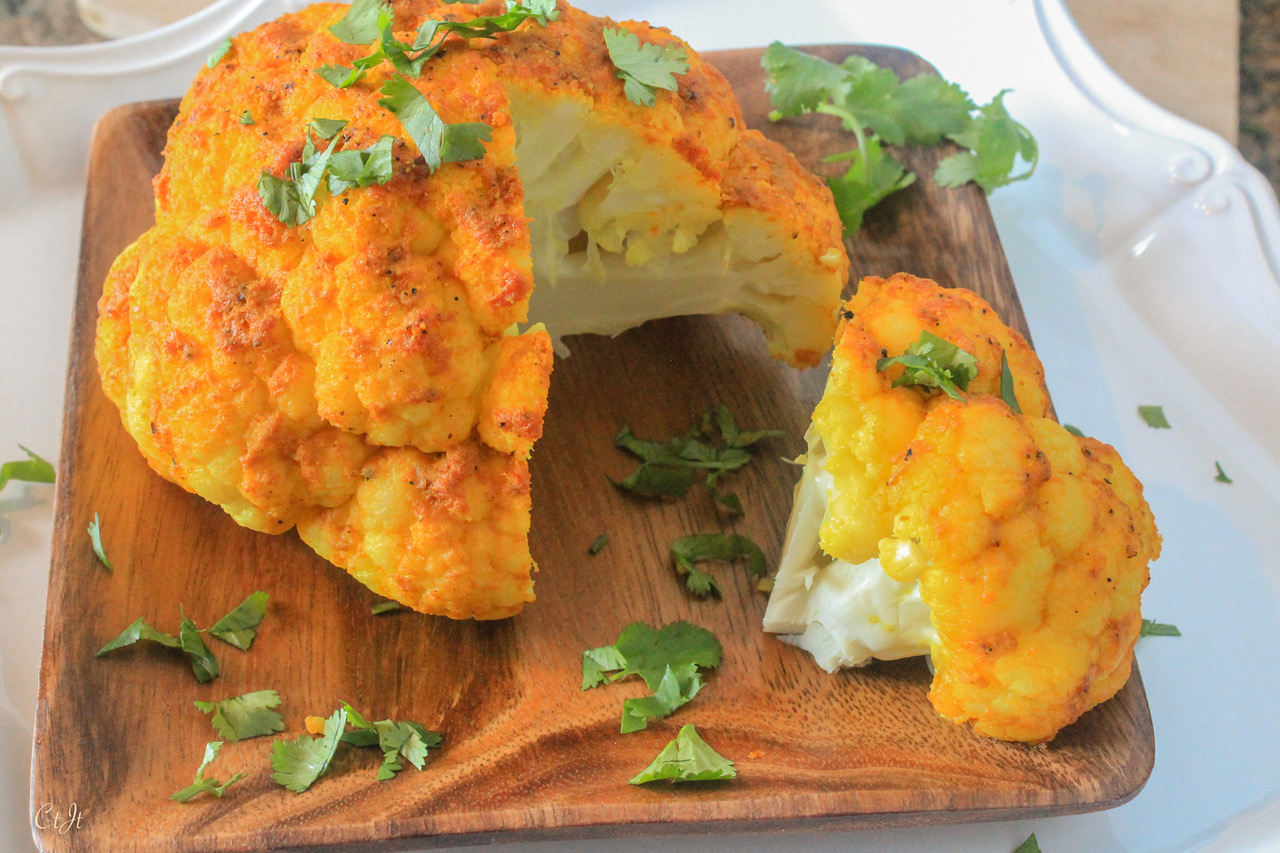 Turmeric and Smoky Chipotle Roasted Cauliflower
Roasting a whole head of cauliflower is so simple, beautiful and delicious. The process also gives the vegetable a smooth texture and mellow flavor, which pairs well with bright turmeric and the smokey chipotle from our infused oil. Recipe inspired by Bondi Harvest. Serves about 6.
Ingredients:
1 whole cauliflower
1/4 cup of Sigona's Smoky Chipotle Olive Oil
1 navel orange
1 Tbsp. turmeric
Salt and black pepper
Chopped cilantro, for garnish
Optional: Plain yogurt, for serving
Directions: Preheat oven to 400°F.
In a small bowl, whisk together the olive oil, orange zest, turmeric, salt and black pepper.
Slice the orange into 1/4-inch discs and lay them in a single layer in the bottom of a tall, oven-proof pot or sauce pan wide enough so the cauliflower fits, but not much wider than the head itself.
Place the cauliflower on top of the orange slices and slowly pour or spoon the olive oil mixture over the cauliflower. Make sure the entire cauliflower head is covered.
Cover the pot with a lid or foil and place in the oven for 20 minutes. Uncover and cook for another 20 minutes.
To serve, either slice the cauliflower into steaks or wedges. Sprinkle with cilantro and add a dollop of yogurt, if desired.
---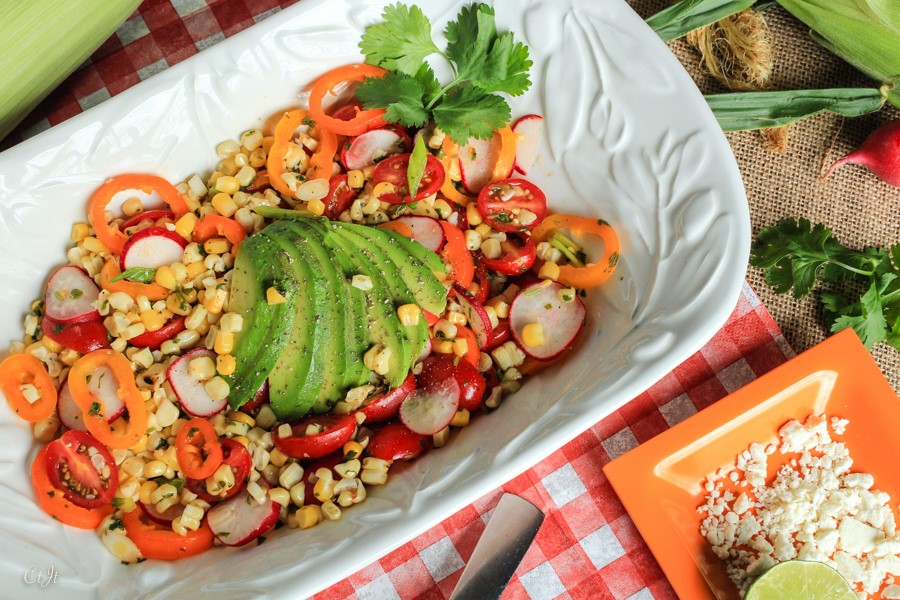 Grilled Corn Salad with Avocado and Cilantro-Lime Dressing
This salad is fresh, crisp and flavorful, not to mention simple, healthy and delicious. It's fantastic as a side salad, a topper for fish tacos, shrimp quesadillas or even over greens. Introduce another layer of flavor by choosing from one of our infused oils. Make it dairy-free by leaving off the cheese. Serves 4.
Ingredients:
3 ears of local corn
3 Tbsp., divided, Sigona's Smoky Chipotle Olive Oil or Sigona's Cayenne Chili Oil or a seasonal plain Sigona's Fresh Press Extra Virgin Olive Oil (We have many oils, plain and infused, from which to choose!)
1/4 cup chopped cilantro
2 Tbsp. fresh lime juice
1/4 tsp. Kosher salt
A pinch or two freshly ground black pepper
2 or 3 mini sweet peppers, sliced into rings, seeds removed
2 green onions, sliced on the bias
1 cup halved grape or cherry tomatoes
4 radishes, thinly sliced
Half a large avocado, peeled and sliced
Optional: Cotija or feta cheese, for sprinkling
Directions: Heat an outdoor grill or indoor grill pan over medium-high heat. Rub the ears of corn with 1 1/2 tablespoons of olive oil, then place on the grill to cook. Rotate the ears about every 2 to 3 minutes until all sides are cooked with nice grill marks. Set aside and allow to cool to the touch.
In a large bowl whisk together the cilantro, lime juice, salt and pepper. While whisking, drizzle in remaining 1 1/2 tablespoons olive oil until emulsified. To the bowl, add the peppers, green onions, tomatoes and radishes. Slice the kernels of corn off the ears and add to the bowl. Use a large spoon to fold everything together until well coated in the dressing. Transfer to a serving dish.
Top the salad with sliced avocado and add cheese, if using.
---