Perfect Pairing: Dark Chocolate Balsamic + Smoky Chipotle Olive Oil
Another perfect pairing will be available on sale in August 2023: Dark Chocolate Balsamic + Smoky Chipotle Olive Oil. We rotate in a new pairing about every month during the spring and summer months, putting it on sale both online and in our markets. They make great gifts or a go-to for an easy recipe. It's now just $16.99, reg. $21.99. Save $5 through August 31, 2023.
FIND IT: Perfect pairing available in our markets and online.
Our dark chocolate balsamic is rich and thick with the complexity of a trio of chocolates responsible for the depth of its flavor (Valrhona, Callebaut and Guittard). Drizzle it over vanilla gelato, mix with fresh berries or use it to make a zingy mole sauce.
The smoky flavor of our smoky chipotle infused oil is great for adding a little heat to marinades for beef, chicken or seafood. Drizzle some over vegetables or pizza for a spicy meal. It also makes for an excellent, unique dipping oil for artisan breads, finishing oil for soups, pasta or grain dishes. It also pairs well with our blood orange olive oil.
Recommended ratio: Start with equal parts olive oil and balsamic, then adjust by adding an additional part of one or the other to suit your palate. Example: 1 teaspoon oil, 1 teaspoon balsamic.
See also:
Recipe Roundup: Sigona's Dark Chocolate Balsamic
Recipe Roundup: Sigona's Smoky Chipotle Olive Oil
Serving Suggestion: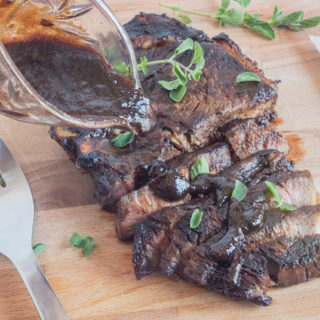 Grilled Steak with a Dark Chocolate Balsamic & Smoky Chipotle Marinade and Sauce
The combination of sweet, rich dark chocolate with the smoky, chipotle infused olive oil makes for a flavor not unlike a sweet barbecue sauce. At first you'll taste the grilled, caramelized richness from the balsamic, followed by a mellow heat from the chipotle. Reducing the marinade with red wine provides a nice sauce for finishing the steaks. Serves 2.
Ingredients
Ingredients:
About 1.5 lbs. ribeye steaks

about 1 to 2 steaks

1/2

cup

red wine

divided

1/4

cup

Smoky Chipotle Olive Oil

1/4

cup

Sigona's Dark Chocolate Balsamic

1

Tbsp

chopped fresh oregano

plus sprigs for optional garnish

1

tsp.

salt

1/2

tsp.

pepper
Instructions
Directions: In a bowl, whisk together 1/4 cup of the wine with the oil, balsamic, oregano, salt and pepper.

Place the steaks in a large zip-top bag. Pour in the marinade. Place in the fridge to marinate for at least 8 hours or overnight.

Remove the marinating steak from the fridge, allowing it to sit at room temperature for at least 30 minutes before grill time. Preheat an outdoor grill over medium-high heat. Reserving the marinade, remove the steak from and place on the grill. Cook 4 to 6 minutes per side, flipping once, for medium-rare. Adjust cooking times for desired doneness. Remove from the grill and allow to rest 5 to 10 minutes before slicing and serving.

While the steaks rest, make the pan sauce. Add the reserved balsamic to a large skillet over medium-high heat. Add the reserved 1/4 cup of wine and cook, stirring occasionally, until it is reduced by half, about 5 to 10 minutes. Remove from heat and whisk well before serving.

Serve the steak sliced, against the grain, or whole, with the pan sauce drizzled over the tip. Garnish with a sprig of oregano, if desired.