Fresh Crab Melts on Sigona's Moo-Na Lisa Cheese & Herb Bread
Making open-faced crab melts on our exclusive bread that's swirled with herbs and with Moo-Na Lisa cheese – a Gouda-Gruyere style cheese made just for Sigona's – is an experience you'll only get by shopping with us. Serves about 4.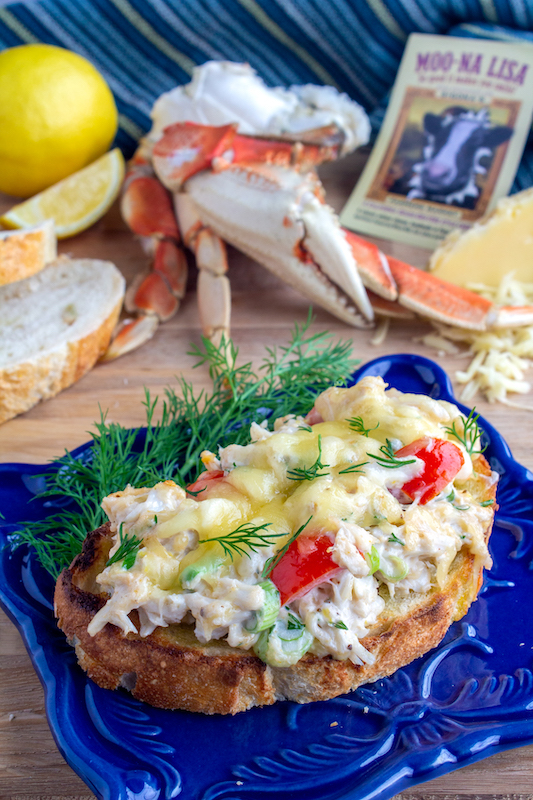 Ingredients:
4 slices Sigona's Moo-Na Lisa Cheese Bread
Butter or olive oil, for brushing
2/3 cup mayonnaise, more or less to taste
3/4 tsp. fresh lemon zest (from about half a lemon)
1 1/2 to 2 Tbsp chopped fresh dill, plus more for garnish
1 1/2 tsp. Old Bay seasoning or similar seafood seasoning blend
3 green onions, sliced
2 Roma tomatoes, seeded and diced
At least 1 cup shredded Gruyere, divided, such as Moo-Na Lisa (found only at Sigona's!), more if desired
1/4 tsp. salt
About 12 to 16 oz. fresh crab meat, drained
Salt and pepper, to taste
Directions: Line a rimmed baking sheet with foil. Preheat broiler to low.
Lightly brush the bread slices with oil or butter. Place on the baking sheet and toast under the broiler for about 1 to 2 minutes until lightly toasted. Flip and toast the other side, if desired. Set aside.
In a bowl, mix together the mayo, lemon zest, dill, seasoning, green onions, tomatoes, half the cheese, and salt. Gently fold in the crab.
Divide the crab mixture among the toasted bread slices. Sprinkle remaining cheese on the top and return to the broiler to allow the cheese to melt (about 1 to 2 minutes).
Garnish crab melts with chopped fresh dill; salt and pepper are optional. Serve immediately, sliced or whole.