The Famous Tomato, Feta & Pasta Recipe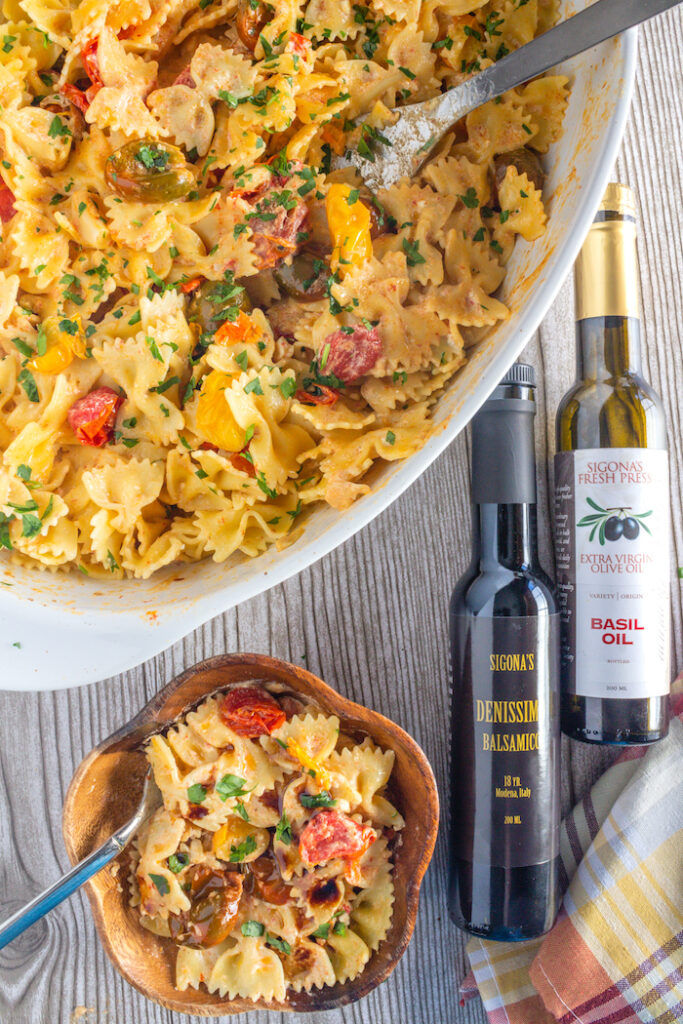 Yes, it is good. And it's even better, we think, topped with our 18-year-aged balsamic. You'll love it!
Ingredients:
2 pints mixed cherry or grape tomatoes
4 cloves garlic
1/2 cup Sigona's Basil Oil, plus more for drizzling
Salt and pepper, to taste
One 8 oz block feta
16 oz Farfalle pasta
Red pepper flakes, if desired
Chopped fresh herbs, to taste
Sigona's 18-year-aged Denissimo Balsamico, for drizzling
Directions: Add tomatoes, garlic and 1/2 cup oil to a baking dish. Season with salt and pepper, to taste, stir and place the feta in the middle. Bake at 400°F for 35 minutes.
Meanwhile, cook pasta according to package directions. Reserve 1 cup of pasta water.
Remove from oven and use a fork to mash the garlic. Add in red pepper flakes, if using. Stir the cheese and tomatoes together then add the pasta and toss to coat. If the mixture seems too dry, add a little reserved pasta water.
Top the dish with fresh chopped herbs and drizzle with additional oil. Top individual servings with a little of the balsamic and serve immediately.