The Famous Tomato, Feta & Pasta Recipe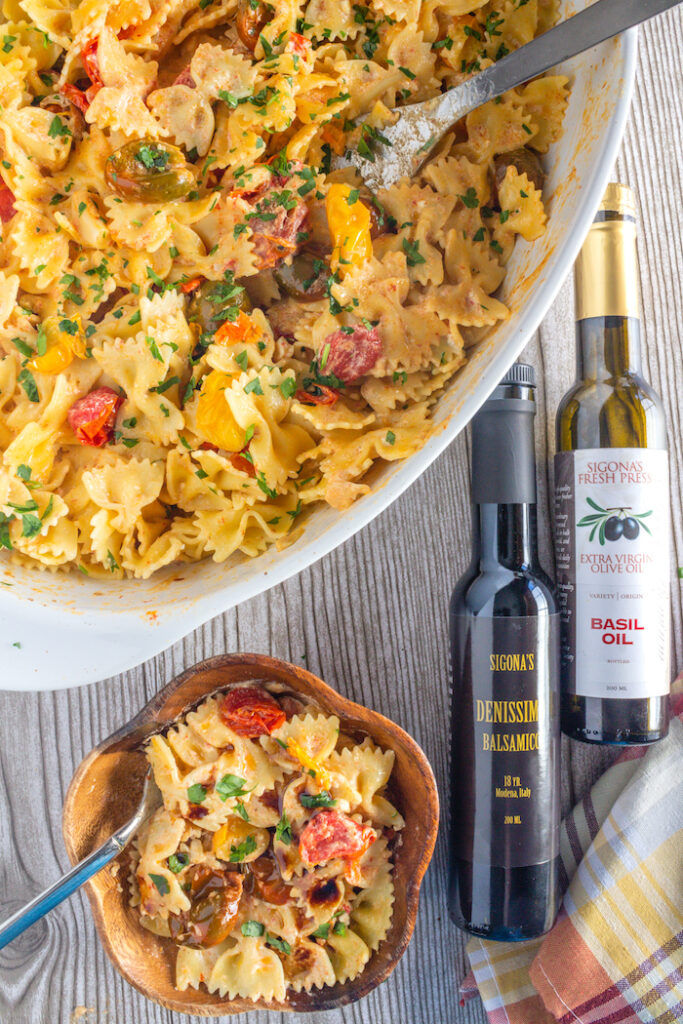 Our Denissimo Balsamico is made from the must of Trebbiano grapes grown in Modena, Italy. Following the Solera method, it is aged for at least 18 years in the traditional "Batteria" of Modena where it rotates through five different wooden casks made of mulberry, ash, oak, juniper and cherry wood.  
Denissimo is complex, rich, sweet and slightly tart It is dark and syrupy and boasts flavors of cherry wood, raisins and figs, and has a hint of dark chocolate and malt. It's a perfect finishing balsamic for main dishes, roasted vegetables, meats, cheeses or desserts. There isn't any culinary application in which this balsamic won't shine. 
You'll love it as a finishing balsamic for this virally famous pasta dish.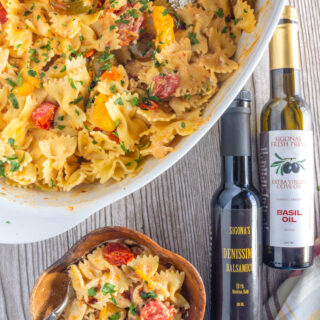 The Famous Tomato, Feta and Pasta Dish
Yes, it is good. And it's even better, we think, topped with our 18-year-aged balsamic. You'll love it!
Ingredients
Ingredients:
2

pints

mixed cherry or grape tomatoes

4

cloves

garlic

1/2

cup

Sigona's Basil Olive Oil

plus more for drizzling (SEE NOTE)

Salt and pepper

to taste

One 8 oz block feta

16

oz

Farfalle pasta

Red pepper flakes

if desired

Chopped fresh herbs

to taste

Sigona's 18-year-aged Denissimo Balsamico

for drizzling (SEE NOTE)
Instructions
Add tomatoes, garlic and 1/2 cup oil to a baking dish. Season with salt and pepper, to taste, stir and place the feta in the middle. Bake at 400°F for 35 minutes.

Meanwhile, cook pasta according to package directions. Reserve 1 cup of pasta water. Remove from oven and use a fork to mash the garlic. Add in red pepper flakes, if using. Stir the cheese and tomatoes together then add the pasta and toss to coat. If the mixture seems too dry, add a little reserved pasta water.

Top the dish with fresh chopped herbs and drizzle with additional oil. Top individual servings with a little of the balsamic and serve immediately.
Notes
Sigona's olive oils and balsamics are available in our markets and online at www.sigonas.com.