December 2021 Olive Oil & Balsamic Sale Recipes
We put a couple of our infused balsamics and oils on sale each month so everyone can get a chance to try them! They're available on sale from December 1 – 31st in the store and online. On sale this month are:
Dark Chocolate Balsamic
Pomegranate Quince White Balsamic
Cranberry Pear White Balsamic
Blood Orange Olive Oil
Milanese Gremolata Olive Oil
Check out our recipes below or let us know what recipes you come up with using these delicious infusions!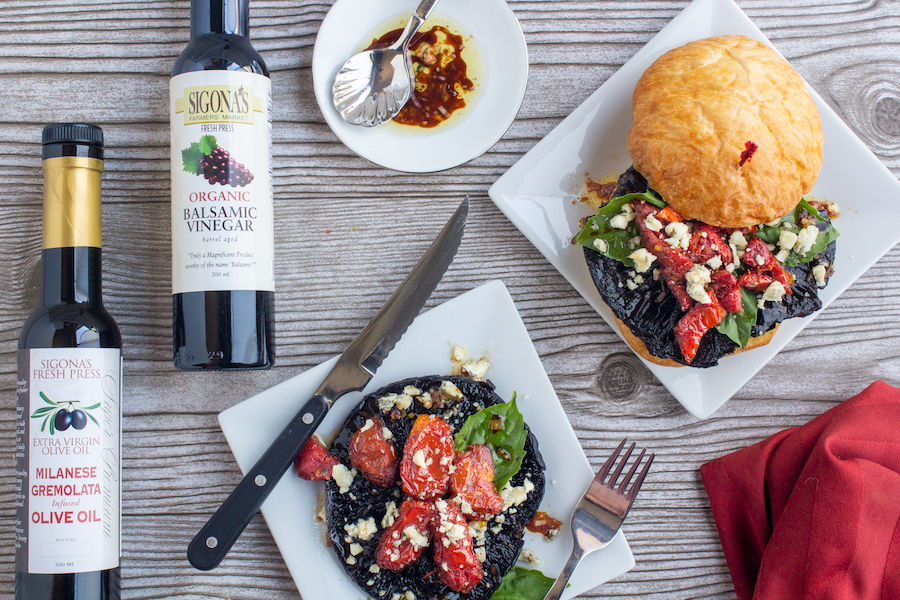 Organic Balsamic Marinated Portobello Mushrooms with Sun Dried Tomatoes and Crumbled Smokey Blue
Make this into a burger or leave off the bun for a delicious and satisfying gluten-free meal! Marinating the portobellos in a combination of Sigona's organic balsamic and our new Milanese Gremolata infused olive oil adds layers of savory and slightly sweet flavor that, once when on the grill, will get the neighbors peeking over the fence to see what's cookin'. Gremolata is a traditional Italian herbal condiment consisting of fresh lemon zest, minced garlic, Italian flat leaf parsley and a hint of mint. It's perfect for this dish! Serves 2.
Ingredients:
1/3 cup Sigona's Milanese Gremolata Infused Olive Oil
2 Tbsp Sigona's Organic Balsamic
1 clove garlic, minced
1 Tbsp minced shallot
Salt and freshly ground pepper, to taste
2 portobello mushrooms, wiped and brushed cleaned, stems removed
1/4 cup crumbled blue cheese, such as Rogue Creamery Smokey Blue
6 to 8 sun-dried tomatoes (oil packed), drained and halved, if necessary
Optional: 2 rolls or buns of choice, lightly toasted
Fresh basil leaves, for serving
Directions: Place prepared mushrooms in a shallow, rimmed dish. In a bowl whisk together the oil, balsamic, garlic, shallot, salt and pepper. Reserve 2 tablespoons of the marinade. Pour the remaining marinade over the mushrooms and allow to marinade at room temperature for 1 hour, flipping after 30 minutes.
Preheat an outdoor grill or indoor grill pan over medium-high heat. Lightly oil the grates with cooking oil. Remove mushrooms from marinade and add to the grill; cook for 2 to 4 minutes a side, flipping once, until they're tender and show grill marks.
With buns: Brush the cut sides of the buns with the reserved marinade. Add the mushroom and top with tomatoes, crumbled blue and a few basil leaves. Drizzle any remaining marinade on top, if desired.
Without buns: Plate the mushrooms and top with tomatoes, crumbled blue and basil leaves. Drizzle some reserved marinade on top.
---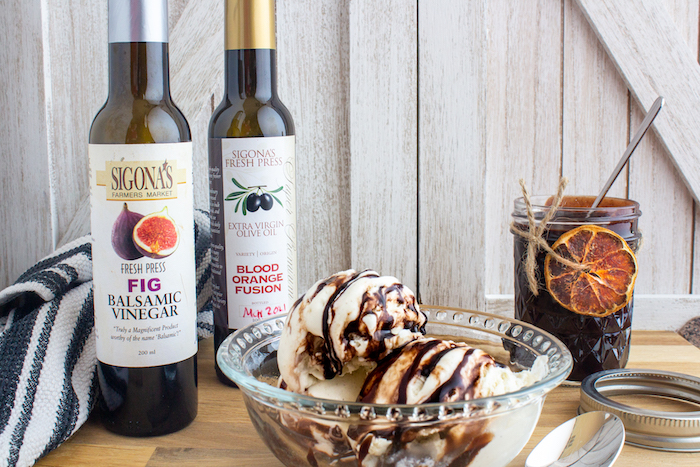 Fig & Blood Orange Fudge Sauce
Rich chocolate with a hint of orange is a classic combination so we know you'll love this fudge sauce. The fig balsamic gives it nice depth of flavor, too! This is great for gifting or for keeping on hand for drizzling over a bowl of gelato, baked or fresh fruit, ice cream or other favorite desserts. Adapted from The Olive Oil & Vinegar Lover's Cookbook. You can also cool this in an 8×8" pan, allow it to set and serve it as fudge. Makes about 1.5 cups.
Ingredients:
1 cup half & half
1/4 cup Sigona's Fig Balsamic
2/3 cup Dutch process cocoa powder
2 1/2 cups granulated sugar
1/2 tsp sea salt
2 Tbsp Sigona's Blood Orange Olive Oil
Directions: In a tall, medium pot, whisk together the cream, balsamic, cocoa and sugar. Heat over medium, stirring, until the sugar has dissolved. As soon as it boils, stop stirring. Allow the mixture to boil gently but consistently until it reaches 236°F on a candy or instant thermometer.
Remove the pot from heat and stir in the salt and olive oil. Beat with a mixer or by hand until the mixture is no longer glossy, about 5 to 7 minutes (by hand will take longer). Allow the mixture to cool a little and then transfer to a jar(s).
Use it for drizzling on desserts once it is cool enough that it will not burn the roof of your mouth. To save it for later, allow the mixture to cool at room temperature or in the fridge. To later use as a dessert topping, scoop out desired amount and reheat for 10 to 20 seconds in the microwave or on the stove top, then drizzle to your heart's content.
If you wish to make it into fudge, pour it into an 8×8-inch, parchment-lined dish and allow it to set as it cools for at least 4 hours at room temp, or in the fridge for at least 2 hours.
Store in an airtight container for up to 3 weeks in the fridge or 1 week at room temp.
---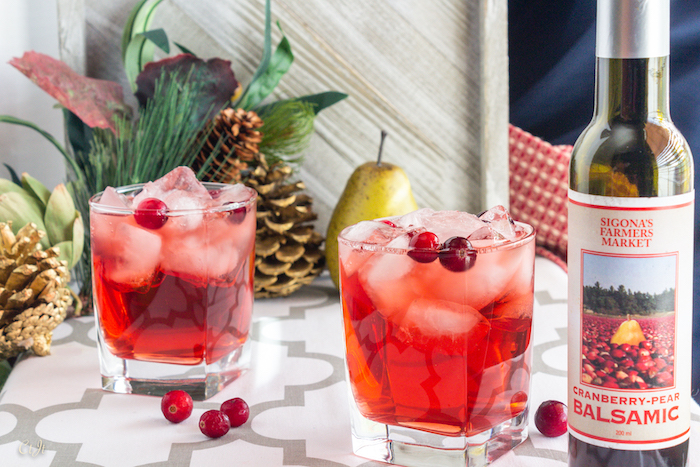 Cranberry Pear Balsamic & Seltzer Cocktail
Holiday time calls for a signature drink, don't you think? Spiked seltzer is all the rage, so we came up with our own featuring our Cranberry Pear Balsamic. Cranberries and pears are festive foods for the holidays, so we thought it would make the perfect drink. You'll love the pretty red color! For more cocktails featuring balsamics, check out our gift pack called The Bartender. Serves 1.
Ingredients:
6 oz seltzer, club soda or tonic water
1.5 oz Sigona's Cranberry Pear Balsamic
Optional: 1 oz vodka
1 to 2 oz cranberry juice, to taste, DIY or store bought (Start with 1 then taste. Keep in mind that tonic water is sweeter than seltzer, for example, so adjust to suit your taste depending on the mixer used.)
Ice
Directions: In a glass, add the seltzer, balsamic, spirits and cranberry juice. Taste and add more juice or spirits as desired (see note on cranberry juice above). Top with ice and garnish with fresh cranberries.
---
Roasted Beet Salad with Creamy Camembert and a Grainy Mustard & Pomegranate Quince Balsamic
A lively, bright salad. Serves 6 to 8.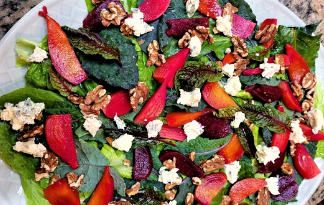 Ingredients:
4 to 5 medium beets, scrubbed
10 cups mixed baby greens
1/2 cup Sigona's Pomegranate-Quince White Balsamic
1/3 cup Sigona's Fresh Press Extra Virgin Olive Oil
2 tsp grainy mustard
1/2 cup toasted walnuts, coarsely chopped (look for fresh, California grown walnuts in our Dried Fruit & Nuts department)
4 oz. camembert cheese, such as Green Hill, (or other semi-soft cheese), torn or sliced into pieces
Salt & pepper, to taste
Directions: Preheat oven to 350°F. Wrap the cleaned beets in a square of foil, creating a sealed packet, and roast for 25 min.
Remove the beets and open the packet to allow the beets to cool. Once they are cool enough to handle, gently rub the skin from the beets and cut them into 1/2″ thick slices.
Add the sliced beets and balsamic to a large bowl. Toss to coat and allow the beets to marinate for 20 minutes. Remove the beets and reserve the marinade.
Whisk 1/3 cup of the reserved beet marinade with the grainy mustard, a pinch of salt to taste, and freshly cracked pepper until well blended.
Slowly drizzle in the oil, whisking constantly until emulsified. In a large bowl, toss the greens with the vinaigrette.
Arrange the dressed greens on a platter. Top with toasted walnut pieces, cheese and beet slices. Serve immediately
---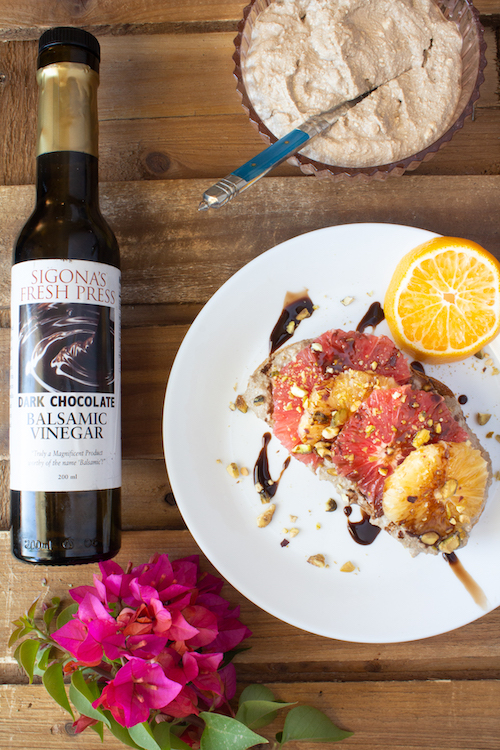 Dark Chocolate Balsamic Whipped Ricotta Toasts Topped with Slice Citrus and Crushed Pistachios
You can top ricotta toast with anything, right? We added a bit more flavor to the base layer by whipping in some of our dark chocolate balsamic. Chocolate & citrus is a classic combo we know you'll love. Serves 2 to 4.
Ingredients:
8 oz (1 cup) whole milk ricotta
2 Tbsp Sigona's Dark Chocolate Balsamic, plus more for drizzling, if desired
2 oranges or satsumas
2 medium pink or ruby red grapefruit
A couple tablespoons crushed pistachios (raw or roasted)
4 slices bread of choice, such as a multigrain or marbled, toasted to desired toastiness
Directions: Whip together the ricotta and balsamic until well combined. Set aside.
Slice off the peel from the citrus fruits using a knife so no peel or pith remains: Start by cutting off the peel from the top and the bottom, then slice the peel off the sides working from top to bottom around the fruit. Cut the fruit horizontally into slices about 1/4" thick.
Spread about 2 Tbsp of the whipped ricotta onto each slice of toast. Lay the citrus slices on top, overlapping in a pattern (about 4 to 5 slices each toast). Sprinkle the toasts with crushed pistachios and drizzle with additional dark chocolate balsamic, about 1 to 2 teaspoons each, if desired.