March Balsamic & Olive Oil Sale Recipes
We choose a few of our outstanding oils and balsamics each month to put on sale, giving you the opportunity to try out a new flavor for a great price! This March, try out our blackberry ginger balsamic, Persian lime oil and our coconut balsamic. The coconut and Persian lime make a beautiful pairing! Check out these recipe for some inspiration!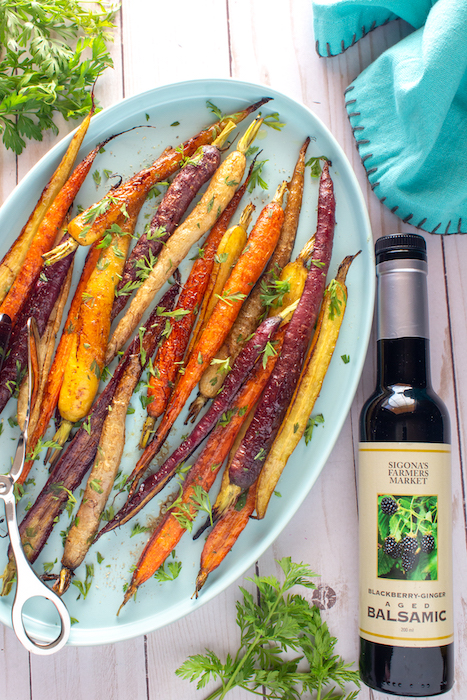 Blackberry-Ginger Balsamic & Garlic Roasted Rainbow Carrots
As the carrots roast, their natural sugars caramelize, giving the veggie a deep, rich flavor that's slightly sweet, pairing deliciously with the blackberry ginger balsamic. The blackberry adds another layer of sweetness that's balanced by the ginger, as well as the garlic, whether you're using our garlic oil or sliced garlic. Serves 4 to 6.
Ingredients:
2 bunches rainbow carrots with tops
1 Tbsp Sigona's Garlic Oil or 2 Tbsp Sigona's Fresh Press Extra Virgin Olive Oil + 1 to 2 cloves garlic, thinly sliced
2 tbsp Sigona's Blackberry Ginger Balsamic
Coarse salt and freshly ground black pepper, to taste
Directions: Preheat oven to 400°F and line a rimmed baking sheet with foil.
Wash carrots and pat dry. Remove tops from carrots; chop a couple tablespoons worth of the greens and set aside. Slice larger carrots in half lengthwise so they're all about the same thickness. Place carrots on the baking sheet.
In a bowl, whisk together the balsamic and oil. Drizzle mixture over the carrots, season with salt and pepper (and garlic, if using sliced) and toss to coat well. Spread carrots out in a single layer and roast in the oven for about 30 minutes, tossing carrots half way through. They're cooked with they're slightly browned along the edges and the carrots softened but still have a slightly crisp center.
Transfer to a serving dish and finish with a sprinkling of coarse salt and chopped carrot greens.
---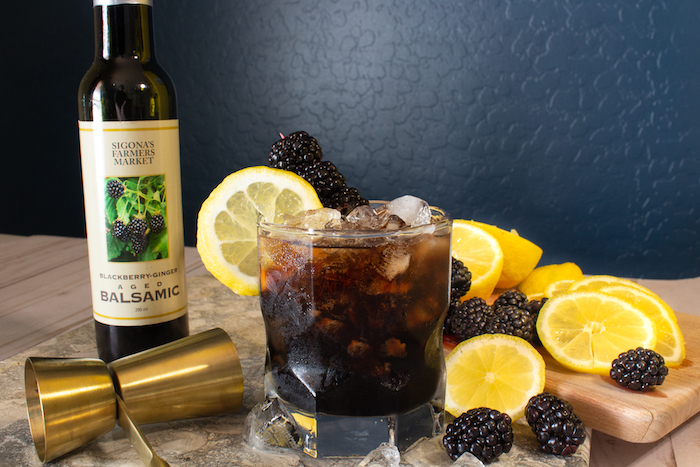 Blackberry Ginger Bramble
The Bramble is a gin-based cocktail made famous in London in the 1980s. Instead of using simple syrup and crème de mure, a blackberry liqueur, we use our blackberry ginger balsamic, which has all the flavor and sweetness needed to create this drink. Serves 1.
Ingredients:
1 1/2 oz gin
3/4 oz fresh lemon juice
1 oz Sigona's Blackberry Ginger Balsamic (add more, to taste)
Fresh lemon slice and blackberries, for garnish
Directions: Fill an Old Fashioned glass with crushed ice. Stir together the gin and lemon (shake in a cocktail shaker, if you're so inclined) and then pour over the ice. Add the balsamic, garnish the glass and serve.
---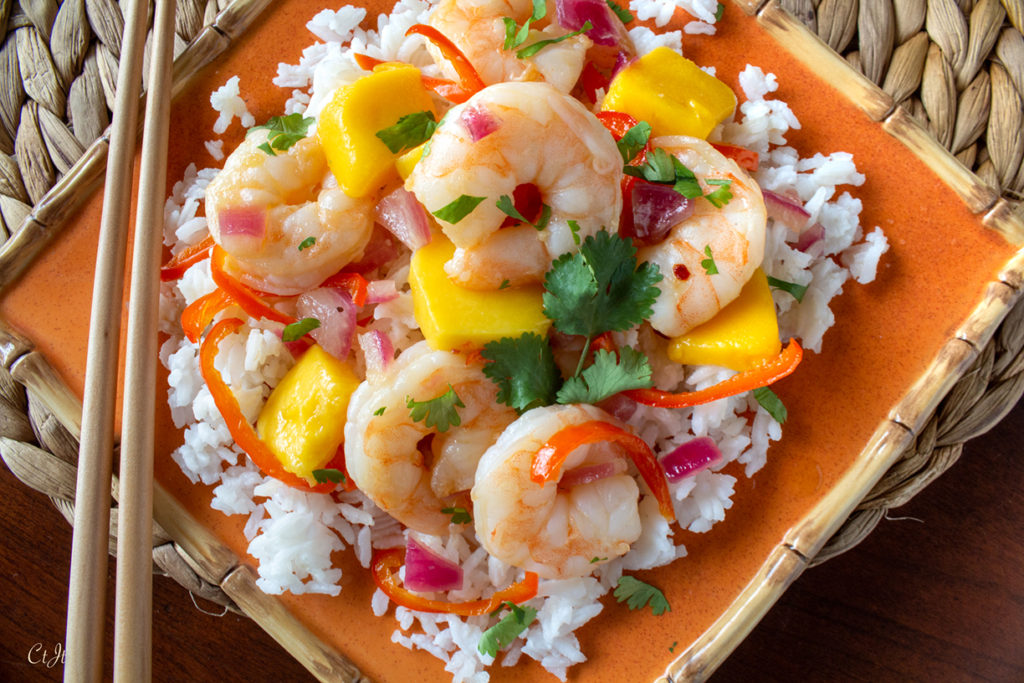 Tropical Coconut & Lime Shrimp with Mango and Mini Sweet Peppers
The enticing and tropical-vacation-type scents of coconut and lime that waft through the house while cooking this dish will bring the whole family to the table. This is a quick weeknight meal that's dairy-free and gluten-free, and you can easily use cauliflower rice for the base if you're grain-free! Adapted from The Olive Oil & Vinegar Lover's Cookbook. Serves 4.
Ingredients: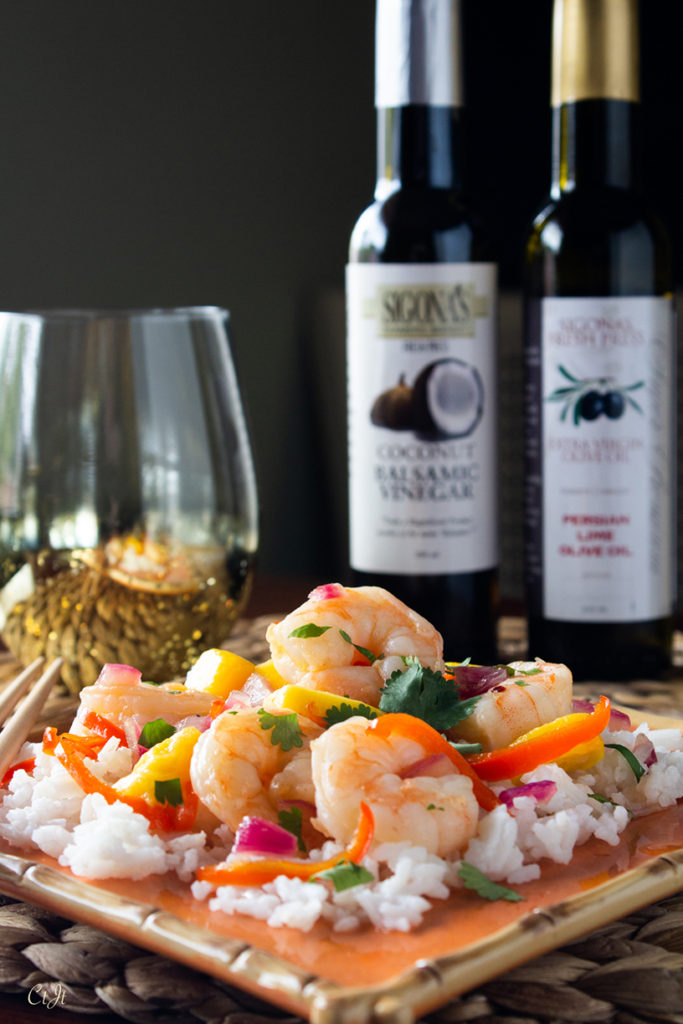 1 lb. wild Patagonian red shrimp (about 20-24 shrimp; they come shelled and deveined)
Sea salt, to taste
A Pinch or two red pepper flakes
1/2 cup Sigona's Coconut Balsamic
3 mini sweet peppers, seeded and julienned
1/3 cup chopped red onion
1 mango, peeled and chopped
Chopped fresh cilantro, for garnish
Cooked rice or cauliflower rice, for serving
Directions: In a large bowl, toss the shrimp with the olive oil, salt and red pepper flakes. Allow to sit for about 5 minutes.
Heat a large skillet (non-stick preferred) over medium-high heat. Add the balsamic and bring to a boil. Add the mini peppers, red onion and the contents of the bowl with the shrimp to the skillet; spread out the shrimp in a single layer. Cook shrimp for about 1 ½ to 2 minutes a side or until pink, opaque and curled.
Add the mango and stir to combine. Allow to cook about 1 minute more. Remove the pan from the heat. Serve the mixture over rice; garnish with chopped cilantro.