Olive Oil Webinar Recipes
Thank you for joining Storytelling with Sigona's: Olive Oil Tasting! If you missed it, it is now available to view on YouTube and Facebook. Find tasting kits in our stores or online while supplies last. You can purchase the individual oils or balsamics as you wish, too! Oils and balsamics included in the kit and featured in the webinar are:
Chiquitita Extra Virgin Olive Oil from Portugal
Cobrançosa Extra Virgin Olive Oil from Portugal
Kalamata Robusto Extra Virgin Olive Oil from Greece
Summertime Peach White Balsamic
Satsuma Vanilla Cream White Balsamic
Oregano White Balsamic
Following are the recipes featured in the webinar — if you come up with a new dish or pairing, drop a note in the comments or send it to share@sigonas.com.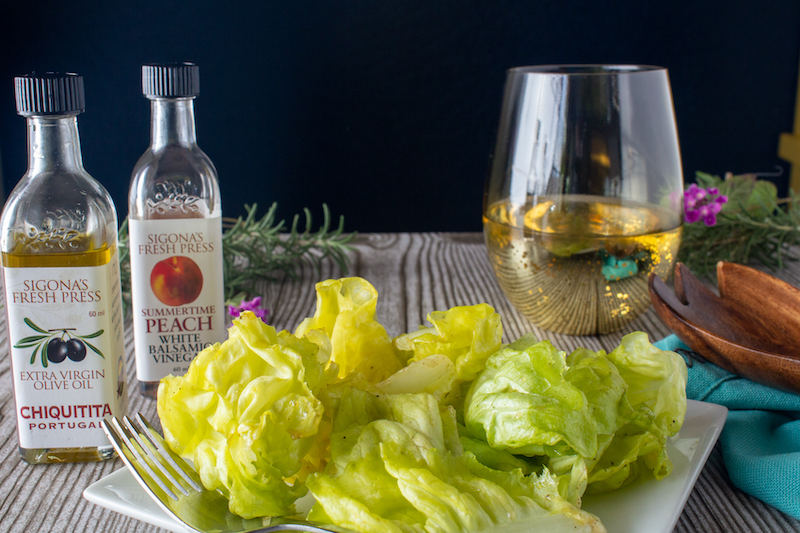 Butter Lettuce Hearts tossed with Chiquitita Olive Oil and Summertime Peach White Balsamic
This French-style salad is typically served after dinner. The lettuce is very lightly dressed in oil and balsamic – just enough so there is a hint of flavor. You'll love the butter lettuce hearts; they're soft and light and delicately delicious. Serves 2 to 4. Enjoy – Carmelo Sigona
What you need:
About 3 tsp Sigona's Fresh Press Chiquitita Extra Virgin Olive Oil*
About 1 tsp Sigona's Summertime Peach White Balsamic*
A pinch of coarse salt and freshly ground pepper, to taste
5 oz. butter lettuce hearts (look for Organic Girl true hearts)
Directions: Whisk together the oil and balsamic; lightly season with salt and pepper. Place the lettuce in a large bowl and add the oil mixture. Toss, toss, toss until all leaves are well, but lightly, coated. Divide among individual plates and serve immediately.
*Chef's note: there may not seem like enough of the oil and balsamic mixture to sufficiently coat all the leaves, but in this type of salad, the leaves are meant to be very lightly dressed. If you would like to add more, start with just an extra 1/2 tsp oil and a 1/4 tsp balsamic. Tossing the lettuce is key to coating all the leaves and allowing the oil & balsamic to do their magic.
---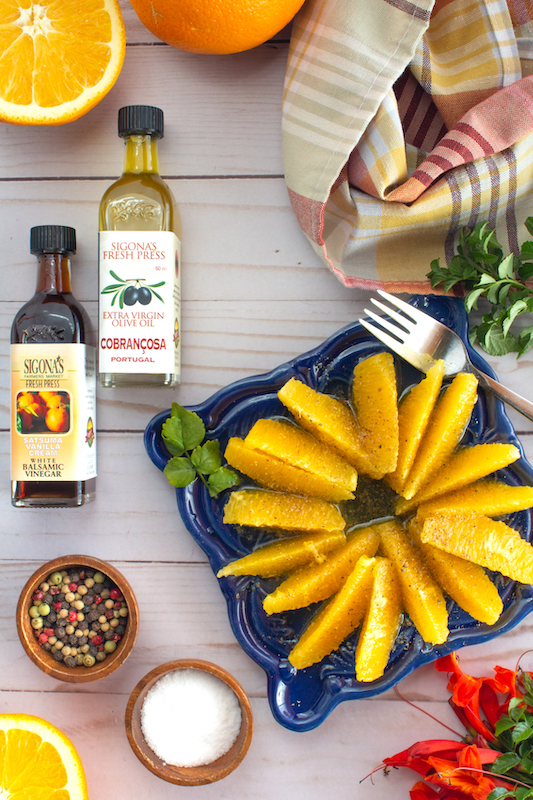 Sweet Navel Oranges with Sigona's Cobrançosa Oil and Satsuma Vanilla Cream Balsamic
One of my favorite ways to enjoy citrus in winter, when it's in season, is to stir peeled navel orange segments together with a mixture of fresh olive oil and our satsuma vanilla cream white balsamic, finishing the dish with coarse salt and a healthy sprinkling of freshly ground rainbow peppercorns. This is a twist on a classic, after-dinner, Sicilian-style dish that my Grandpa Franzella used to make, although he didn't use balsamic. I personally prefer to use more oil than balsamic, but I suggest you start with an equal ratio and adjust to your taste. Serves 2. Enjoy – Carmelo Sigona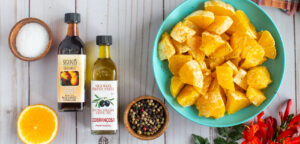 Ingredients:
2 Navel oranges
1 Tbsp Sigona's Fresh Press Cobrançosa Extra Virgin Olive Oil (*see note)
1 Tbsp Sigona's Satsuma Vanilla Cream White Balsamic (*see note)
Coarse salt
Freshly ground pepper from rainbow peppercorns
Directions: You can either supreme the citrus or use this quick-prep approach, as seen in our olive oil tasting webinar. Slice off the top and bottom of the oranges then score the peel so it's easier to remove. Remove the peel then slice the oranges horizontally into 3 rings. Break up the rings into segments.
In a medium bowl, whisk together the olive oil and balsamic until emulsified. Add the oranges and toss to coat. Allow mixture to sit for a few minutes.
Just before serving, gently toss again. Finish with a sprinkling of salt and pepper.
Chef's note: I prefer a 2:1 ratio, sometimes even a 3:1, of oil and balsamic, but I suggest you start with an equal ratio and give it a taste test to see what you like best.
---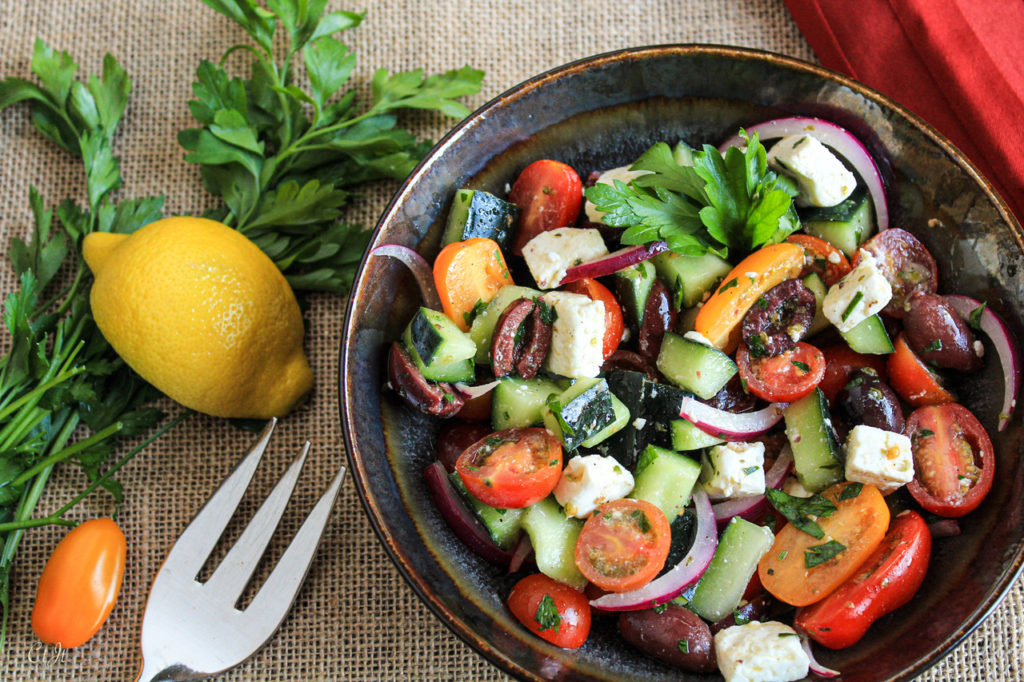 Greek Salad with a Kalamata Oil & Oregano Balsamic Vinaigrette
Marinating the ingredients separately before combining them infuses flavor and also releases the natural goodness in a salad like this, so everything shines when all the parts come together. If you're looking for a way to make this dish vegan friendly or simply to cut out the dairy, try using cubed tofu. Serves 4 to 6.
Ingredients:
1 pint baby heirloom tomatoes, halved; larger tomatoes quartered
Salt, to taste
About 3/4s of an English cucumber
About 1/4 of a red onion, very thinly sliced (use a mandoline, if possible)
1/2 Tbsp fresh lemon juice, plus wedges for serving
1/3 cup halved kalamata olives
3 Tbsp Sigona's Greek Kalamata Robusto Fresh Press Extra Virgin Olive Oil, plus more for drizzling
1 Tbsp Sigona's Oregano White Balsamic
3 tsp fresh oregano, plus more for sprinkling
Freshly ground pepper, to taste
4 to 6 oz. block feta, cubed
Directions: In a large bowl, salt the tomatoes and allow to set at room temperature for about 20 minutes.
For a fancy flair, drag a fork lengthwise down the peel of a cucumber, creating deep grooves. Halve the cucumber lengthwise, then halve the slices again. Dice the cucumber on the bias into pieces about 1/4" thick. Combine the cucumber and onion with the balsamic and lemon juice; toss to coat. Allow to marinate, stirring occasionally, for 20 minutes.
Add the cucumber mixture to the tomatoes, along with the olives, oregano and pepper. Drizzle in the olive oil and toss well to coat. Allow to marinate in the fridge for at least 30 minutes.
Just before serving, stir in the feta, drizzle with more olive oil and finish with a sprinkling of fresh oregano. Serve with a fresh lemon wedge, if desired.