In the Kitchen with Sigona's Featuring: Satsuma Mandarins
Satsuma Vanilla Dream
Using a vanilla vodka here gives this sunny winter cocktail a creamy feel and flavor. Garnished with a sprig of rosemary, it's perfect for holiday gatherings. Adapted from Smirnoff. Serves 1.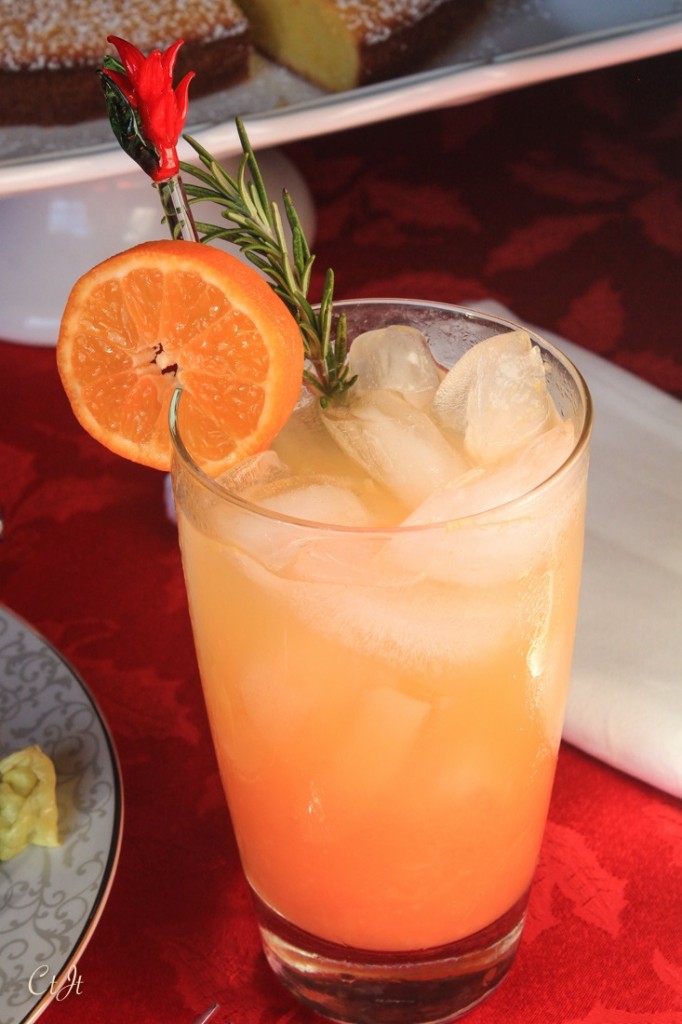 Ingredients:
3 fl. oz. fresh-squeezed Satsuma mandarin juice (from about 2 to 3 Satsumas)
5 fl. oz. vanilla vodka, such as Smirnoff
A splash of cranberry juice
1 sprig fresh rosemary (about 5 inches), for garnish
1 round slice of Satsuma, for garnish
Directions: Fill a tall glass with ice. Add the Satsuma juice, vodka and cranberry juice. Stir to combine. To garnish, stand a sprig of rosemary in the glass and add the Satsuma wheel to the rim.
Steak and Satsuma Salad with Avocado, Grapefruit and a Honey Ginger Vinaigrette
I just love the combination of citrus and avocado, and when it's served together with steak — either in taco or salad form — it's simply excellent. The sweetly aromatic honey-ginger vinaigrette gives the salad another delicious layer of flavor that ties everything together. Serves 2.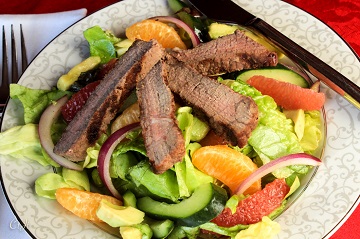 Ingredients:
1 large petite sirloin steak
Salt and pepper, to taste
2 Tbsp. Sigona's Persian Lime Olive Oil
1 1/2 Tbsp. Sigona's Honey Ginger Balsamic
2 Satsuma mandarins, peeled and broken into pieces (remove as much of the white pith as possible)
1 ruby red grapefruit, segmented*
Half a cucumber, halved lengthwise, seeds removed, sliced
1/4 a red onion, thinly sliced**
Half a large avocado, cubed
About 3 to 4 oz. salad greens, your choice (red leaf lettuce is nice)
Cook's Notes
*Segmenting citrus: Cut the top and bottom off of your grapefruit. Slice the peel from the fruit, top to bottom, getting as close to the flesh as possible. Once the peel is removed slice any remaining pieces of pith from the fruit so no white remains. Then, slice closely along the sides of each membrane to neatly remove the sections in between. Set the segments aside, discard the rest.
**For the red onions: To take the heat out of the off-season red onion, slice ahead of time and set in cold water for about 10 minutes. Drain and pat dry.
Directions: Season the steak with salt and pepper. Grill over high heat for about 3 to 4 minutes a side or until cooked to your liking. Remove from heat and allow the steak to rest while you prepare the salad.
In a small bowl, whisk together the olive oil and balsamic; season with salt and pepper. Set aside.
Prepare the citrus, cucumber, onion and avocado, placing them in a large bowl. Add the salad greens and half of the vinaigrette. Toss well to coat then divide among two individual serving plates.
Slice the steak into strips and arrange on top of the salad. Serve with remaining vinaigrette on the side.
Satsuma & Blood Orange Olive Oil Cake
Olive oil cakes are simple to put together, and their moist, dense, almost chiffon-like texture will make you wonder why you don't make this traditional Sicilian dessert more often. We use our blood-orange infused olive oil to enhance the Satsuma flavor in this cake, but you could just as easily use limes and our Persian-lime infused olive oil, or try Meyer lemons and use our Meyer-lemon fusion olive oil. The possibilities are endless. Adapted from Instructables. Serves about 12.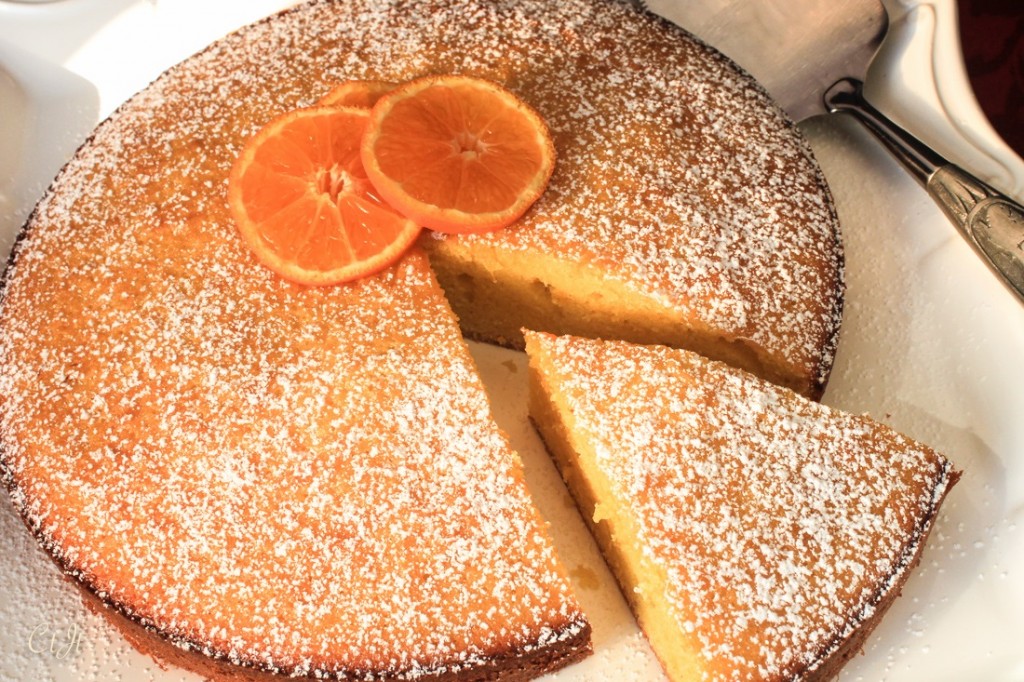 Ingredients:
Zest and juice from 2 to 3 Satsumas, divided (you'll want at least 1/4 to 1/3 cup juice)
4 large eggs
3/4 cup sugar
1 cup all-purpose flour
1/2 tsp. baking powder
1/4 tsp. salt
Powdered sugar, for dusting
A few slices of Satsuma, for garnish
Directions: Preheat oven to 350ºF. Trace the bottom of a 9" round baking pan on parchment paper. After it's cut out, place the circle in the bottom of the pan; butter the sides of the pan and the top of the parchment. Dust with flour, if desired. Set aside.
In a medium bowl, whisk together eggs and sugar for a couple minutes until the mixture is frothy. While whisking, add the olive oil, followed by the juice. Set aside.
In a large bowl, sift together the flour, salt and baking powder. Add the zest and mix it in with a fork. Make a small well in the middle and pour in the wet ingredients. Use a whisk to combine until the batter is smooth and clump-free.
Pour the batter into the prepared pan and tap it on the counter to bring out any air bubbles. Bake at 350ºF for 35 to 40 minutes, checking at 35 minutes (some can take up to 45 minutes to finish). It's done when a toothpick inserted in the middle comes out clean. The sides will have browned a bit.
Allow the cake to cool in the pan on a cooling rack for at least 15 minutes. Run a knife around the edges then turn the pan on to a plate or cooling rack; quickly and gently turn the cake back onto a serving dish so it is presented top-side up.
Dust the top with a little powdered sugar and a few slices of Satsuma, if desired.
Chocolate Dipped Satsumas with Chopped Pistachios
Orange and chocolate is a delicious combination. Leave off the pistachios if you choose. One Satsuma yields about 10 segments.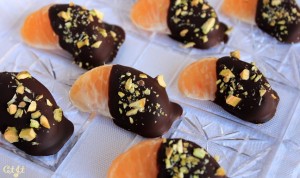 Ingredients:
About 3 to 5 oz. melting chocolate, such as Guittard, per Satsuma mandarin
Satsuma mandarins, peeled and broken into segments
Finely chopped pistachios, a pinch or two per segment
Directions: Place the peeled Satsuma segments in the fridge for about 5 minutes.
Chop chocolate and put in a narrow, shallow microwaveable bowl or coffee mug. Microwave for 30 seconds, stir and microwave again for 30 seconds. Repeat until thoroughly melted.
Prepare a plate or baking sheet with wax paper.
Dip one end of the Satsuma segments in the chocolate and then place it on the wax paper. Place the dipped segments in the fridge for 5 minutes.
After they have chilled for 5 minutes, dip the dipped end in the chocolate again, place it back on the wax paper and then immediately sprinkle with chopped pistachios.
You'll likely have chocolate left over. Just eat it when no one is watching.
Chill until ready to serve.
Satsuma Mandarin & Medjool Date Salad Over Yogurt
This recipe, adapted from Sunset magazine, is a classic combination of flavors from Morocco. Leave the yogurt out and serve this as a side at dinner, if desired.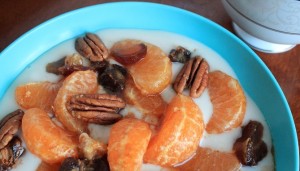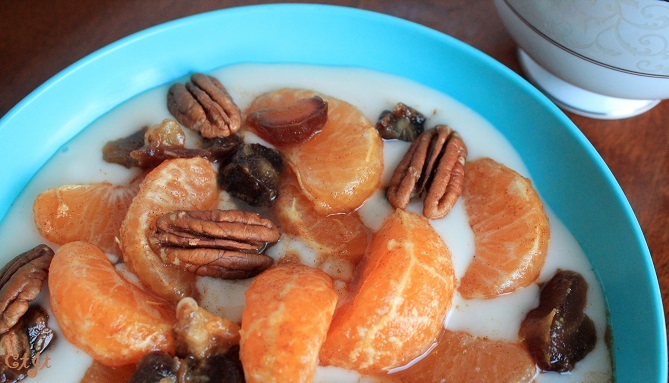 What you need:
1 ½ local Satsuma mandarins per person
1/4 cup pitted, chopped Medjool dates per person
1/4 to 1/2 tsp. cinnamon per person
Whole raw pecan halves, for sprinkling
6 to 8 oz. plain or vanilla yogurt per person
Directions: Peel and segment one Satsuma and place segments in a medium bowl. Juice the remaining half Satsuma over the same bowl. Add the dates and cinnamon, stir to combine.
Spoon yogurt into individual bowls. Spoon on the Satsuma mixture and sprinkle with a couple raw pecans.
Winter Salad with Satsuma Mandarins and Pomegranates
This simple side salad bursts with flavor that will brighten a blustery fall day. Adapted from Health. Serves 4.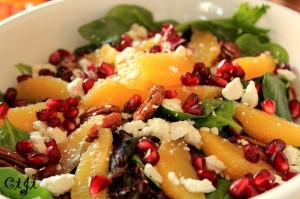 Ingredients:
3 Satsuma Mandarins
1 Tbsp Sigona's Satsuma Vanilla White Balsamic
2 tsp. honey, such as Orange from Honey Hole Honey Co., available at Sigona's
1 tsp. Sigona's Fresh Press Australian Hojiblanca Extra Virgin Olive Oil
6 to 7 cups (about 6 oz.) mixed winter salad greens, such as baby spinach, arugula, romaine and endive
1/3 cup pomegranate seeds (about 1/4  to 1/2 a pomegranate), divided
1/4 cup roasted, salted pecans or walnut pieces
1/4 cup crumbled cheese, such as a mild Feta like Athenos, or a mild, creamy chevre (goat) like Laura Chenel.
Pepper, if desired
*Satsumas peel and come apart easily, but if you want to remove even more of the white, sometimes bitter, pith, then you can slice and segment the fruit following these instructions — Segmenting Citrus: It takes time and patience, but is well worth the effort! To do this, cut the top and bottom off of your citrus fruit. Slice the peel from the fruit, top to bottom, getting as close to the flesh as possible. Once the peel is removed, slice any remaining pieces of white pith from the fruit so no white remains. Then, slice closely along the sides of each membrane to neatly remove the citrus segments in between. And there you have it!
Directions: Peel and segment* 2 Satsumas; set aside. Juice the remaining Satsuma (to get about 1/3 cup juice)
Whisk together juice, balsamic and honey in a small bowl. Pour oil in slowly, whisking well until the mixture is emulsified.
In a large bowl, add the salad greens and half of the pomegranate seeds. Drizzle on about 1/4 cup of the juice mixture and toss gently until all the leaves are well coated. Add more dressing if needed.
Transfer to a serving bowl or divide salad among 4 plates. Arrange Satsuma segments on the top, then sprinkle with the pecans, cheese and remaining pomegranate seeds. Serve with remaining orange dressing on the side. Season with pepper, if desired.
Hot Spiced Apple Cider with Satsuma Mandarins
This is one of our employee's favorite family recipes. The flavor and aroma get you in the mood for a little holiday cheer. Easy to double or triple for guests. Serves about 4.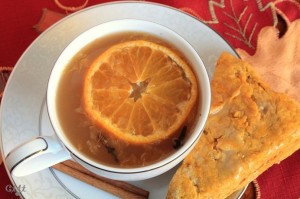 Ingredients:
1 quart (32 oz.) local, organic Gravenstein Apple Juice
3 Satsuma mandarins
1/3 cup fresh lemon juice
2 Tbsp honey, such as Orange honey from Honey Hole Honey Company, available at Sigona's
1 cinnamon stick
3 whole cloves
1/2 tsp allspice
Optional: 1/2 to 1 tsp butter
Directions: Juice 2 Satsumas to yield about 1/2 to 3/4 cup juice. Discard the peel.  Wash the remaining Satsuma and then slice it into thin rings.
Heat all ingredients in crock pot or in pot on stove. Lift the lid occasionally to let the smell fill your holiday room!  Serve hot.