Teriyaki-Ginger Glazed Seared Salmon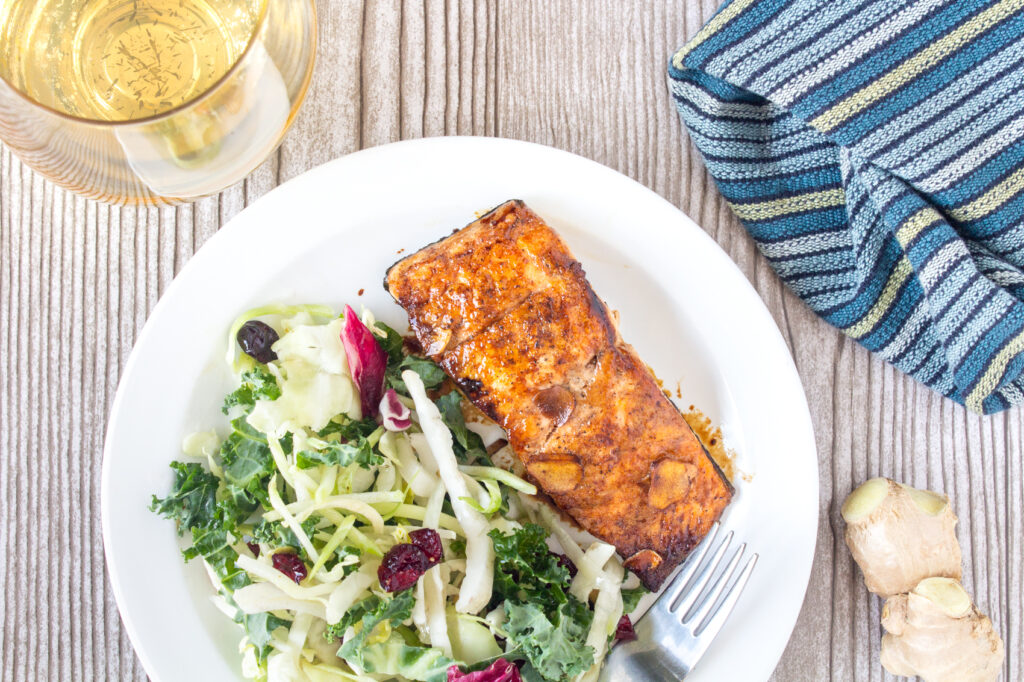 I love this quick, delicious teriyaki salmon with ginger and garlic. Everything comes together in just minutes, adding a flavorful, healthy protein to your meal. Enjoy! – Carmelo Sigona
Serves 2.
Ingredients:
2 Tbsp Sigona's Fresh Press Extra Virgin Olive Oil, or enough to coat bottom
2 wild salmon fillets, about 4 to 6oz each
Salt & pepper, to taste
2 Tbsp mirin, such as Wan Ja Shan
1/4 cup soy sauce
About a 1/2 inch fresh ginger, peeled and sliced
1 clove garlic, finely sliced
Directions: Using a sharp knife, score the skin side of the salmon fillets with straight lines 2 or 3 times. This helps the skin not to buckle when cooked. Season both sides of the salmon fillets with salt and pepper.
Heat the olive oil in a medium skillet over medium-high heat. Add the salmon skin-side up; allow to cook for about 2 to 4 minutes, depending on thickness, until the salmon has a nice sear, and you can see the cooked portion is at least halfway through the fish from the bottom up. Flip the salmon and allow to sear over medium-high for 1 minute. Reduce heat to medium/medium-low then add the mirin, soy sauce, garlic and ginger to the pan. Moving quickly, tilt the pan slightly to collect some of the liquid in a spoon and then drizzle it over the fillets as they cook another 1 to 2 minutes. Remove from heat and continue spooning the mixture over the fish until it thickens and fish is cooked through or to your liking (some prefer a 125°F internal temp at the thickest part; the FDA recommends 145°F).
Remove fish from remaining sauce and serve immediately.