In the Kitchen with Sigona's Featuring: Jalapeño Peppers
Quick & Easy Migas with Jalapeños, Bell Peppers and Pastured Eggs
Migas, which are essentially scrambled eggs made with tortillas and a variety of peppers and vegetables, are fantastic for brunch or even breakfast for dinner. This version uses tortilla chips to speed up the process. Top them with whatever you please, and serve with tortillas on the side. Serves 2 to 4.
2 Tbsp Sigona's Fresh Press Extra Virgin Olive Oil
Half a white or yellow onion, diced
1 to 2 jalapeño peppers, diced (leave seeds in for more heat, or remove the ribs and seeds before you dice)
Half a red bell pepper, seeded and diced
6 eggs, such as Wattle & Comb pastured eggs, found at Sigona's
1 Tbsp fresh chopped cilantro, plus more for garnish
1 cup lightly crushed tortilla chips (leave some large pieces)
1/2 cup shredded cheddar cheese
salt and pepper, to taste
For serving, if desired:
Jalapeño-tomatillo salsa (recipe below)
Sliced jalapeños
Sour cream or plain Greek yogurt
Avocado slices
Tortillas
Directions: Heat oil in a large skillet over medium heat. Add the prepared jalapeño, onion and bell pepper; season with salt and pepper. Cook, stirring occasionally, for about 5 minutes, or until the onion and peppers are softened.
In a medium bowl, whisk together the eggs and cilantro. Add the eggs to the pepper mixture and fold in the eggs using a rubber spatula. Continue folding and stirring for about 3 to 5 minutes or until the eggs are about set. Add the cheese and the lightly crushed tortilla chips, folding in with the spatula to incorporate. Remove the skillet from the heat; the eggs will finish cooking off the heat.
Serve migas in the skillet or transfer to a serving dish. Garnish with desired toppings or serve them on the side.
Jalapeño-Tomatillo Salsa
Great for dipping, topping or marinating. Kick up the heat by leaving in the jalapeño seeds. We suggest serving this alongside pulled pork or shrimp tacos. It's even great on burgers or simply served with tortilla chips. Makes about 1 1/2 cups.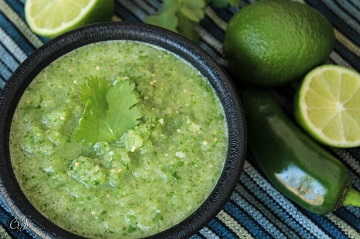 Ingredients:
4 to 5 medium tomatillos, husked, rinsed and quartered
1/2 to 3/4 cup lightly packed cilantro, more or less to taste
1/4 cup chopped onion
1 to 2 jalapeños, chopped (seeds add heat, so remove or leave in; it's up to you)
1 clove garlic
1 1/2 to 2 Tbsp fresh lime juice (from about 1 lime)
1 1/2 tsp. Sigona's Fresh Press Extra Virgin Olive Oil
Salt, to taste
Directions: Place all the ingredients together in a food processor or blender. Pulse until nearly smooth. Taste; adjust salt and/or lime juice as needed.
Sigona's Guacamole
Some like it hot, some do not! Add as much jalapeño as you wish. Remember, the white veins and seeds are what pack a punch, so scrape them out to lower the heat. This recipe makes A LOT of guac, so have some chips or sliced veggies ready!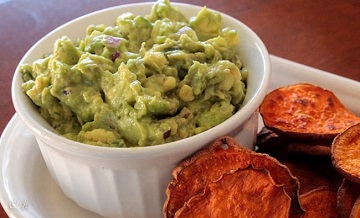 Ingredients:
1/3 cup finely diced white onion
1/3 cup finely diced red onion
2 to 4 jalapeños, finely chopped (seeds and ribs removed or left in, depending on how hot you like your guacamole)
1 clove garlic, minced
Salt and pepper, to taste
4 large, ripe avocados, removed from skin and coarsely chopped
2 Tbsp fresh-squeezed lime juice
Directions: Mix onions, jalapeños, garlic and salt in a medium-sized glass bowl. Add the avocados and gently stir. Pour in the lime juice and stir. Season with some black pepper and salt, if needed, to taste. Then…you're done. Yep – it's that easy.
Bacon-Wrapped Jalapeños Stuffed with Cream Cheese and Sigona's Sweet Red Pepper Relish
These spicy bites are best served with a cold beer. They're great finger food for an afternoon BBQ or tailgate party. Makes 16 to 20 pieces.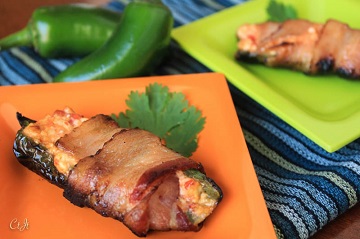 Ingredients:
8 to 10 jalapeños
1 (8 oz.) package of cream cheese, room temperature
About 1/3 cup Sigona's Sweet Red Pepper Relish, more if desired
16 to 20 slices of bacon
16 to 20 toothpicks, soaked in water for at least 20 minutes
Directions: Preheat a grill to medium high.
In a medium bowl, mix together the cream cheese and pepper relish. Set aside.
Slice each jalapeño in half lengthwise. Use a spoon to remove the seeds and ribs. Spoon some of the cream cheese mixture into each hulled jalapeño (anywhere from 2 tsp. to 1 Tbsp or so, depending on size). You might have some cream cheese mixture left over.
Wrap a slice of bacon around each stuffed jalapeño half; secure the bacon with a toothpick.
Place the wrapped jalapeños onto the heated grill to cook until the bacon has crisped and the pepper has softened, about 8 to 12 minutes.
Transfer to a serving dish and serve any remaining cheese mixture on the side, if desired.