Balsamic Bash Gift Set Recipes
This gift set sampler includes recipes and the following 60 ml bottles:
Fig Balsamic
Strawberry Balsamic
12-Year Aged Traditional Balsamic Condimento Tradizionale
Blackberry Ginger Balsamic
Cranberry Pear Balsamic
Summertime Peach White Balsamic
Find it in our stores or purchase it online at www.sigonas.com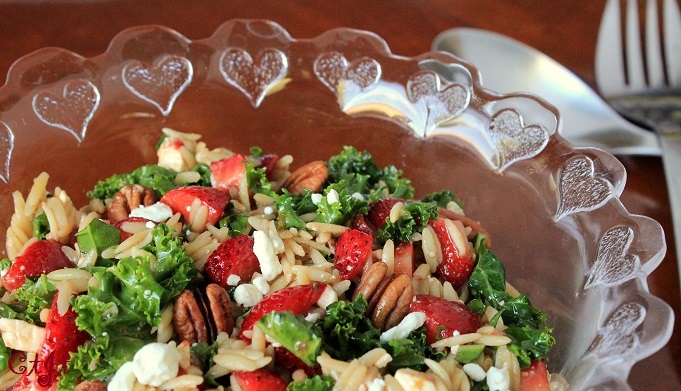 Fresh Strawberry, Kale and Orzo Salad with a Balsamic Vinaigrette
This hearty salad serves nicely as a side or as a main dish, and is just lovely with any fresh berry. If you go with blueberries, try our blueberry balsamic in the vinaigrette. Instead of orzo, you can use farro, an ancient grain, if you'd like. Enjoy! Serves 3 to 4.
For the Salad:
3/4 cup uncooked orzo
1 cup chopped fresh strawberries
1/4 cup chopped walnuts or pecans (look for some of our glazed varieties at Sigona's)
1/3 cup cubed or crumbled Feta or goat cheese
2 cups shredded kale
2 Tbsp minced basil, optional
For the Vinaigrette:
Directions: Cook the orzo just to al dente, according to package directions. Fluff and allow to cool in the fridge for about 20 minutes, stirring once.
Meanwhile, in a small bowl, whisk together the garlic, shallot, honey, lemon zest, lemon juice and the balsamic. While whisking briskly, drizzle in the olive oil and mix well to emulsify the mixture. Season with salt and pepper. Set aside.
In a large bowl, gently mix together the cooked and cooled orzo, the strawberries, nuts, cheese, shredded kale and basil, if using. Drizzle the vinaigrette over the top and toss to incorporate. Season with salt and pepper.
Serve chilled or at room temperature.
---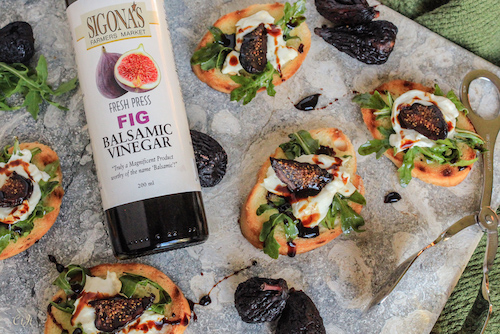 Tuscan Herb Toasts with Chèvre, Arugula and a Fig Balsamic Reduction
If you're not a fan of goat cheese, we recommend a crème fraîche or just cream cheese. Either way, your taste buds will dance with delight at the combination of these simple ingredients. The arugula gives the bite a peppery punch that is lovely paired with our Tuscan herb olive oil and the sweetness of the fig balsamic reduction. Serves 4 as an hors d'oeuvres.
What you need:
1/4 cup Sigona's Fig Balsamic, divided
8 to 12 slices of a sweet baguette, about 1/4-inch thick
Sigona's Tuscan Herb Olive Oil, for brushing
Arugula, 2 to 3 leaves per toast
Spreadable goat cheese, known as chèvre, or an alternative spreadable cheese, such as crème fraîche or cream cheese
Dried black mission figs, quartered
Directions: Add the balsamic to a small sauce pan over medium-high heat. Bring to a boil then reduce to low and simmer for 5 to 7 minutes, stirring occasionally. The reduction is done when it is reduced by nearly half and nicely coats the back of a spoon. Note: The balsamic will continue to thicken and reduce when removed from heat. A good consistency will resemble thick chocolate syrup. Set aside to cool.
Heat an indoor grill pan or griddle over high heat.
Brush both sides of the slices with Tuscan herb oil and grill for about 1 minute per side, turning once, so the outside is just crisp-brown. Remove to a plate and set aside.
Place 2 or 3 leaves of arugula on top of each toast. Gently spread a generous teaspoon or more, to taste, of the cheese on the arugula and place a piece of the cut fig on top.
Arrange the toasts on a serving dish. Use a spoon to drizzle some of the fig balsamic reduction on top of each toast. Serve.
---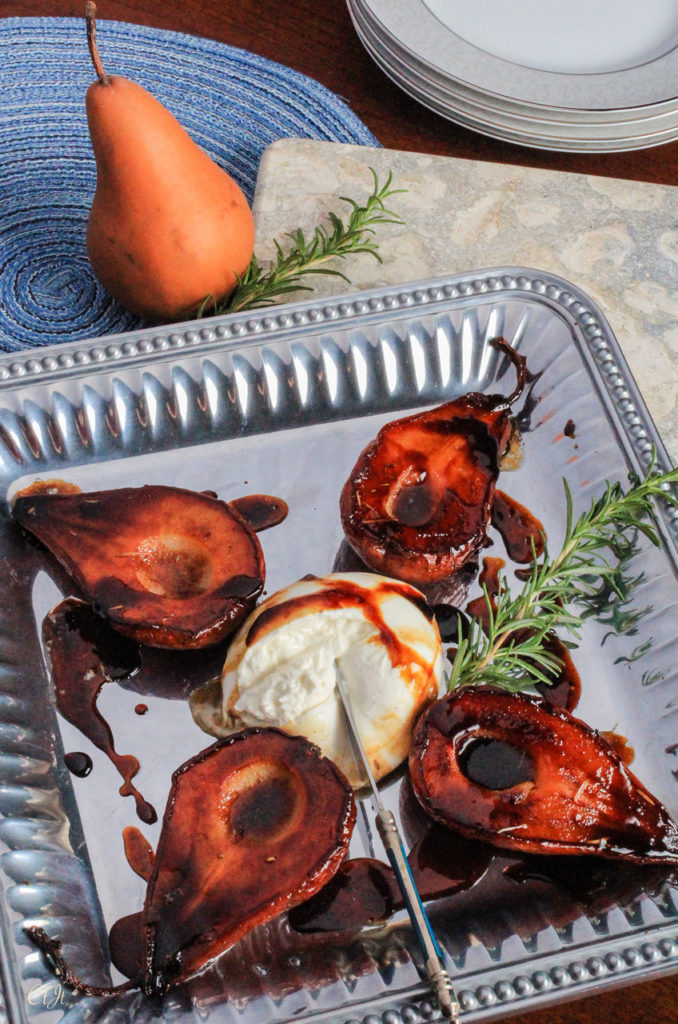 Roasted, Balsamic-Glazed Bosc Pears with Rosemary and Burrata
When fruit cooks, its natural sugars become caramelized, creating a rich, almost brown-sugar like flavor. The delicate flavor of pears, combined with their caramelized sugars, the savory rosemary and the sweet tang of the balsamic is absolutely delicious served with creamy, slightly salty burrata. This dish is nice as an appetizer or dessert. Serves 4.

Ingredients:
2 firm Bosc pears, halved and cored
2 tsp butter or cooking oil of preference
1 tsp dried rosemary or 1 sprig fresh rosemary, plus more for garnish (you can use other herbs here, such as thyme)
1 (4oz) ball burrata

Directions: Preheat oven to 400 F. Melt butter or preferred cooking oil in a heavy-bottomed, oven-safe sauté pan or cast-iron skillet over medium-high heat. Once hot, add the pears, cut-side down; sauté for about 2 minutes or until they begin to brown and caramelize. Add the rosemary to the pan then place the pan in the oven.
Roast for 20 minutes. Use an oven mitt to remove the pan from the oven. Drizzle the balsamic over the pears and return to the oven to roast another 5 minutes. Carefully remove the pan, use tongs to flip the pears over and place on a serving dish. Use a spoon to drizzle the balsamic, which will have reduced a little, over the pears. Plate the ball of burrata amongst the pears, drizzle with a little of the balsamic, if desired, and serve warm.
---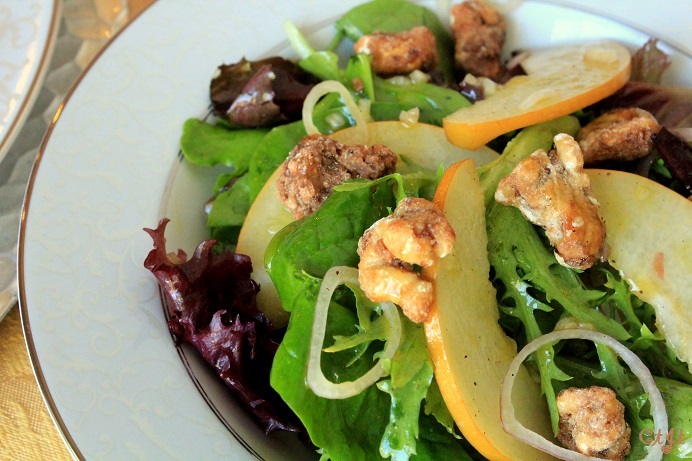 Mixed Greens Salad with Asian Pears, Glazed Walnuts and a Cranberry-Pear Vinaigrette
Simple fall flavors in this dish make for a great salad. Asian pears are refreshing and crisp, and hold up well when tossed with the other ingredients. Plus they're a little more exotic than apples or regular pears; perfect for a holiday dish! Serves 4 to 6.
For the vinaigrette:
For the salad
About 8 cups mixed greens
1 to 2 Asian pears, quartered, cored and sliced into very thin wedges
1 small shallot, thinly sliced
About 1/2 cup Sigona's glazed walnuts
For the vinaigrette: In a small bowl, whisk together the balsamic, honey, Dijon and shallot. While whisking, drizzle in the olive oil. Season with salt and pepper to taste.
For the salad: Toss the greens, pear and shallot with a little less than half of the vinaigrette. Add more vinaigrette if needed to lightly coat all ingredients well.
Divide salad among salad plates and top with the walnuts. Serve remaining vinaigrette on the side.
---
Grilled, Basil-Rubbed Pork Chops with Fresh Peach Mostarda
Mostarda is a traditional Italian condiment that is similar to chutney. It goes well with grilled meats or as a spread served with charcuterie. The savory-tartness of mustard melds together deliciously with the sweetness of the peach balsamic, whose sweetness is enhanced as it reduces and caramelizes. Inspired by Bobby Flay Fit. Serves 4.
Ingredients:
3 yellow peaches, firm but ripe (about 1 ½ cup diced)
2 Tbsp Sigona's Garlic Oil
1 shallot, minced
1 Tbsp grainy mustard
2 tsp Dijon
Pinch of salt
4 boneless pork chops
2 Tbsp Sigona's Basil Oil
Salt and pepper, to taste
Directions: Peel and dice the peaches, discarding the pit.
Heat garlic oil in a medium saucepan over medium-high heat. Add the shallots and sauté until soft; about 2 to 3 minutes. Reduce to medium-low and add the balsamic; bring to a simmer. Add the mustards and a pinch of salt, stir and then add the peaches. Bring the mixture to a simmer, stirring occasionally, until the liquid has just about evaporated and the mixture has thickened, about 15 to 18 minutes. Remove from heat and set aside.
Preheat an outdoor grill or indoor grill pan over high heat. Rub the pork with the basil oil and season both sides with salt and pepper. Grill the pork for about 3 to 5 minutes a side, depending on thickness of the chops you may need more time, flipping once. They're cooked through when an internal thermometer reads 145°F.
To serve, arrange pork on a serving platter and spoon the mostarda on top. Serve remaining mostarda on the side.
---