Harvest Season Gift Set Recipes
The flavors of these infusions evoke a sense of comfort and memories of gathering around the dinner table with family during the harvest season. If you cook up all the recipes that follow, you'll have one delicious meal! Included in this box are 60 ml sampler bottles of:
Blood Orange Fusion Olive Oil
Wild Rosemary Olive Oil
Gravenstein Apple White Balsamic
Herbes de Provence Olive Oil
Garlic Oil
Pomegranate Balsamic
Blood Orange, Cinnamon & Rosemary Roasted Garnet Yams
You'll love the flavors in this keto, paleo & whole30 friendly sweet potato or yam dish. It's also dairy- and gluten-free! The thin slices get deliciously crispy under the broiler, but also stay tender, creating a nice mouthfeel in every bite. Inspired by Thyme & Joy. Serves 2. Easily doubled.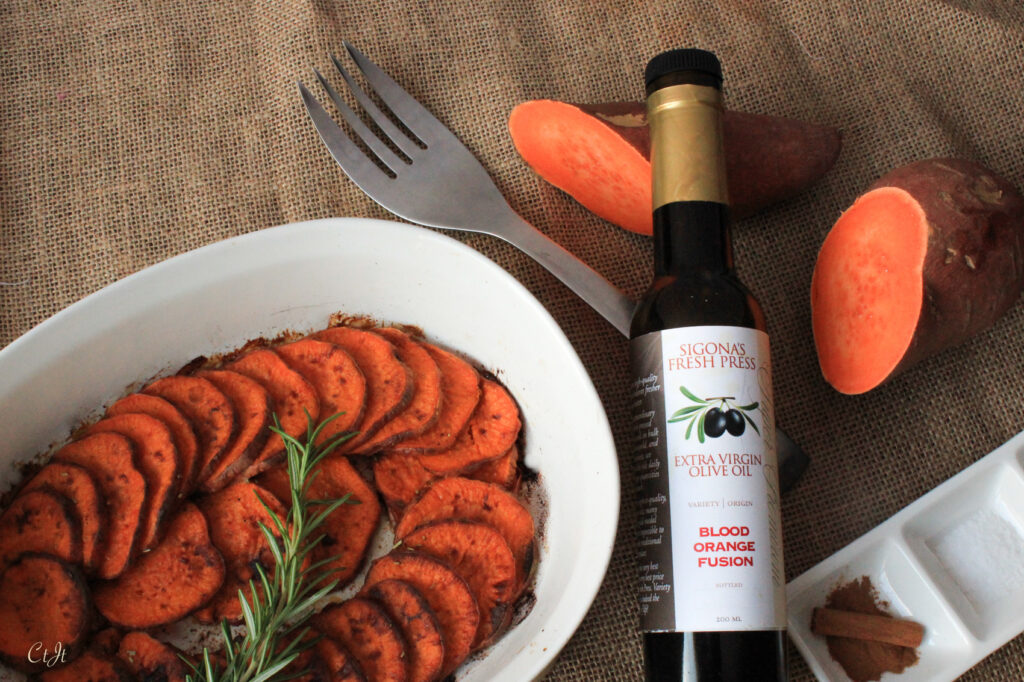 Ingredients:
1 large garnet yam or sweet potato, about 8 inches long and without much variance in width
1 Tbsp Sigona's Blood Orange Oil, plus more for greasing baking dish
1/4 tsp ground cinnamon
1 tsp minced fresh rosemary or 1/2 tsp dried rosemary or
Kosher salt and freshly ground black pepper, to taste
Directions: Preheat oven to 400°F. Using a little blood orange oil, lightly grease a rimmed baking dish, such as an approx. 9"x7" or 1.5 qt oval casserole dish.
Using a mandoline or sharp knife, carefully slice the sweet potato into rounds about 1/8-inch thick. Arrange the slices in the dish, overlapping one another in a semi-circle design.
In a small bowl, whisk together 1 tablespoon blood orange oil, cinnamon, rosemary, salt and pepper. Drizzle the mixture over the sweet potatoes and use a pastry brush to coat the slices. Cover with foil and bake for 30 to 35 minute or until tender.
Uncover and place the dish under the broiler for about 5 to 7 minutes or until the top is crisp and slightly brown, just be careful they don't begin to char and burn.
Remove from oven; allow to cool slightly before serving.
---
Pan-Seared Rosemary Pork Chops with a Savory Apple Chutney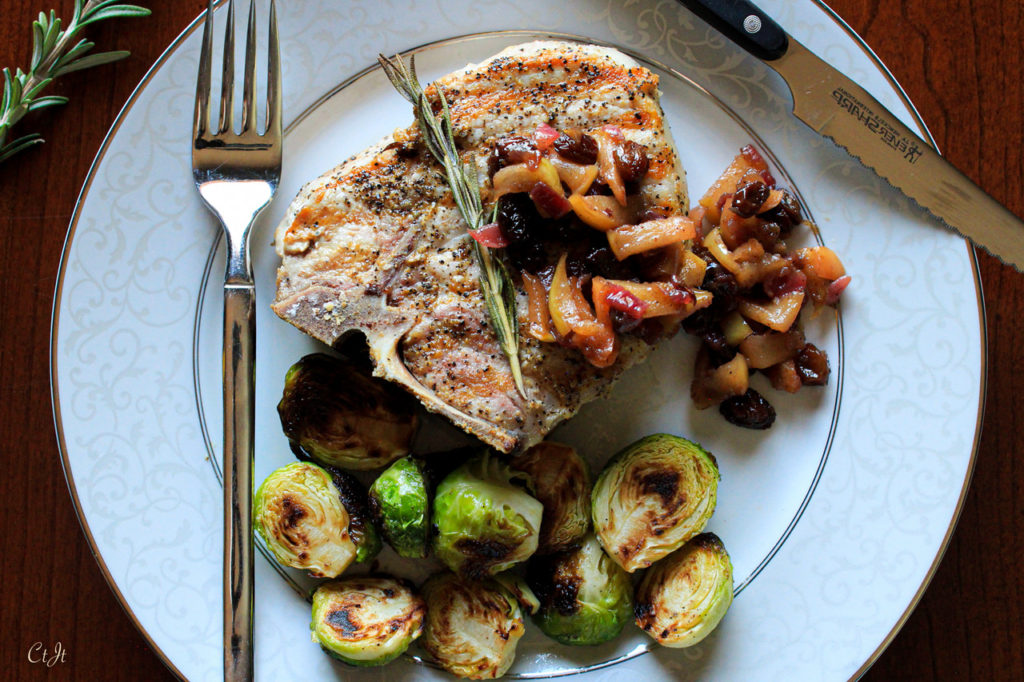 Once you've seared pork chops in our wild rosemary oil, you'll never want them any other way again! A well-seasoned, seared chop that's finished in the oven is a dish to celebrate. If you top it with the bonus recipe for balsamic-infused apple chutney, you might as well call it Christmas dinner. Serves 2.
Ingredients:
2 bone-in pork chops (thick cut or regular; adjust cooking times as needed)
Sigona's Wild Rosemary Olive Oil, at least 2 tablespoons
Kosher salt
Freshly ground black pepper
2 sprigs fresh rosemary
Directions: Preheat oven to 400°F. Set an oven-safe, indoor grill pan on the stovetop over medium-high/high heat to warm up.
Rub about 1 tablespoon of olive oil all over each pork chop, coating all sides. With a heavy hand, season the pork with salt (pork needs a lot of salt to bring out the flavor), followed by a bit of freshly ground pepper.
Sear the pork for 2 minutes per side, turning once. Place one sprig of rosemary on top of each pork chop, then pop the whole pan in the oven to finish cooking the pork chops (5 to 7 minutes for a regular chop, 10-15 for a thick-cut chop; a good rule of thumb is 5 minutes for each half-inch of meat). Remember to use an oven mitt when removing the pan from the oven. The pork chops are done when the internal temperature has reached at least 145°F.
Allow chops to rest for 5 minutes off the heat before slicing. Serve topped with a couple tablespoons of the savory apple chutney (recipe follows).
---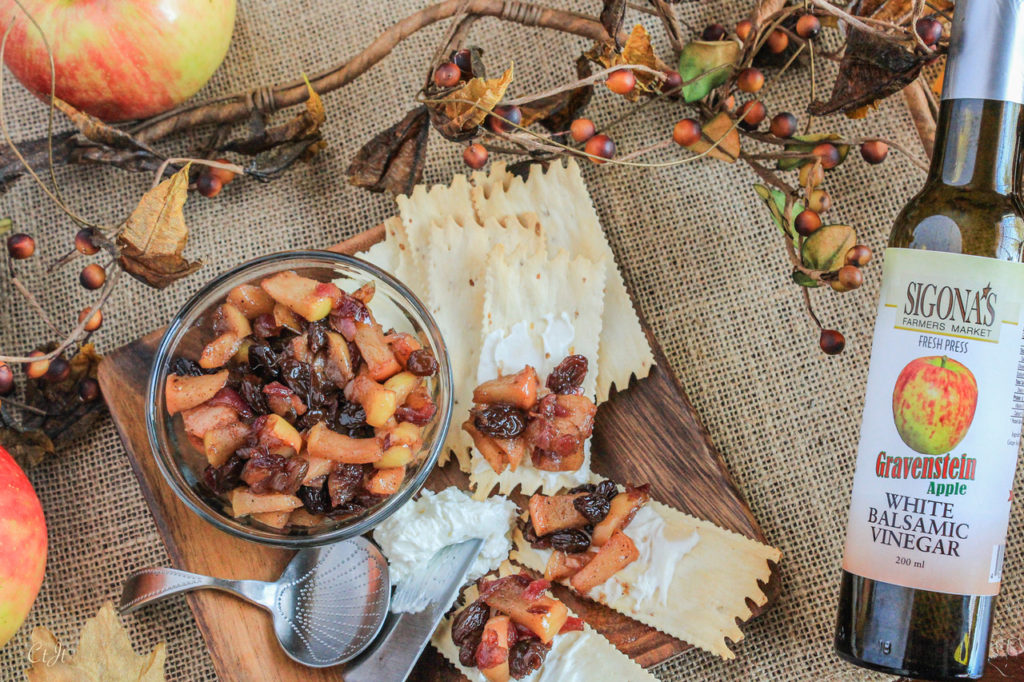 Savory Apple Chutney with Gravenstein Apple White Balsamic
Whether used as topping for grilled pork, to grace a cheese board or line the inside of a sandwich, this chutney is simply perfect. The savory notes from the warm spices and onion go well with the sweet tang of the apples and our Gravenstein white balsamic. If you're looking for something new, try it with a little mild, creamy cheese, such as brie or even cream cheese, on top of an Elegant & English baked apple & custard tea biscuit. Makes about 1 1/2 to 2 cups.
Ingredients:
Directions: In a medium, heavy-bottomed saucepan, combine the oil, onions, salt, allspice, nutmeg and cinnamon. Cook over medium-low heat, stirring frequently for 2 minutes, then add the ginger and continue to cook, stirring frequently, for about 7 to 10 minutes.
To the mixture add the apples, raisins and sugar. Stir until the sugar dissolves then add in the remaining oil and all the balsamic. Lower heat to low and simmer the mixture, stirring occasionally, for about 35 minutes or until the apples have softened and the mixture is thickened. Reduce the heat to low if necessary to keep the bottom from scorching while the apples soften.
Serve warm or at room temperature. Keeps in the fridge in a sealed container for 7 to 10 days.
---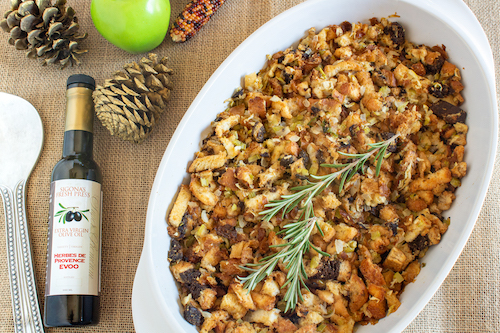 Thanksgiving Stuffing with Herbes de Provence Oil
Some like to stick to "simple is best" when it comes to stuffing for the holidays. Our Herbes de Provence infused olive oil helps keep a this must-have side simple while providing excellent flavor. Inspired by Serves 8 to 10.
Ingredients:
2 stalks celery, diced (about 1 cup)
1 medium onion, diced
Salt and pepper, to taste
2 Tbsp butter
32 oz chicken stock
1 lb. bread cubes for stuffing (use already prepped and dried cubes or make your own*)
1 Granny smith apple, quartered, cored and grated
Directions: Preheat oven to 350°F. Heat olive oil in a large pot over medium heat. Add the onion and celery; season with salt and pepper. Sauté, stirring occasionally, for about 7 minutes or until the onion and celery have softened. Add the butter and stock then bring to a simmer. Turn off the heat and stir in the bread cubes and grated apple. When combined, transfer to a baking dish.
Bake the stuffing for 30 minutes or until stuffing is nicely browned and cooked through. Serve warm.
*DIY Breadcubes for Stuffing: Preheat oven to 300°F. Cube the bread into 1/2" cubes. Spread out the cubes on one or two rimmed baking sheet(s). Place the cubes in the oven and bake, shaking pan about every 10 minutes, until the bread is lightly toasted and is totally dried out, about 40 minutes. Remove from oven and allow to cool completely before bagging or using in a recipe.
---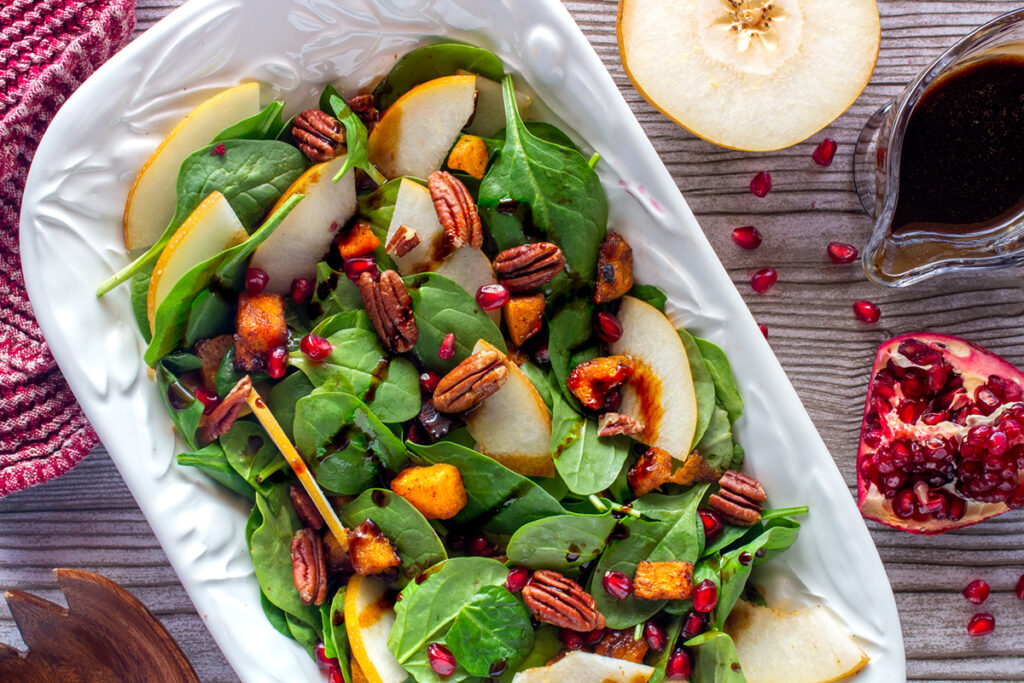 Roasted Butternut and Asian Pear Salad with a Pomegranate Vinaigrette
These flavors may scream fall, but sometimes you just need a hearty, comfort-flavored salad, right? Add cheese or leave it off for a diary-free option. Goat or Feta adds a nice salty and creamy factor, if you choose to use it, and pairs beautifully with the roasted squash and bright, juicy pomegranate seeds. Asian pears are crisp and hold up well in salads, but you can also use apple or pear. Serves about 6.
For the butternut squash
1 Tbsp Sigona's Garlic Oil
1 Tbsp honey, such as local, raw Honey Hole Honey Co. honey, available only at Sigona's
1/4 tsp each cinnamon and ground chili powder
Salt and pepper, to taste
About 2 cups cubed (about 1/2-inch cubes) butternut squash
For the salad:
About 12 oz baby spinach (or about 1 to 2 hefty handfuls per person)
1 Asian pear, halved, cored and sliced on a mandoline, at about 3mm. (use half or all, depending on size of pear)
1/2 cup glazed pecans (look for other pecan options in Sigona's Dried Fruit & Nut section)
At least a 1/2 cup fresh pomegranate arils (seeds), more to taste/appearance
Optional: crumbled feta or goat cheese
For the dressing:
3 Tbsp Sigona's Garlic Oil
1/2 tsp Dijon mustard
Salt and pepper, to taste
Optional: 1/2 tsp honey, if you find the vinaigrette to be too tart once mixed
Directions: Preheat oven to 400°F and line a rimmed baking sheet with foil. To prepare the squash, whisk together the garlic oil, honey, cinnamon, chili powder, salt and pepper. Add the squash and toss to coat. Spread out in a single layer on the baking sheet and roast for 25-30 minutes, flipping the cubes half-way through, until tender but not mushy.
To make the dressing, either whisk together all ingredients in a medium bowl or add to a lidded jar and shake until emulsified.
In a large mixing bowl, toss the spinach with the pear and squash. Transfer to a serving platter or distribute among individual plates. Top with pecans, pomegranate arils and cheese, if using, then drizzle the dishes with a bit of the vinaigrette. Serve remaining vinaigrette on the side.