Sicilian-Style Blood Orange Salad with Currants & Fennel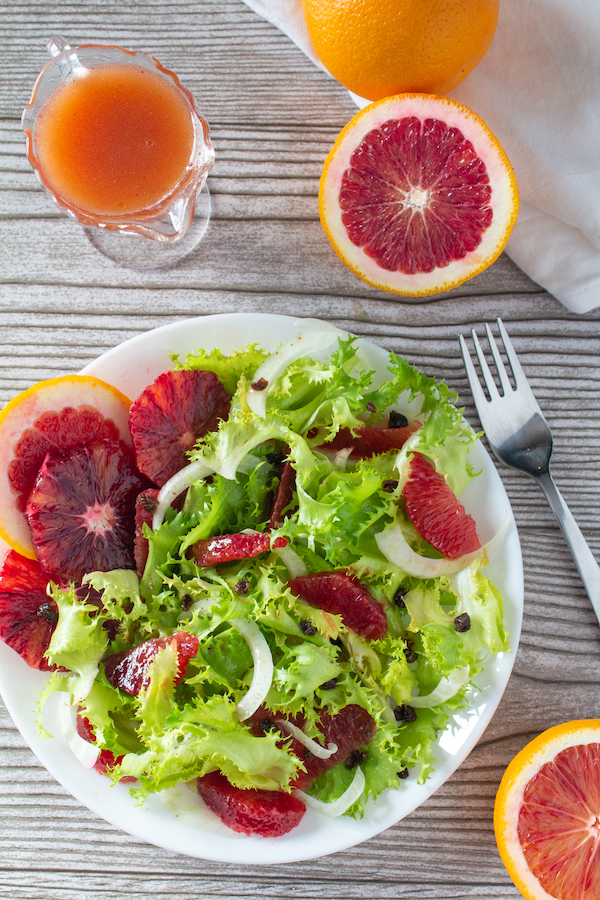 Sicilians are all about achieving a balance of sweet & tart (or sometimes even sweet & bitter) in dishes, especially salads. We enjoy greens with personality and our vinaigrettes tend to lean a little heavy on the ratio of olive oil to acid. This is, overall, a mild salad, but it is filled with little taste explosions. You'll love how all the elements of this dish come together to create a delicious bite. Makes more than enough vinaigrette to serve 4. – Carmelo Sigona
For the Salad:
Frisée or baby endive, about 2 handfuls per serving
Blood oranges, at least 1 per serving and another for the garnish and vinaigrette(see below)
Currants, about 1 tsp per serving
Thinly shaved fennel (sliced with a mandoline then julienned), add to taste
Fresh cracked pepper (preferably rainbow peppercorns)
Optional garnish: one slice of blood orange per serving, sprinkled with coarse salt just before serving
Vinaigrette:
(we use a 3:1 (or about 1.5) ratio of oil to acid; alter to taste, if desired)
6 Tbsp Sigona's Fresh Press Arbequina Extra Virgin Olive Oil (look for the new crop from California)
1 Tbsp champagne vinegar
1 Tbsp fresh-squeezed blood orange juice
Up to 2 tsp Sigona's Satsuma Vanilla Cream Balsamic or Sigona's Summertime Peach White Balsamic, to taste
Salt and pepper, to taste
Directions: Slice off the core of the frisée and break apart the pieces until they're about the size of a finger (or chop the endive similarly). Set aside.
Supreme the citrus: Cut the top and bottom off the fruit. Slice the peel from the fruit, top to bottom, getting as close to the flesh as possible. Once the peel is removed, slice any remaining pieces of white pith from the fruit so no white remains. Working over a bowl to catch the juices, slice closely along the sides of each membrane to neatly remove the citrus segments in between. Set aside.
In a medium bowl, add the olive oil, champagne vinegar and blood orange juice. Whisk together and then add a 1/2 teaspoon of the balsamic; whisk and taste. The goal is to add just a bit more sweetness and depth to the vinaigrette. Add more balsamic to taste; season with salt & pepper. Whisk until emulsified. Add the supremes to the bowl and stir gently to coat. Allow supremes to sit in the vinaigrette for about 3 minutes, stirring occasionally.
Add the frisée, fennel and currants to a large bowl. If serving 4, add about 2 tablespoons of the vinaigrette to the bowl with the frisée and toss everything together until well coated. Add the supremes and toss gently to incorporate. Add more vinaigrette if desired (should be subtle) or serve the rest on the side.
Divide salad among individual dishes and finish with freshly cracked pepper. Garnish, if desired, with a lightly salted slice of blood orange.