Super Smoothies
We get quite a few searches for smoothies whenever a new year rolls around, so we've put them all in one place for you! Which is your favorite?
You can stick strictly to fruits and vegetables, maybe some dairy or nut butters too, or you can always boost your smoothie power with some powders, such as protein or collagen. Have fun with the ingredients!
Dairy-free Green Super Smoothie with Kale, Celery, Pear and Ginger
Kale and celery are two super foods — they always have been! Kale is one of the most nutrient-dense foods on the planet, packed with vitamins C, A, B6 and more. Celery boosts lipid metabolism and is loaded with beneficial enzymes and antioxidants. Some health enthusiasts consider it a cure-all for what ails you. This paleo-friendly smoothie is a great way to start off your morning or get in afternoon pick-me-up. Serves 1.
Ingredients:
1/2 cup coconut water (or plain water)
2 to 3 curly kale leaves, stripped from their stems (more or less depending on leaf size)
1 stalk celery, chopped (use a vegetable peeler to remove tough outer layer if it is stringy)
Half of a ripe pear, such as a Bartlett, cored
Half of a frozen banana, chopped
1/2 tsp. grated fresh ginger
1 to 2 Tbsp fresh lemon juice, to taste
Directions: Add coconut water, kale, celery, pear, banana, ginger and 1 tablespoon lemon juice to a blender; blend until smooth. Taste; add more lemon juice if desired.
---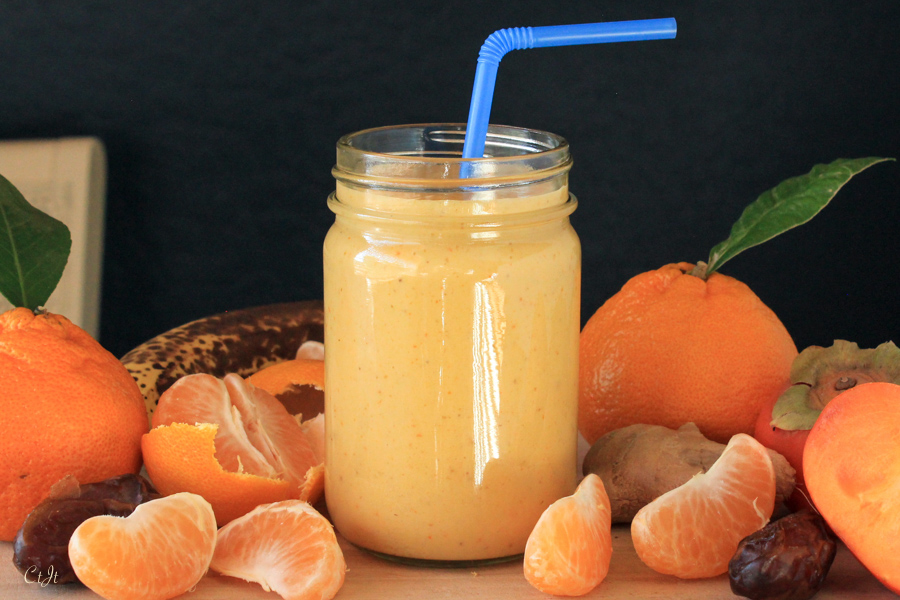 Creamy, Vitamin-C-Packed Satsuma Smoothie
It's that time of year where we can all use an extra punch of Vitamin C to help stave off colds. Citrus, ginger and turmeric all provide properties to help you stay healthy or even feel better fast. This smoothie doesn't taste like a trick to cure you, it's simply creamy, flavorful and full of good. Almost like orange juice meets Jamba Juice. Serves 1 to 2.
Ingredients:
1 satsuma mandarin, peeled
1 frozen banana, chopped
Half a Fuyu or Sharoni persimmon, chopped (if available, otherwise optional)
2 Medjool dates, pits removed
1/2 cup plain yogurt, dairy-free or regular (milk or milk alternatives are another option)
1/2 to 1 tsp. fresh grated ginger, to taste
1/2 tsp. fresh grated turmeric
Cold water, as needed, to reach desired consistency
Directions: Add all ingredients to a blender. Blend until ingredients are incorporated and smooth. Add water as necessary to reach a desired consistency.
---
Beet, Berry and Banana Smoothie
Delicious for breakfast or an afternoon snack. This smoothie is packed with nutrients and is a great way to get in a few servings of both fruits and veggies for the day. Serves 2.
Ingredients:
3/4 cup milk of choice (almond, cow, coconut, hemp, etc.)
1/4 cup plain yogurt (or use another 1/4 cup milk)
2 frozen bananas*
1 roasted**, peeled beet, diced (about 3/4 cup)
1 cup strawberries, chopped
1/2 cup blueberries
1/2 cup spinach pr power greens
A splash of vanilla extract, to taste
2 tsp. chia seeds
*For easier blending, slice the bananas into chunks before freezing.
**To roast a beet: Preheat oven to 400°F. Scrub the beets and then trim off the root and stalk ends. Save the greens for another purpose, such as salad or garnish. Wrap each beet individually in foil and place on a baking sheet. Roast the beets for 50 to 60 minutes or until they can be easily pierced through the center with a fork. Remove the beets from the oven and allow to cool to the touch. Remove from foil and rub off the skin. They're now ready for use.
Directions: Place all ingredients together in a blender or food processor. Blend until all ingredients are incorporated and you achieve a desired texture.
Divide between two glasses. Serve.
---
Mango & Blackberry Smoothie Bowl with Almonds and Chia Seeds
Smoothie bowls are all the rage among breakfast enthusiasts and brunch bunches. This dish is simply what the name implies: a smoothie in a bowl. Top these creamy concoctions with additional fruits, seeds and flavors as you wish. Inspired by Eating Well. Serves 2.
Ingredients:
1 large Kent mango, peeled and chopped (about 1 cup)
3/4 cup plain Greek yogurt
1/4 cup milk (try almond or coconut, if desired)
1 tsp. vanilla extract
1/3 cup blackberries
1 Tbsp. sliced almonds, toasted if desired
1 tsp. chia seeds
Directions: Chill the chopped mango in the freezer for about 10 minutes, if desired.
Combine mango, yogurt, milk and vanilla; puree contents until smooth using an immersion blender or standard blender. Divide the puree between two bowls and top with blackberries, almonds and chia seeds.
---
Local Heirloom Cantaloupe & Banana Smoothie
You can mix in any fruit you'd like to this smoothie, such as strawberries, to add a new flavor or as a substitute for another. Serves 1 to 2.
Ingredients:
1/2 cup cubed local heirloom cantaloupe
1 banana, chunked and frozen (for at least 2 hours)
1 orange, peeled, pith removed and fruit segmented
1 local nectarine, seeded and chopped
1/2 cup crushed ice
Directions: Add all prepared ingredients to a blender and blend until smooth. Serve immediately.
---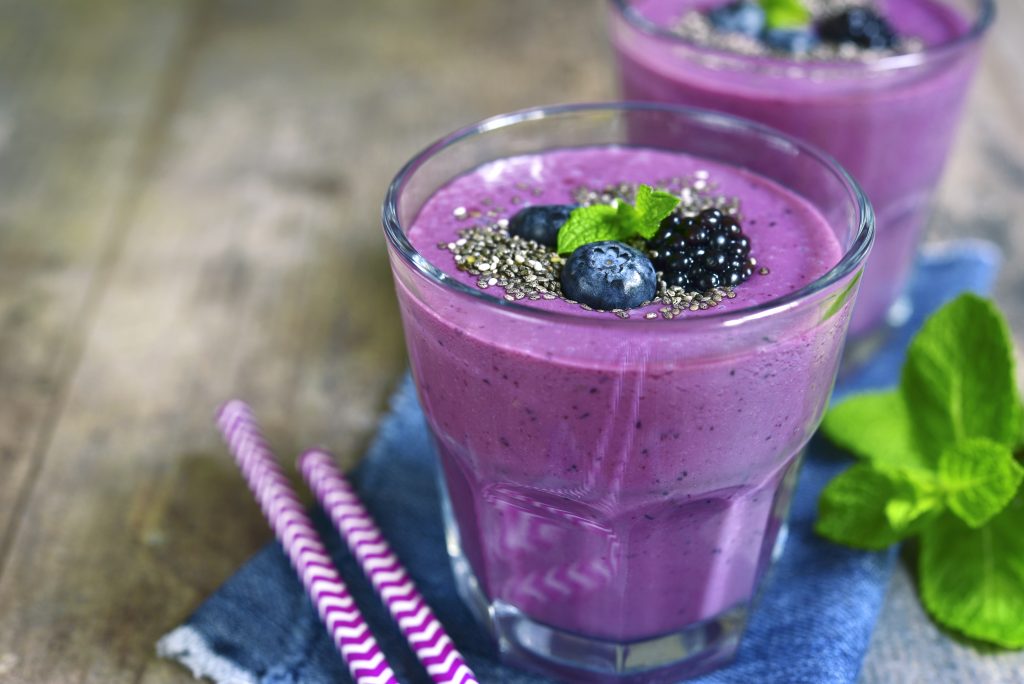 Toni's Antioxidant Protein Smoothie
Recipe from Toni Julian, health advocate and Sigona's local vendor. Makes 1 serving.
NUTRITION PROFILE CAL-351/PRO-39/CARB-34/FAT-13/SAT-1/CHO-13/SOD-73/FIB-10
PERCENT CALORIES FROM PRO-37%/CARB-33%/FAT-30%
INGREDIENTS
1 serving (2 scoops) vanilla protein powder
1 cup nonfat milk or almond milk
1 cup mixed berries (fresh or frozen raspberries, blueberries, marionberries, strawberries)
1 tsp chia seeds
1 T flaxseed meal
Add 4-6 ice cubes for desired consistency.
---
Aubrey's Tropical Smoothie for two:
This recipe was sent in to us by Sigona's fan Aubrey R. Enjoy!
3/4 " slice of pineapple, rind and core removed, roughly cut into pieces
1 1/2 frozen bananas in 2" slices
1 single serve container of vanilla soy yogurt
1/2 cup non fat plain yogurt
1 cup frozen mango pieces, slightly thawed in the microwave
1 orange, peels and pits removed cut in large pieces
1 scoop plain, plant based protein powder
Directions: Put all the ingredients together in a blender or Vitamix and blend until smooth. Serve in a large glass with fresh blueberries on top.