Fresh Herb and Egg Salad on Toast with Sigona's Spicy Calabrian Pesto Oil
You've heard of pesto eggs, but this takes the idea up to a whole new level! Our new Spicy Calabrian Pesto Oil has a little kick from the pepper but is overall bright and flavorful with the basil pesto shining through. Drizzling on this oil as a finisher adds just what's needed to round out this dish. Adapted from Local Dirt. Serves 2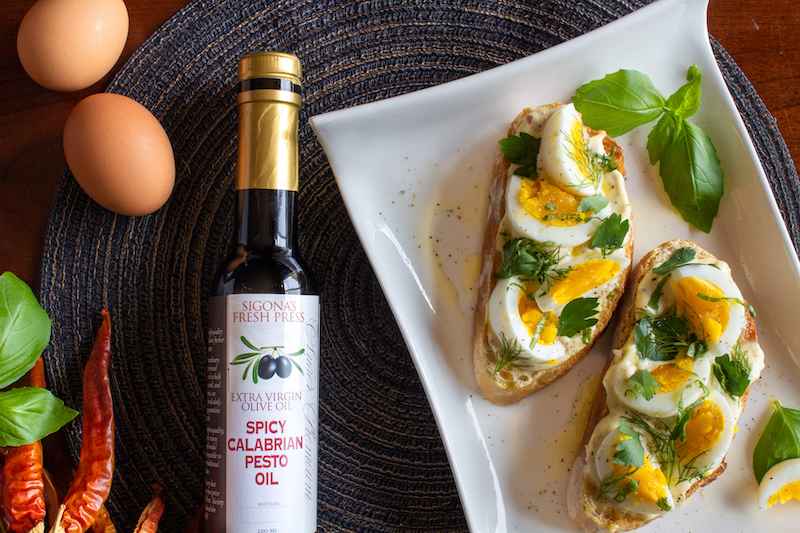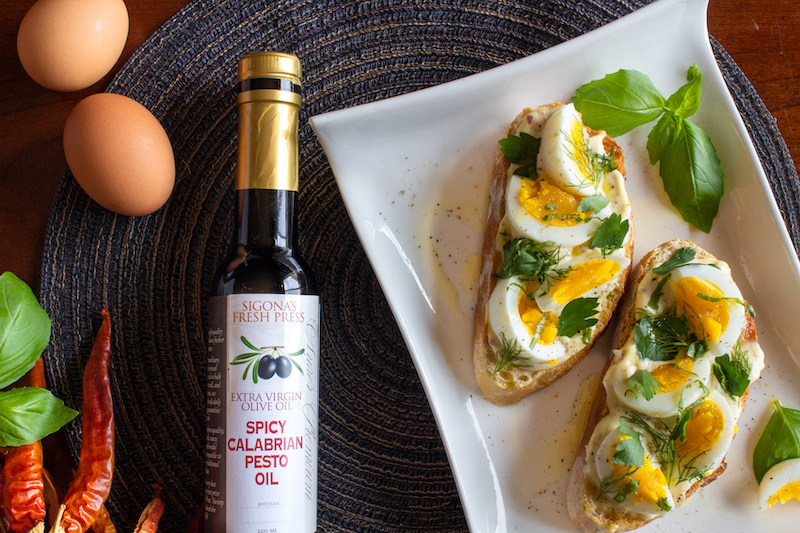 Ingredients:
2 eggs
2 Tbsp mayonnaise
1 tsp minced shallot
2 tsp Dijon mustard
Freshly ground black pepper
2 slices of rustic bread or a baguette, sliced on an extreme bias
Butter or oil of choice, for brushing
2 large basil leaves, chiffonade
1 Tbsp fresh dill fronds, torn
1 Tbsp roughly chopped fresh parsley
Sigona's Spicy Calabrian Pepper Pesto Olive Oil, for drizzling
Coarse salt, for sprinkling
Directions: Bring a small saucepan full of salted water to a boil. Add the eggs and reduce heat just enough so the water remains in an active simmer. Boil eggs for 8 minutes. Meanwhile, prepare an ice bath. Remove eggs with a slotted spoon and plunk them directly into an ice bath. When cool, peel the eggs and set aside.
In a small bowl, mix together the mayo, shallot and Dijon. Season to taste with pepper.
Preheat a large skillet or grill pan over high. Lightly brush both sides of the bread with oil or butter and place on the skillet. Toast each side for just one minute so the outside is crisp but the inside remains soft. Allow to cool for about 2 minutes, then spread with the mayonnaise mixture.
Slice the eggs into thin wedges then nestle the wedges into the mayo mixture on top of the bread. Sprinkle each toast with fresh herbs and a light pinch of salt. Drizzle on some of the Calabrian pepper pesto oil and finish with freshly ground pepper. Serve