Steamed Broccolini Drizzled with Sigona's Olive Oil
Broccolini, we love you! It's so easy to cook, whether blanching or steaming or roasting. It can be used in salads or simply served as a side drizzled with some Sigona's Fresh Press Extra Virgin Olive Oil (it's mouthwatering just thinking about it). You'll be surprised by just how much flavor is added to a simple dish of steamed veggies by drizzling it with an in-season olive oil.
We work seasonally to bring in the freshest olive oils on earth! Olives grown in the Southern Hemisphere (think Australia and Chile) are harvested and pressed in late spring and early summer, so they're in our stores by mid to late summer, if not earlier. Olives grown in the Northern Hemisphere, think Spain, Portugal, California, Greece, Italy) are picked and pressed around November, so the oils are available in our stores in the early new year.
Our customers all love and seek out the California Arbequina, which is a well-balanced and fruity oil that presents with notes of tree bark, earth and green olives and leaves you with a moderate peppery sensation. Check out the other in-season olive oils from the Northern Hemisphere that arrived this spring.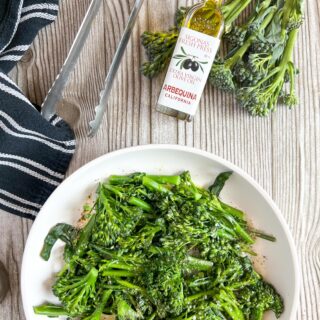 Simple Steamed Broccolini with Fresh Press Extra Virgin Olive Oil
Steaming, instead of blanching, allows a vegetable to soften without becoming waterlogged, and also allows for the vegetable to retain a majority of its nutrients. Seasoning steamed broccolini with salt and pepper then finishing it with a drizzle of our just-pressed, new crop, extra virgin olive oil makes for a fantastically flavorful and healthy, delicious and easy side dish. Serves about 4.
Ingredients
Ingredients:
2

bunches of broccolini

ends discarded, stalks sliced into pieces about 2 to 3" long.

1

Tbsp

salt

for the water

Kosher salt & freshly ground black pepper

to taste

Sigona's Fresh Press Extra Virgin Olive Oil

such as Lecciana from Portugal or Arbequina from California (see note)
Instructions
Fit a pot with a steamer basket. Add about 1 inch of water to the pot and bring to a boil. Add broccolini, cover and steam for about 5 minutes. Remove with tongs, season with salt & pepper, then finish with a drizzle of olive oil, about 1 to 2 tablespoons.