What's this?
What's this?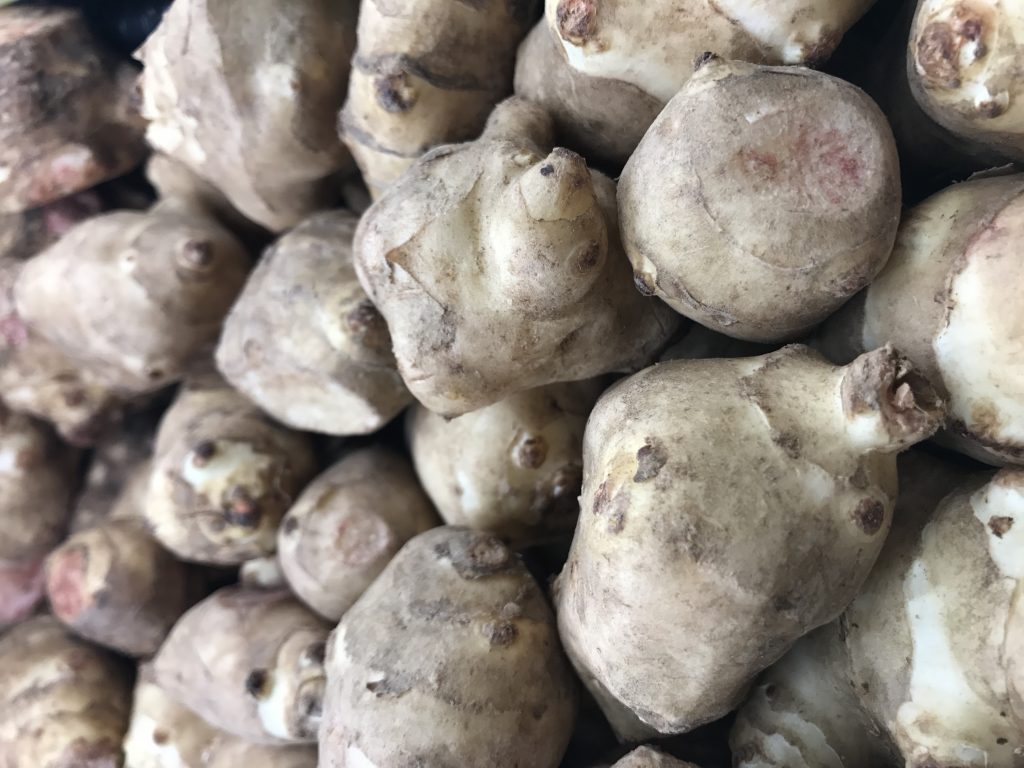 Hints:
— It may look like a ginger root, but it's not.
— It's also known as a Jerusalem artichoke.
— The white, potato-like flesh of this tuber is nutty, crisp and sweet.
It's a sunchoke!
Also known as a Jerusalem artichoke, the sunchoke is a tuber – a vegetable that grows underground similar to the root of a plant and is harvested before its above-ground counterpart blossoms.
The sunchoke has a crisp texture with a slight nutty and sweet flavor and is often found raw in salads, baked, boiled, steamed, sautéed with garlic and other vegetables, pureed for soups, or even sliced and deep fried like a potato chip. Some say it's similar to the flavor of an artichoke, which provides a clue as to why it's also known as the Jerusalem artichoke. However, sunchokes are native to North America, not Jerusalem.
As the story goes, the tuber is referred to as the Jerusalem artichoke because of a simple misunderstanding of the Italian word girasole, meaning sun. When the plant and its edible tuber were introduced to Italy, it was called girasole articco because the leafy, green plant part is similar to a sunflower and the tuber flavor is reminiscent of an artichoke.
It was a simple mis-hearing of the word girasole among Americans that landed the vegetable the name Jerusalem artichoke in North America. However, it's now more commonly marketed under the name sunchoke.
Of its many uses, the sunchoke has become well known for its benefits for diabetics. The sunchoke plant is able to withstand colder temperatures because it stores inulin as starch for winter energy in its roots (the edible tuber part). Inulin, when digested, breaks down into fructose instead of glucose. Fructose, like glucose, is absorbed during digestion, but releases its energy slower than glucose and does not need insulin to be metabolized, or processed. Sunchokes are often suggested as a potato substitute for diabetics.
Here are a few recommended sunchoke recipes. Next time you're in our store, look for sunchokes near our mushroom and specialty potato racks.
How do you use sunchokes? Tell us here: share@sigonas.com
Sunchoke Soup with Pumpkin Seeds
I had a fantastic sunchoke puree at Station 1, a new restaurant in Woodside. I can't stop thinking about it! Here's a recipe, adapted from Bon Appétit, that is similar. If you get a chance, head up to Station 1 to try theirs! Makes 6 servings.  – Carmelo Sigona
Ingredients:
2 pounds sunchokes, scrubbed under running water (no need to peel)
3 tablespoons butter
1 cup chopped onion
1 cup chopped leek (white and pale green parts only)
2 garlic cloves, chopped
6 cups (or more) chicken broth
1/4 cup heavy whipping cream
Ground white pepper
Shelled pumpkin seeds, toasted
Pumpkin seed oil (optional)
Directions: Melt butter in heavy large pot over medium heat. Add onion, leek, and garlic; sprinkle with salt and sauté until soft and translucent, stirring often, about 12 minutes.
Cut sunchokes into 1-inch pieces. Add to onion mixture and sauté 5 minutes. Add 6 cups chicken broth, increase heat to high, and bring to boil. Reduce heat to medium-low, cover, and simmer until artichokes are very tender, about 1 hour. Cool slightly.
Working in batches, puree soup in blender until very smooth. Return to pot. Rewarm soup, adding more broth, by 1/4 cupfuls, if needed to thin. Stir in cream and season to taste with salt and white pepper.
Can be made 1 day ahead. Cool, cover, and chill. Rewarm before continuing. Divide soup among bowls and garnish with toasted pumpkin seeds; top with a drizzle of pumpkin seed oil.
Rosemary Sunchoke Chips
This recipe, adapted from Bon Appetit, is a unique way to prepare and serve sunchokes. A light sprinkling of rosemary adds a fresh herb flavor that's hard to resist. Serves 4.
Ingredients:
1 pounds unpeeled sunchokes, scrubbed
Vegetable oil
1/2  TBL salt
1 scant tsp. minced fresh rosemary
Directions:
Fill large bowl with cold water. Slice sunchokes into thin rounds (about 1/16 inch thick – we recommend using a mandolin), immediately dropping into bowl of water to prevent browning. Rinse and drain 3 times. Pat very dry with paper towels.
Pour enough oil into large deep skillet to reach depth of 1/2 inch. Submerge bulb of deep-fry thermometer into oil; lean top of thermometer against skillet rim. Heat oil to 375°F. Mix 1 tablespoon salt and rosemary in small bowl. Using fingertips, blend well, rubbing salt and rosemary together.
Working in batches, fry sunchoke slices until golden brown, stirring occasionally, 3 to 4 minutes. Using skimmer, transfer chips to paper towels to drain. Sprinkle chips with some rosemary salt.
Note: Chips can be made 2 hours ahead. Let stand at room temperature.
Mound chips in bowl and serve.
Roasted Sunchokes
For a simple, hearty side dish, add in sliced Brussels sprouts, carrots, parsnips or other roasting vegetables, along with a few crushed garlic cloves. Simply add more olive oil and seasoning as needed. Serves 4.
Ingredients:
2 lb sunchokes
2 TBL Sigona's Fresh Press extra virgin olive oil
salt & pepper
Directions: Line a baking sheet with aluminum foil or parchment paper.
Gently scrub the sunchokes under cold water. Dry and cut into 2 inch cubes.
Place them on the baking sheet. Drizzle with olive oil and season with salt and pepper. Gently toss the sunchokes to coat with oil. Do not overcrowd the cubes on the sheet.
Bake at 400 for 30-45 minutes, stirring half way through, until tender (like a baked potato). Be careful not to over cook…they should be firm not mushy. See notes above for suggested additions.
Mushroom and Sunchoke Sauté
You can use any combination of mushrooms for this recipe. We chose baby shitake and chanterelles as they're in season now. Adapted from Terra Organics. Makes 4-6 servings.
Ingredients:
1/2 lb. baby shitake mushrooms
1/2 lb. chanterelle mushrooms
About a 1/2 pound sunchokes
1 1/2 TBL Sigona's Fresh Press extra virgin olive oil
1 TBL butter
1/2 cup thinly sliced shallots
1-2 cloves garlic, minced or pressed
1/2 TBL chopped fresh rosemary leaves (or about ½ tsp dried rosemary)
1 tsp chopped fresh oregano leaves or (or scant 1/2 tsp dried oregano)
2 TBL dry sherry
Salt & pepper, to taste
Directions:
1.       Clean mushrooms by gently brushing off any soil using a dry paper towel or pastry brush.
2.       Cube the large chanterelles but leave the baby Shitakes whole.
3.       Peel and coarsely chop sunchokes.
4.       In a 5- to 6-quart pan over high heat, combine oil, butter, mushrooms, sunchokes, shallots, and garlic. Stir often until mushroom juices evaporate and the vegetables are browned, about 15 minutes.
5.       Add rosemary, oregano, and sherry; stir until sherry evaporates, about 2 minutes.
6.       Spoon vegetables into a serving dish. Add salt and pepper to taste.