In the Kitchen with Sigona's Featuring Fresh Pineapple
Pineapple is wonderful when fresh, blended into drinks, baked, grilled…there are many options for this exotic fruit! Here are a few of our favorite serving suggestions. Let us know in the comments how you best like to serve fresh pineapple!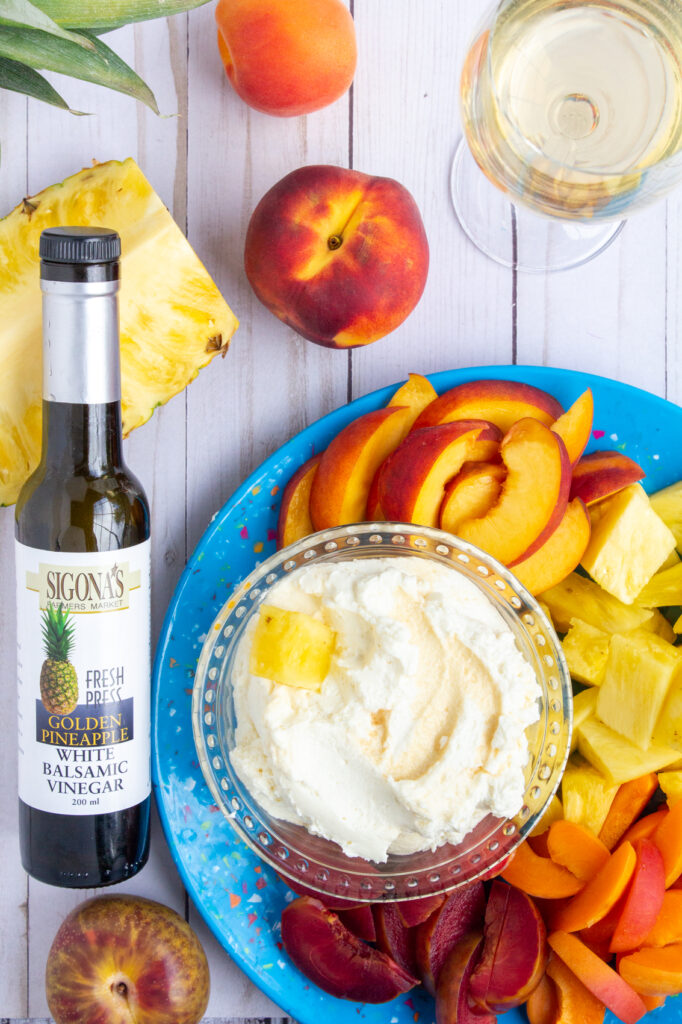 Pineapple Balsamic Whipped Mascarpone & Cream
A delightfully luscious and delicious dessert dip, perfect for enjoying with in-season fruits and a glass of wine. Makes about 3 cups. You can swap out the balsamic for other flavors, to complement the flavor.
Ingredients:
Summer Seasonal Fruits:
Peaches
Apricots
Plums
Pineapple
Mango
Berries
Directions: Whip the cream with a hand or stand mixer (or a whisk if you've got the stamina!) When there are soft peaks, add 2 tablespoons of the balsamic. Whip again until the peaks are just about stiff, then add 1 tablespoon more balsamic. Fold in the mascarpone and 1 additional tablespoon of the balsamic. Use the mixer or whisk to combine the cream and the mascarpone.
Whisk in up to 2 additional tablespoons of the balsamic, to taste. Chill for about 15 minutes or until ready to serve.
Plate and serve the whipped mascarpone with slices of summer or seasonal fruits.
---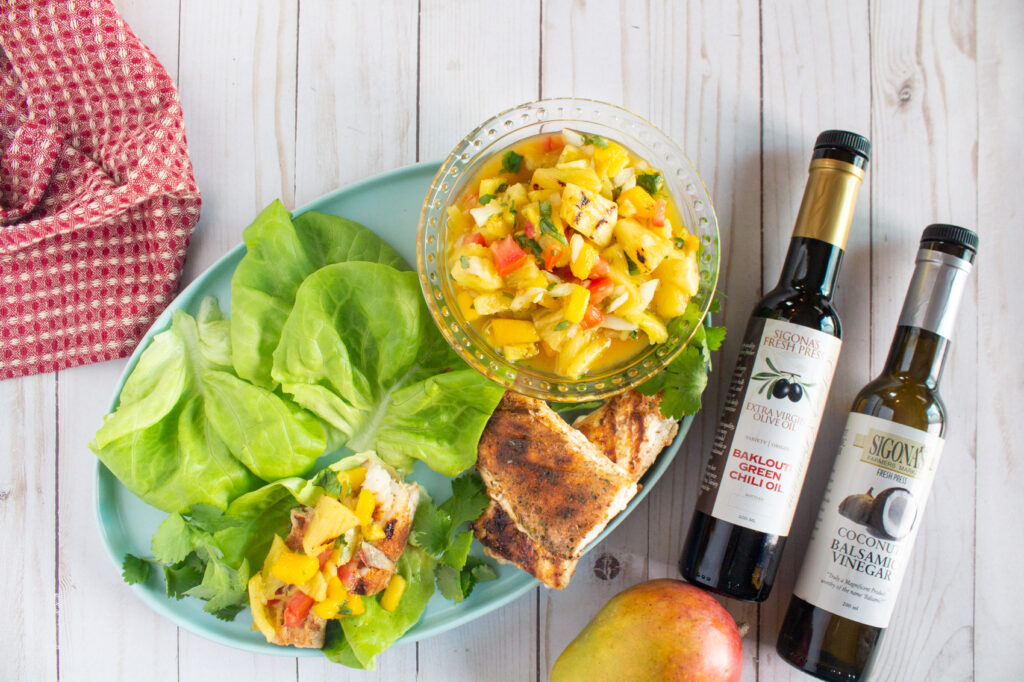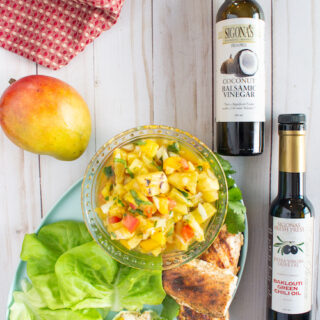 Grilled Pineapple Salsa
Baklouti oil perfectly potent, in terms of spiciness, so just a 1/2 tablespoon will add the right amount of heat and flavor to this salsa. The coconut balsamic balances it all out, adding a little zip to each bite. Makes about 4 to 5 cups.
**This is perfect to spoon over mahi mahi fish tacos. Season and cook the fish as you would in the recipe linked below!
Ingredients
Ingredients:
1

pineapple

peeled, cored and sliced into strips about 2" thick (watch this video for tips on preparing a pineapple)

1/2

a sweet onion

chopped

2

large mangos

such as Kent, peeled and chopped

1

Roma tomato

seeded and chopped

1/3

cup

chopped fresh cilantro

3/4

tsp

salt

3/4

tsp

lime zest

3

Tbsp

fresh lime juice

about 1½ limes

1/2

Tbsp

Sigona's Coconut Balsamic

1/2

Tbsp

of Sigona's Baklouti Infused Olive Oil
Instructions
Preheat grill to medium-high heat (350° to 400°F).

Grill pineapple and onion 5 minutes or until well-marked but not cooked through. Chop and place in a large bowl.

Add mangos, pineapple and remaining ingredients; toss until well coated. Cover and chill at least 30 minutes before serving.
Notes
Suggested Uses:
Spoon over fish tacos
Serve with glazed chicken wings
Pile on warmed Brie or Camembert-style cheeses
As an accompaniment to seared scallops
Garnish grilled salmon
Find Sigona's infused olive oils and balsamics in our markets or online at www.sigonas.com
---
Candy Corn Fruit Cocktail: Pineapple & Cantaloupe Fruit Salad
These make fun breakfast treats or an after-dinner something sweet. Use your creativity and find other yellow fruits for the bottom layer or other orange fruits for the middle layer to make them your own. Inspired by Pinterest. Serves 4.
Ingredients:
2 cups fresh pineapple tidbits or bite-sized chunks
2 cups cubed cantaloupe (1/2- inch cubes)
1 1/3 cottage cheese OR vanilla Greek yogurt
Directions: In a short juice glass or similar container (a wine glass is nice too), add a 1/2 cup of pineapple tidbits. Top that with a 1/2 cup cubed cantaloupe. Top the cantaloupe with a 1/3 cup of cottage cheese or yogurt. Repeat the steps for the three other glasses. Serve chilled.
---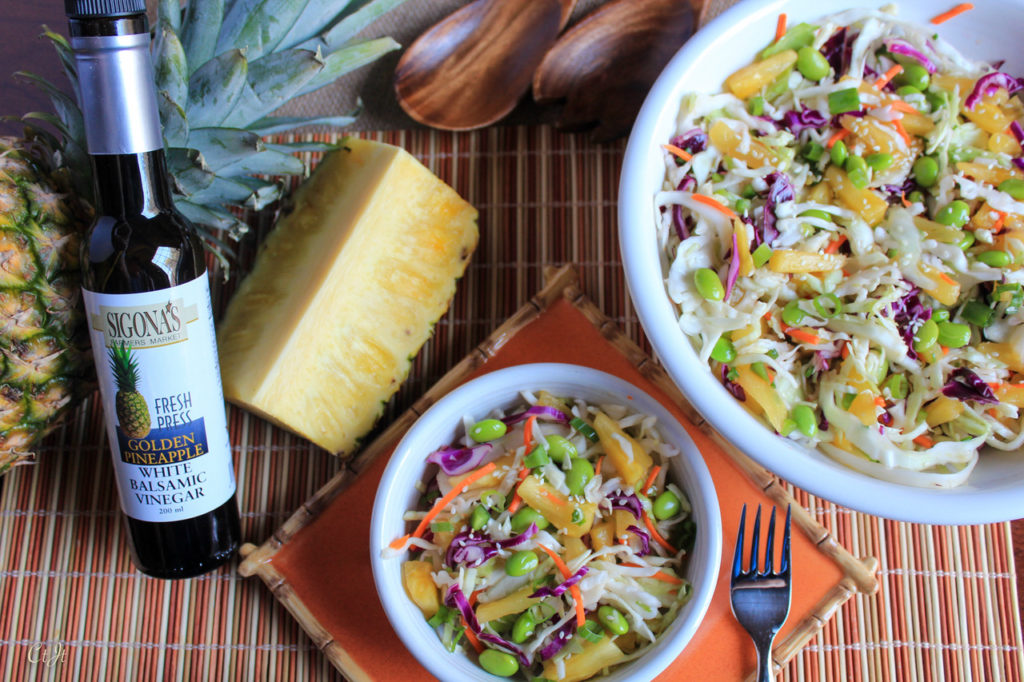 Summer Slaw with Sigona's Golden Pineapple White Balsamic
Crunchy and tangy with a little kick and an Asian twist, this slaw is perfect for fish, such as wild king salmon, or pulled pork. This is a vegan-friendly slaw, as it is made sans mayo, but don't worry about missing the creamy factor; the balsamic helps all the flavors to all meld deliciously! Inspired by The Olive Oil & Vinegar Lover's Cookbook. Serves about 6.
Ingredients:
4 cups thinly shredded green cabbage
2 cups thinly shredded red cabbage
2 carrots, shredded or julienned
1 small jalapeno, seeded and minced
1 cup diced fresh pineapple
3/4 cup shelled edamame
3 green onions, sliced diagonally
3 Tbsp Sigona's Golden Pineapple White Balsamic
1 Tbsp fresh lime juice
1 to 2 tsp coconut aminos, to taste (alternatively, use gluten-free soy sauce or a pinch of salt)
Black pepper, to taste
Optional: sesame seeds for garnish
Directions: In a large bowl, toss together the cabbage, carrots, jalapeño, pineapple, edamame and green onion.
In a small bowl, whisk together the balsamic, lime juice and coconut aminos. Pour over the slaw and toss well to coat. Season with pepper. Set slaw aside to allow the flavors to meld for about 20 minutes.
Just before serving, give the salad another toss to incorporate all the juices. Garnish with sesame seeds, if desired.
---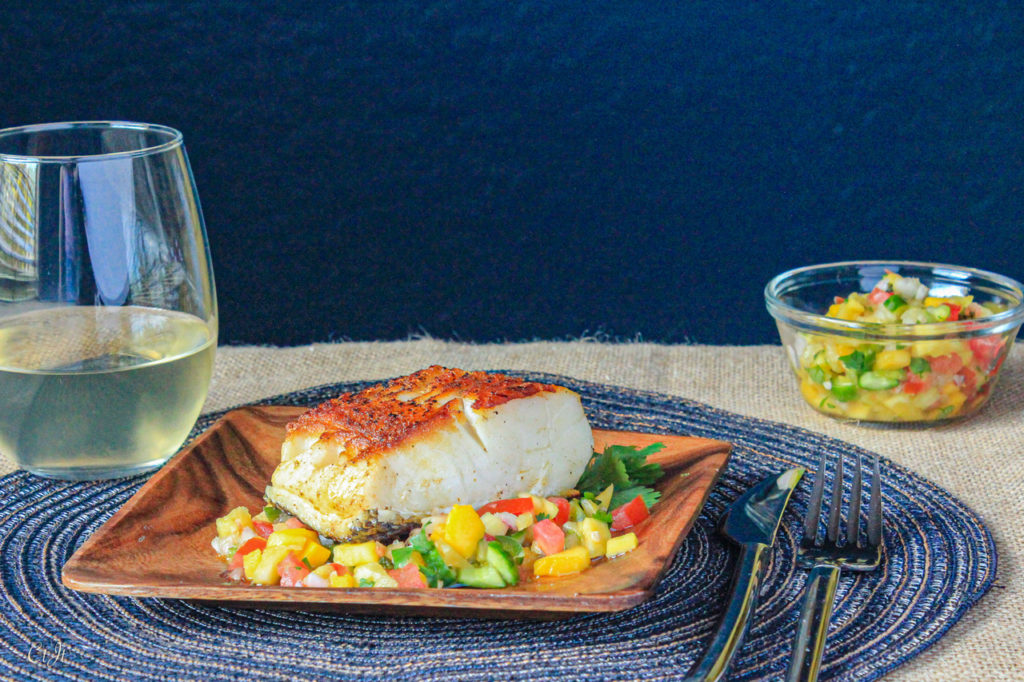 Pan-Seared Wild White Sea Bass with a Summer Salsa
Wild white sea bass is a meaty fish, which produces thick fillets with a flavor that's mild and slightly sweet. It stands up to pan-searing or even grilling, and is delicious with served with a flavorful accompaniment, such as this summer salsa. Serves 4.
Summer Salsa:
1 cup diced fresh mango
1 cup diced fresh pineapple
1 small tomato, seeded and diced
1 small shallot, diced, or 2 to 3 Tbsp diced red onion, to taste
1/2 cup diced, seeded cucumber
1/4 cup diced. seeded bell pepper
3 Tbsp minced fresh cilantro (use mint or a combination of the herbs, per preference)
Optional: 1 to 2 Tbsp minced, seeded jalapeño
2 Tbsp fresh lime juice
A pinch of salt, if needed
Seared Sea Bass
2 pieces wild white sea bass, skin on; about 4 to 6 oz each,
Salt and pepper, to taste
2 Tbsp Sigona's Fresh Press Extra Virgin Olive Oil, plus more for drizzling
Directions: Stir all summer salsa ingredients together in a bowl and allow mixture to rest for at least 20 minutes, while fish is prepared, so the juices release and the flavors meld.
Season both sides of the fish with salt and pepper. Heat olive oil in a large skillet over medium-high heat. When hot, add fish, skin-side down, and cook about 4 minutes. Flip once and cook another 2 to 4 minutes or until it has a nice golden crust and is cooked to desired doneness. If fish needs to cook longer, reduce heat to medium or medium-low and cook about 2 minutes more.
To serve, drizzle a little olive oil in a zig-zag motion on 2 individual serving plates. Spoon a heaping cup of the salsa onto the middle of the plate and place the fish on top. Serve immediately with remaining salsa on the side.
---
Pineapple Salsa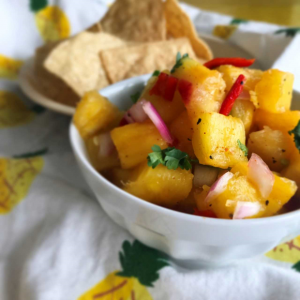 This is a delicious combination of sweet and spicy. Enjoy with grilled chicken or fish or as an appetizer with chips. Recipe and photo courtesy of Luisa Ormonde of Luisa's Catering in San Bruno.
Ingredients:
2 cups fresh pineapple, diced
1/4 cup fresh cilantro, chopped
1/4 cup fresh mint, chopped
1/2 cup red onion, finely chopped
1 jalapeno or Fresno red chili, finely chopped
1 lime, juiced
2 tablespoons rice vinegar
Agave nectar, to taste
Fine sea salt and fresh ground black pepper, to taste.
Directions: In a large bowl, toss all of the ingredients together to combine. Cover and refrigerate.