Recipe Roundup: Madagascar Black Peppercorn Olive Oil
This oil features spicy and floral with notes of fresh, ground peppercorn and a lingering, tingly Szechuan peppercorn finish. Use it to get peppercorn flavor without fresh peppercorns! This is great in marinades, dressings and aioli, and for sautéing, over ice cream, on popcorn or with creamy pasta or seafood.
Check out these recipe suggestions for this fantastic olive oil:
Cornmeal-Crusted Fried Green Tomatoes with a Creamy Madagascar Black Peppercorn Oil Dressing
These are fried with cornmeal to give an extra crunch to the outside layer of this classic dish. Drizzling the creamy dressing made with our Madagascar Black Peppercorn olive oil adds a burst of flavor you'll love. Adapted from Local Dirt. Serves 2 to 4.
Check out this recipe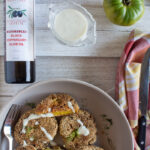 Pan-Seared Swordfish with Peppercorn & Lemon-Herb Butter
Swordfish is sometimes said to be the steak of the sea, so why not cook it like one? Giving the swordfish a good sear and allowing it to finish in the oven allows for even cooking and leaves the skillet with a fantastic base with which to make a quick finishing sauce. Inspired by Bon Appetit. Serves 2.
Check out this recipe