The 12 Days of Cheesemas 2022
Here at Sigona's, we're celebrating The 12 Days of Cheesemas! Every day from today until December 24th, we will feature a different cheese available at a super sale price for one day only.
Each cheese has been hand-selected by Sigona's Food & Cheese Curator, John Nava, some of which rarely ever go on sale!
Check out the lineup below to plan ahead so you get your favorite cheese while it is on sale!
The 2022 Cheesemas lineup: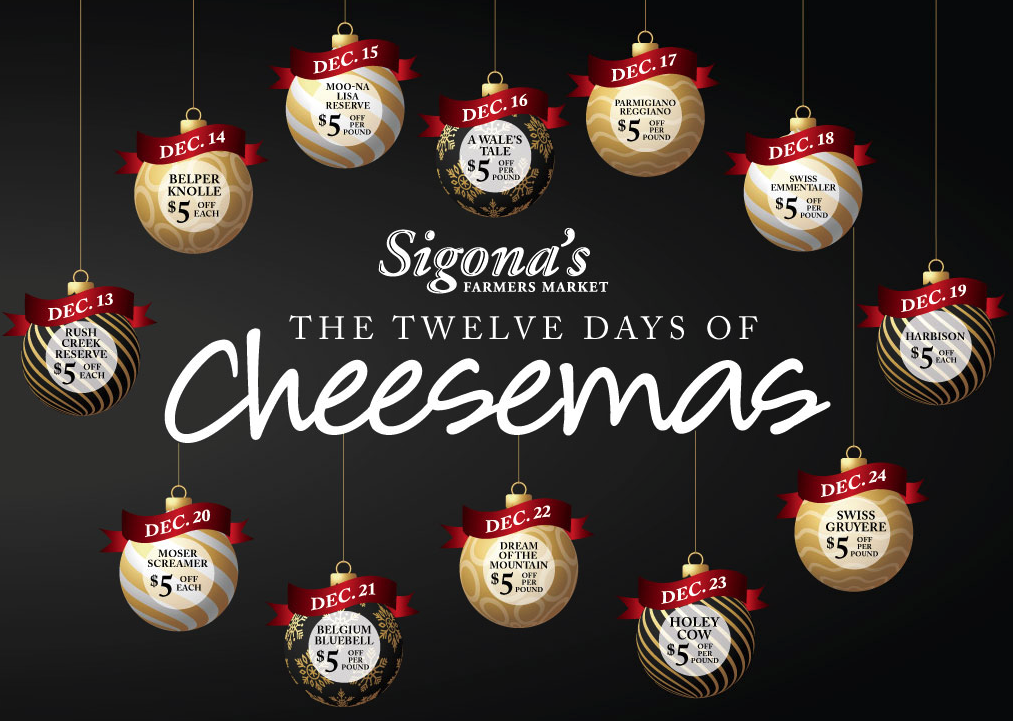 December 13: Rush Creek Reserve, $5 off
December 14: Belper Knolle, $5 off
December 15: Sigona's Moo-Na Lisa Reserve, save $5 per pound
December 16: Sigona's Wale's Tale, save $5 off per pound
December 17: Parmigiano Reggiano, save $5 off per pound
December 18: Swiss Emmentaler, save $5 per pound
December 19: Harbison, $5 off
December 20: Moser Screamer, $5 off
December 21: Sigona's Belgium Bluebell, $5 off
December 22: Sigona's Dream of the Mountain, save $5 per pound
December 23: Holey Cow, save $5 per pound
December 24: Swiss Gruyere, save $5 per pound