April 2023 olive oil and balsamic sale recipes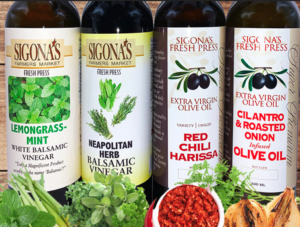 We highlight a couple olive oil and balsamics each month by putting them on sale to give everyone a chance to try them! On sale in April 2023:
Red chili Harissa olive oil
Neapolitan herb balsamic
Cilantro & roasted onion olive oil
Lemongrass-mint white balsamic
Here are a few recipes to et you inspired, as well as a description of each oil and balsamic:
Red chili Harissa olive oil: Most popular in North Africa and the Middle East, Harissa is made with smoked chili peppers garlic, caraway, coriander and cumin, and pounded into a paste. Harissa is quickly becoming a popular ingredient among American chefs! This oil has a definite, hot kick to it…it's our hottest infused olive oil.
Seared Scallops with a Mango Balsamic Salsa
You can choose to use different infused olive oils in this dish to suit your palate. Some like it spicy, while others don't! If you're looking for a little sweet heat, try the combination of our spicy Harissa red chili oil and our mango white balsamic — a combination inspired by the mango con chili treat. If you'd like to eliminate the heat but keep the tropical factor, sear the scallops in our Persian lime olive oil instead. You can't go wrong either way! This would also work with shrimp or prawns. Serves 4.
Check out this recipe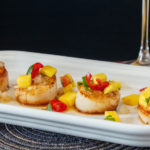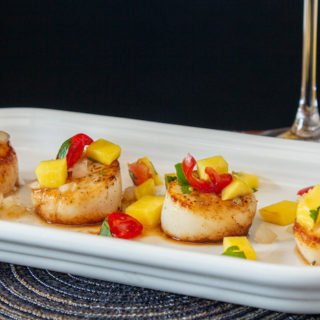 Neapolitan herb balsamic: Zesty and savory, our Neapolitan Herb dark balsamic has just the right amount of acidity to shine in a multitude of culinary applications. Made from traditional herbs long used in Neapolitan cuisine including, rosemary, marjoram, thyme, garlic and sage. It will boost your next salad, marinade or BBQ to the next level. Try drizzled over roasted vegetables or fresh sliced summer heirloom tomatoes.
Neapolitan Herb Marinated & Grilled Eggplant
Served at room temperature, this simple dish can be made ahead of time and served at dinner or as an appetizer.
Check out this recipe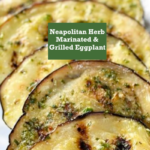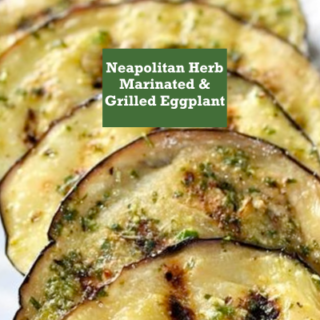 Cilantro & roasted onion olive oil: This savory infused oil blends the flavor of roasted, sweet, caramelized onions with fresh, herbaceous cilantro. It's wonderful for marinating poultry or meat for fajitas, for drizzling over vegetables, grilling, sautéing, salsas, and so much more.
Whipped Ricotta & Parmesan Dip with Sigona's Cilantro & Roasted Onion Oil
This is a deliciously herbaceous and addictive dip for crudités or slices of toasted baguette. Makes about 2 cups.
Check out this recipe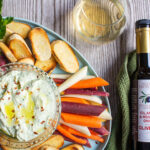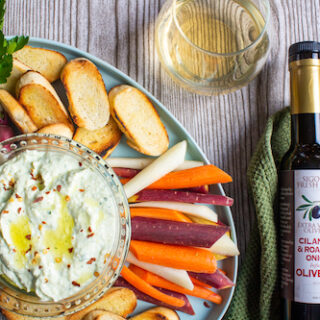 Lemongrass-mint white balsamic: Tart, crisp, clean and absolutely delicious. The natural flavors of Thai lemongrass and mint weave together beautifully and make a dazzling base for marinades, dressings, with sparkling water and in cocktails.
Lemongrass-Mint Mojito
This is a light, refreshing drink that's a great to serve with foods that have a spicy kick! Serves 1.
Check out this recipe