May 2023 Olive Oil and Balsamic Sale Recipes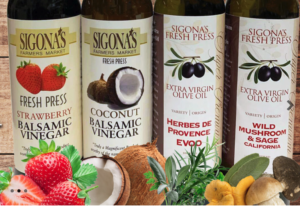 We highlight a couple olive oil and balsamics each month by putting them on sale to give everyone a chance to try them! On sale in May 2023 both online and in our markets:
Strawberry balsamic
Coconut balsamic
Herbes de Provence olive oil
Wild mushroom and sage olive oil
ALSO ON SALE this month is one of our perfect pairing olive oil and balsamic sets. The featured pairing is honey ginger balsamic & roasted sesame oil.
Perfect Pairing: Roasted Sesame Oil + Honey Ginger White Balsamic
Here are a few recipes to get you inspired for the May sale:
Sweet Balsamic Strawberries with Crème Fraîche
Simple can be best, especially when it comes to sweet, locally grown strawberries. Creme Fraiche is a tangy, cultured cream that is richer, thicker and more flavorful than sour cream. You can use regular, traditional balsamic if you don't want to use strawberry balsamic; espresso balsamic would also be fantastic. For garnish, use mint or basil leaves, whichever pleases your palate. Serves 2 to 4.
Check out this recipe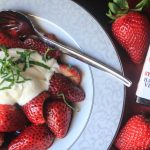 Tropical Coconut & Lime Shrimp with Mango and Mini Sweet Peppers
The enticing and tropical-vacation-type scents of coconut and lime that waft through the house while cooking this dish will bring the whole family to the table. This is a quick weeknight meal that's dairy-free and gluten-free, and you can easily use cauliflower rice for the base if you're grain-free! Adapted from The Olive Oil & Vinegar Lover's Cookbook. Serves 4.
Check out this recipe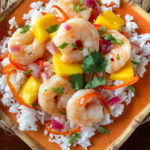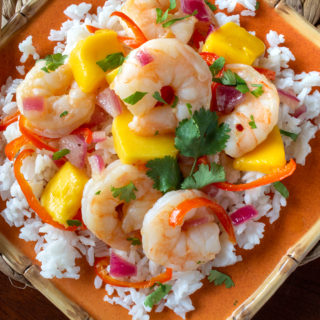 Simple Savory Omelette with Herbes de Provence and Fresh Veggies
Here, two French culinary concoctions combine to create one delicious dish. Herbes de Provence is the name used for a spice mixture common in the Provençal region of France, and an omelette…well, maybe just the word hails from the French language, but the popularity of the dish and its name has something to do with Napoleon Bonaparte and a now-annual omelette festival in Bessieres, France (Google it!). Long story short, our Herbes de Provence olive oil adds an infusion of flavor to an omelette without adding heaps of ingredients. More ingredients makes for a tasty omelet, but can make an omelet difficult to cook and fold! Inspired by The Olive Oil & Vinegar Lover's Cookbook. Makes 1 large omelette.
Check out this recipe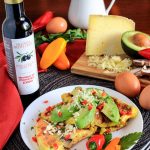 Creamy Fettuccine with Shaved Asparagus and Crimini Mushrooms
Sometimes the best way to use some of spring's finest is in a comforting pasta dish. Using fresh pasta makes it so you can have this dish on the table in about 20 minutes.
Check out this recipe