In the Kitchen with Sigona's Featuring: Fresh Strawberry, Kale and Orzo Salad with a Balsamic Vinaigrette
This hearty salad serves nicely as a side or as a main dish, and is just lovely with any fresh berry. If you go with blueberries, try our blueberry balsamic in the vinaigrette. Instead of orzo, you can use farro, an ancient grain, if you'd like. Enjoy! Serves 3 to 4.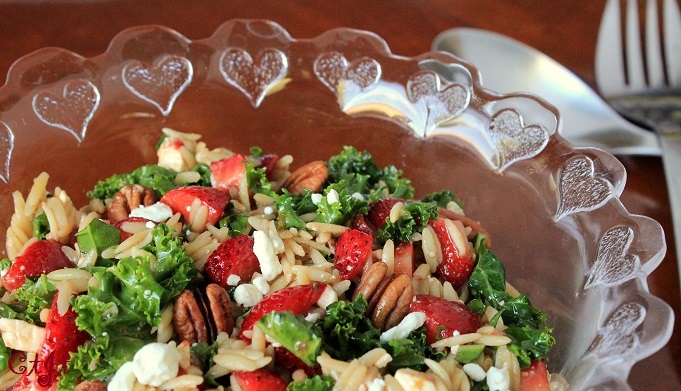 For the Salad:
3/4 cup uncooked orzo
1 cup chopped fresh strawberries
1/4 cup chopped walnuts or pecans (look for some of our glazed varieties at Sigona's)
1/3 cup cubed or crumbled Feta or goat cheese
2 cups shredded kale
2 Tbsp minced basil, optional
For the Vinaigrette:
Directions: Cook the orzo just to al dente, according to package directions. Fluff and allow to cool in the fridge for about 20 minutes, stirring once.
Meanwhile, in a small bowl, whisk together the garlic, shallot, honey, lemon zest, lemon juice and the balsamic. While whisking briskly, drizzle in the olive oil and mix well to emulsify the mixture. Season with salt and pepper. Set aside.
In a large bowl, gently mix together the cooked and cooled orzo, the strawberries, nuts, cheese, shredded kale and basil, if using. Drizzle the vinaigrette over the top and toss to incorporate. Season with salt and pepper.
Serve chilled or at room temperature.