In the Kitchen with Sigona's Featuring: Local Heirloom Apples
Gala Apple and Spinach Salad with a Warm Bacon-Maple Vinaigrette
The mingling flavors of bacon and our maple balsamic is fantastic, and our Herbes de Provence olive oil adds just the right amount of savory to this delicious fall salad. Serves 4.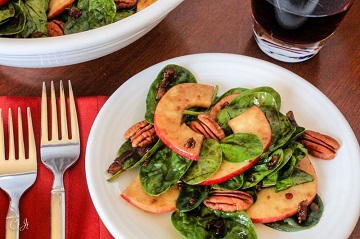 Ingredients:
1 local Gala apple, cored and very thinly sliced (a mandoline set to 3mm works well)
5 oz. baby spinach
3 to 4 slices bacon, diced
3 green onions, sliced on the bias
3 Tbsp. Sigona's Dark Maple Balsamic
1 Tbsp. Dijon mustard
1/4 tsp. salt, or to taste
Raw pecans, for topping (look for them in our dried fruit & nut section)
Directions: In a large bowl, gently toss together the spinach and sliced apple. Set aside.
In a medium skillet, over medium heat, cook the bacon until browned and slightly crispy. Add the green onions and cook for about 1 minute more. Remove skillet from heat and add the balsamic, olive oil, Dijon and salt. Stir to combine.
Pour the warm vinaigrette over the salad and toss gently until well coated. Serve immediately.
Roasted Pork Tenderloin with a Apple-Balsamic Reduction
Just typing out this recipe makes my mouth water. It's a simple go-to recipe that doesn't require much work beyond chopping apples, yet it's packed with comforting flavor. Serves 4 to 6.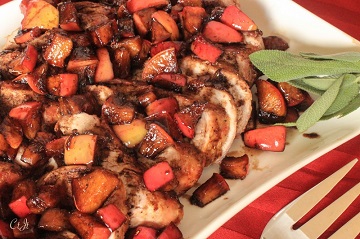 Ingredients:
2 pork tenderloins, about 2.25 lbs. total
Salt and pepper, to taste
2 to 3 Tbsp. Sigona's Fresh Press Extra Virgin Olive Oil
3 Tbsp. butter
1 large shallot, diced
1 tsp. dried sage or 1 Tbsp. fresh, chopped sage
3 local Gala apples, cored and chopped (about 3 cups)
1/2 cup Sigona's Apple Balsamic
Directions: Preheat the oven to 400°F.
Rub all sides of the pork with salt and pepper. Heat olive oil in a large, oven-proof skillet over medium-high heat. When hot, add the pork and cook for 3 minutes a side, rotating until all sides are browned.
Roast pork in the oven-proof skillet at 400°F for about 20 to 25 minutes or until a thermometer registers at least 145°F (it will still be slightly pink). Set aside and let stand for 10 minutes before slicing.
While pork is resting, prepare the apple and balsamic sauce.
Add butter to a medium skillet over medium heat. When melted, stir in the shallots and sage; cook for 1 minute. Increase the heat to medium-high and add the apples and balsamic. Cook, stirring occasionally, for about 5 minutes. Remove from heat and allow the mixture to sit about 2 minutes while you slice the pork in to 1- to 2-inch-thick medallions.
Place the sliced pork on a serving dish. Spoon the apple and balsamic mixture over the top; serve immediately.
Salted Caramel Apple Tart
Simple, trendy and delicious! This apple tart is perfectly delightful for dinner guests. Best served with a scoop of Apple Pie Gelato by Massimo Gelato, available at Sigona's. Makes two tarts. Serves about 8.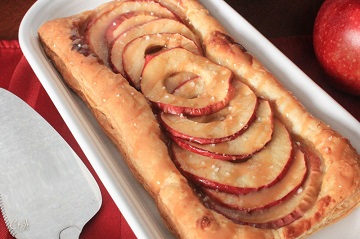 Ingredients:
2 local Gala apples, cored and very thinly sliced (a mandoline set to 3mm works well)
1 sheet puff pastry, thawed appropriately and sliced in half, such as Leadbetter's French Picnic, available at Sigona's
Cinnamon, for sprinkling
3 Tbsp. brown sugar
About 2 Tbsp. butter, at room temperature, for dotting
Caramel sauce, for drizzling, such as E. Guittard or Fran's, available at Sigona's
Appalachian Ancient Sea Salt, for sprinkling, such as J.Q. Dickinson Salts of the Earth, available at Sigona's
Directions: Preheat oven according to package directions or to 400°F.
Prepare a baking sheet with parchment paper or grease with a bit of oil. Lay the pastry halves on the baking sheet and lightly sprinkle a little cinnamon over both halves. Use a sharp knife to score a half-inch border around the pastry, being careful not to cut all the way through.
Lay the apple rings, overlapping, in a straight line down the center of both pieces of puff pastry; trim the apple slices if they go beyond the scored edges. Dot the apples with a little butter.
Bake the pastries for 18-22 minutes or until the edges are a nice golden brown.
Drizzle each tart with a couple tablespoons of caramel sauce and immediately sprinkle with a few pinches of ancient sea salt.
Slice and serve while warm. We like ours with a scoop of gelato.