Reader Recipe: Summer Minestrone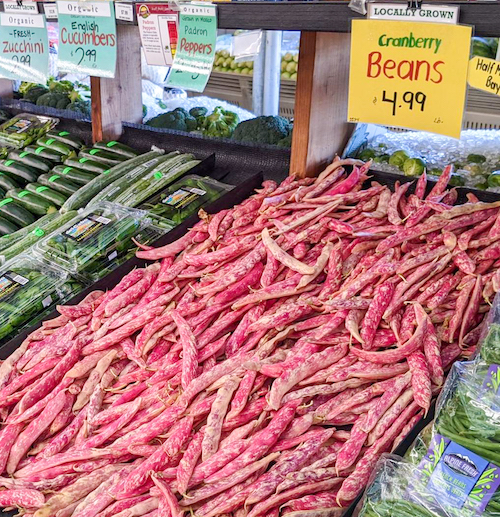 Summer Minestrone
(aka, summer-in-a-bowl)
Sigona's Preferred Customer, Linda, says she made this recipe after Carmelo helped her with the key ingredient in our store: cranberry beans! Linda tells us that she discovered that cranberry beans are equivalent to what are called Borlotti in Italy.
Carmelo says: Local shell beans (in season now for a short time only) take little time to cook and add a great texture to any soup or stew. They thicken dishes in 20 minutes and add a great amount of protein as compared to dried or canned beans.
Ingredients: 
1 lb fresh cranberry beans, (shelled about 2 cups)
3 tbsp [Sigona's Fresh Press] olive oil
1 medium onion, chopped
1 large carrot, chopped
2 ounces pancetta, chopped
1 tsp dried thyme (or 2 tbsp fresh)
4 cups chicken stock
1 bunch Swiss chard, trimmed and chopped (about 8 cups)
1/2 red bell pepper, diced
handful of fresh basil, chopped
Directions: Heat the olive oil in a soup pot and add the onion, carrot and pancetta. Cook, stirring, until vegetables soften, about 3 minutes. Add the shelled beans, thyme and broth and bring to a boil. Reduce heat and simmer, covered, for 10 minutes.
Add chard and pepper with a good pinch of salt, cover again and simmer for 20-25 minutes or until beans are done (squeeze to test). Turn off heat and add basil; let soup sit for 5-10 minutes. Salt to taste, ladle into bowls.
A nice touch is to drizzle with a very good olive oil and sprinkle with grated parmesan.