In the Kitchen with Sigona's Featuring: North Coast Organic Apple Juice & Applesauce
Hot Spiced Apple Cider with Satsuma Mandarins
This is one of our employee's favorite family recipes. The flavor and aroma get you in the mood for a little holiday cheer. Easy to double or triple for guests. Serves about 4.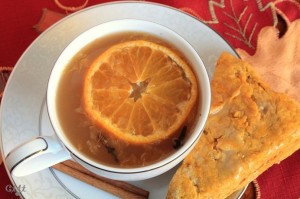 Ingredients:
1 quart (32 oz.) organic Gravenstein Apple Juice
3 local Satsuma mandarins
1/3 cup fresh lemon juice
2 Tbsp honey, such as Orange Blossom honey from Honey Hole Honey Company, available at Sigona's
1 cinnamon stick
3 whole cloves
1/2 tsp allspice
Optional: 1/2 to 1 tsp butter
Directions: Juice 2 Satsumas to yield about 1/2 to 3/4 cup juice. Discard the peel.  Wash the remaining Satsuma and then slice it into thin rings.
Heat all ingredients in crock pot or in pot on stove. Lift the lid occasionally to let the smell fill your holiday room!  Serve hot. 
Spice Rubbed Pork Tenderloin with North Coast Applesauce
Use any combination of spices on the pork you wish, or simply season with salt and pepper. The applesauce provides a lot of flavor and acts like a sauce as well.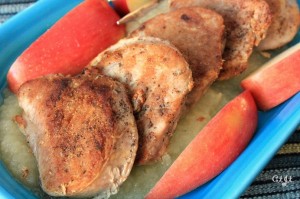 What you need:
1 to 2 Tbsp Sigona's Fresh Press Extra Virgin Olive Oil
1 or 2 (1 lb. ea) pork tenderloins, fat trimmed and sliced into 1-inch thick medallions
Salt and pepper, to taste
Spices for rubbing (such any combination of the following: rosemary, ginger, garlic, oregano, onion, cumin)
North Coast Applesauce, for serving
Apple slices, for serving
Directions: Heat 1 tablespoon oil a large skillet over medium-high heat. Sprinkle pork with salt and pepper then rub in any additional spices you desire.
Add pork to pan, cooking in batches if necessary so they aren't crowded in the skillet; cook for 5 minutes. Reduce heat to medium; turn pork over and cook about 7 minutes or until pork is done (an internal temp of 145 to 160°F). Remove from heat and allow to rest at least 3 minutes before serving.
Spread a generous amount of applesauce on a serving platter. Arrange pork atop the applesauce and garnish the dish with apple slices. Serve with extra applesauce, if desired.