Exclusive to Sigona's: Moo-Na Lisa Cheese
Exclusive to Sigona's: Moo-Na Lisa Cheese
Locally made exclusively for Sigona's, this Gouda-Gruyere style cheese is so good it makes you smile.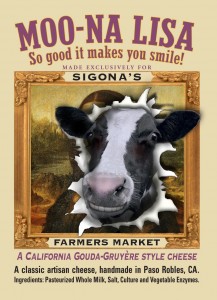 Sigona's cheese fans are familiar with Moo-Na Lisa, no doubt, but for those of you yet to enjoy this exclusive cheese, well, it's your lucky week.
Moo-Na Lisa is one of our three artistic, expressionistic private label cheeses. It's a Gouda-Gruyere style cheese made exclusively for Sigona's as a result of the relationship Nava built with local vendor Reggie Jones from Central Coast Creamery.
Central Coast Creamery, founded in Paso Robles, Calif., in 2008, is a small producer of a award-winning cheeses, including a goat Gouda and SeaScape, a mixed milk (goat and cow) English cheddar style cheese.
Reggie, the founder of the company, met with Nava last year to talk cheese, and the pair discussed developing an entirely new cheese just for our customers.
Knowing two of our customer favorites are Gouda and Gruyere, Reggie went to work at the creamery, aging a mix of Holstein and Jersey milk for five months to create an American original cheese that presented characteristics of both Gouda and Gruyere.
It's a mix so good it makes you smile!
French-style Moo-na Lisa Cheese & Pear Panini
Moo-na Lisa is a cheese made exclusively for Sigona's by a local creamery. This recipe was developed by one of our Redwood City cheese specialists, specifically for this cheese as it pairs perfectly with pears. Enjoy! Serves 2.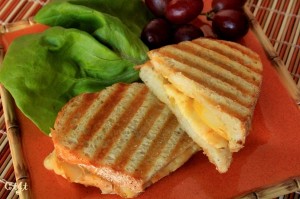 Ingredients:
4 slices sourdough bread
2 TBL stone-ground Dijon mustard
1 ripe Bartlett pear (firm, but ripe), thinly sliced
2 oz. Sigona's Moo-na Lisa cheese, sliced
Freshly ground pepper
Directions: Preheat a Panini maker or griddle over medium to medium-high heat. Brush each side of the bread with olive oil. Layer slices of pear on 2 pieces of bread and sprinkle with a bit of pepper. Top with slices of Moo-na Lisa. Place the remaining oiled slices of bread on top of the dressed slices and place in the Panini maker or on the griddle.
Grill (flipping once if using a griddle) until nicely browned on both sides and the Moo-na Lisa is melted. Serve immediately.