In the Kitchen Featuring: Local Artichokes
If you're encountering artichokes for the first time, these jumbo gems may seem a bit intimidating, but don't let the thorns fool you. Artichokes are great and absolutely fun to eat! You can steam them, stuff them and make them into soups.
The Basics
Working with Artichokes
Wash under cold water
Remove lower, small and discolored leaves
About the stems: The stems are edible, but artichokes look best with the stem cut off so they can sit up straight. Use the stems for an omelet, frittata or as a veggie on the side with a whole grain dish.
Cut off the top 1/4 of the artichoke and trim any thorns
Keep the trimmed artichokes in acidulated water (one tablespoon lemon juice per quart of water) until time to cook.
Cook as desired but not in aluminum or cast iron pots.
Eat the tender portion at the bottom of each leaf, the heart, and even the soft interior leaves. The fuzzy interior choke is inedible.
Simple Steamed Artichokes
Place a trimmed and prepped artichoke in the steamer basket (provided in our March 2013 giveaway) or on a rack, an inch or two above boiling water seasoned with 1/2 teaspoon each of olive oil, lemon juice and peppercorns. Cover and steam 25-45 minutes, until tender and leaves pull apart easily.
Grilled Artichokes
Prep artichokes by removing the smaller or discolored leaves. Remove the stems, cut off and discard the 1/4 of the top of the artichoke. Using scissors, trim the thorns from each leaf.
Steam or boil artichokes for 15-25 minutes or until tender and leaves pull off easily.
Slice cooked artichokes in half lengthwise and use a spoon or melon baller to remove the fuzzy choke and first few inner layers in the center.
Brush each half with Sigona's just-pressed Hojiblanca extra virgin olive oil and season with salt and pepper.
Place artichokes, with cut side down first, on a hot grill for 5-7 minutes. Turn and grill an additional 5-7 minutes more. Look for nice grill marks on both sides.
Serve with lemon wedges, hollandaise or your dip of choice (butter, aioli or marinara)
Basic Hollandaise Sauce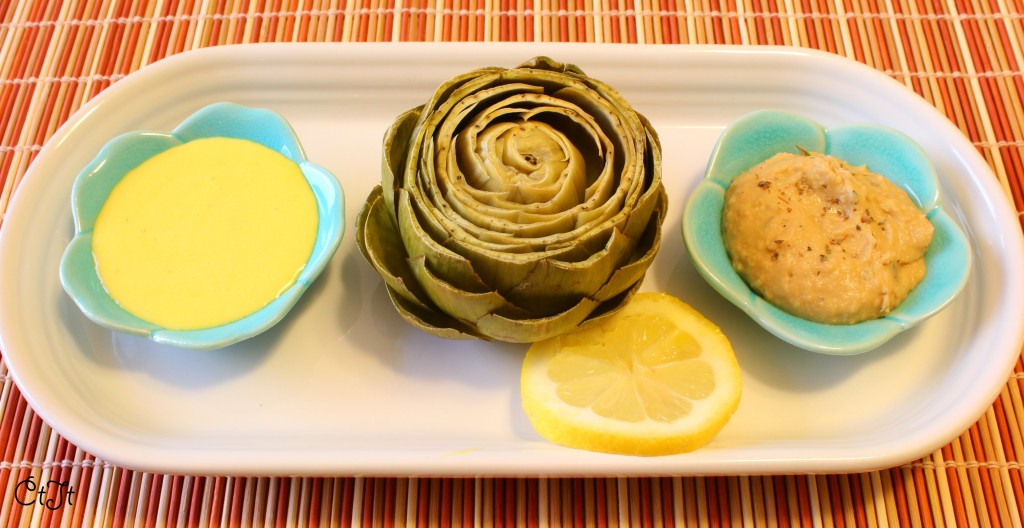 This delicious treat is a Sigona's favorite for dipping artichokes. Don't be intimidated by hollandaise – it comes together in a flash! Add as much Tabasco as you wish for a little kick. Adapted from the Food Network.
Ingredients:
3 egg yolks
1 1/2 tsp freshly squeezed lemon juice
A dash or two (or more) of Tabasco
4 tablespoons (1/2 stick) unsalted butter
1/2 teaspoon kosher salt
Directions: Put the egg yolk, lemon juice and Tabasco in a blender. Pulse a couple times to combine.
Melt the butter either on the stovetop in a small sauce pan or in a bowl in the microwave. With the blender running, gradually add the melted butter into the egg to make a smooth frothy sauce. Blend for about 2 minutes. If the sauce is very thick, blend in a teaspoon of lukewarm water loosen it up.
Season with the salt and serve immediately or keep warm in a small, heat-proof bowl set over hot (but not simmering) water until ready to serve.
Greek-Style Garbanzo Dip
This is a flavorful, unique and low-fat artichoke dip from Clipper Mill.
Ingredients:
1 (14 oz.) can garbanzo beans, drained
1/4 cup fresh lemon juice
1/2 tsp lemon zest
1 clove pressed garlic
2 tsp (Sigona's Fresh Press) extra virgin olive oil
2 TBL chopped parsley
3 TBL minced green onion
1/4 tsp dried oregano
Directions: Puree ingredients together in a blender or food processor.
Local Spring Artichokes with Farfalle Pasta in a Lemony Sicilian Nocellara Sauce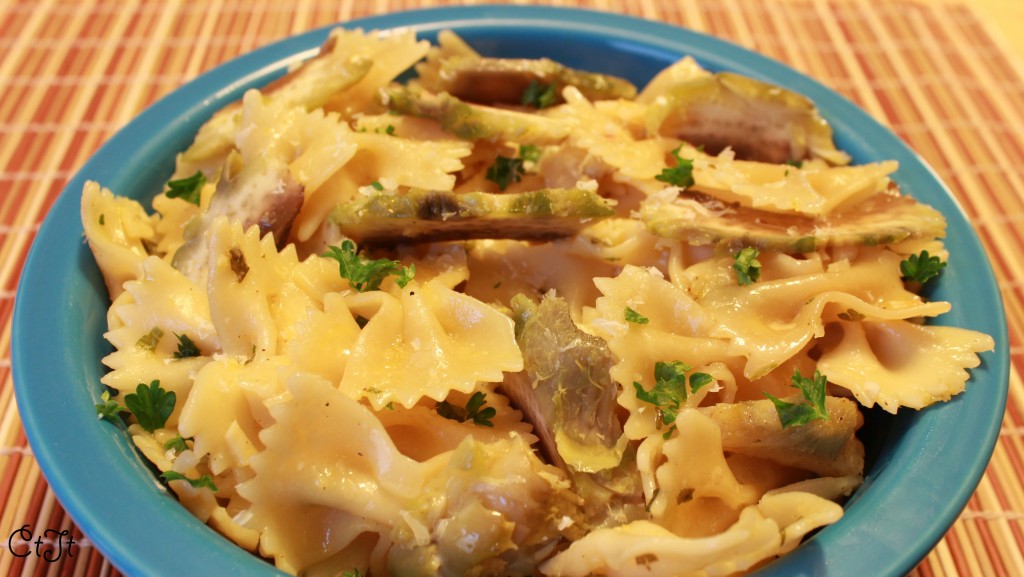 This is a dish I make every spring. I love the brightness of the lemon and the wine together; white wine gives a pasta and vegetable dish a flavor that's hard to match. You could also make the same recipe using fava beans or asparagus. Asparagus would be added as a last step (it cooks in 3-4 minutes); fava beans would need about 5-6 minutes to cook. Serves about 4.
Ingredients:
4 large artichokes
5 TBL (divided) Sigona's just-pressed Nocellara extra virgin olive oil
1/3 cup minced parsley
1 pkg. (1 lb.) Farfalle pasta
2 TBL butter
A pinch of red pepper flakes
Zest and juice of two large lemons
Salt and pepper, to taste
2-3 cloves garlic, minced
1/2 cup dry white wine (such as sauvignon blanc or pinot grigio)
1/4 – 1/2 cup freshly grated parmigiano reggiano cheese
Directions: Slice off and discard the top 1/4 of the artichokes then place them a large pot of boiling water and cook for about 10-12 minutes. You want them to just be getting tender. Drain and set aside. When cool to the touch, remove the leaves (saving for a later snack). With a spoon, scrape out and discard the fuzzy, thorny choke so only the cups remain. Slice the cups and set aside.
Meanwhile, in a small bowl mix together the parsley and 3 TBL olive oil. Also prepare the pasta according to package directions. When drained, toss with the parsley and olive oil mixture. Set aside.
In a large sauté pan over medium-low heat, add the butter, remaining 2 TBL olive oil, red pepper flakes, lemon juice and zest. Season with salt and pepper then add the garlic and let cook together for about 1 minute.
Increase heat to medium high. Add the wine and gently fold in the artichokes. Let the mixture cook for about 5 minutes, then cover and cook for 3 additional minutes to allow the artichokes to become tender.
Add the pasta and cheese to the sauté pan, gently folding all ingredients together to coat the pasta. Season with salt and pepper and serve.