In the Kitchen Featuring: Summer Recipes
Quinoa Tabbouleh with Sigona's Sicilian Nocellara Olive Oil
Quinoa, like Tabbouleh, became popular in the 70s, but has had a welcome resurgence as of late, partially due to it being gluten-free. Quinoa, a plant seed, is complete protein, boasting all nine essential amino acids, and has a pleasantly grassy, nutty flavor and is slightly crunchy when cooked. Use it like a grain or pasta, similar to how you might use bulgur wheat, the grain traditionally used in Tabbouleh.
Ingredients:
2-3 large tomatoes (about 12 oz.), seeded and chopped
1 cup quinoa, uncooked
1 cup chopped fresh flat-leaf parsley
4 green onions, chopped (all white parts and 2 inches of green tops)
1/2 a medium English cucumber, peeled, seeded and finely chopped
4 radishes, chopped
4 oz. Feta, crumbled (Optional. Leaving it out will make this wheat-free dish also a vegan dish)
1/4 cup chopped fresh mint
1 TBL lemon zest
6 TBL Sigona's Fresh Press Sicilian Nocellara extra virgin olive oil
Juice from 1 1/2 lemons (about 3 TBL)
Salt and pepper
2 avocados (for serving, see note*)
Directions: Bring 2 cups of water to a boil in a medium sauce pan. Add the quinoa and 1/2 teaspoon of salt. Turn down the heat to medium-low, cover and cook until the quinoa is fluffy and chewy, about 20 minutes. Strain out any excess water.
Place quinoa in a large bowl and add in tomatoes, parsley, onions, cucumber, radish, Feta (if using), mint and lemon zest. Stir to combine.
In a medium bowl, combine lemon juice, salt & pepper (to taste) and olive oil. Whisk briskly to emulsify the mix. Add all but 2 TBL to the quinoa mixture and toss to combine.
*Just before serving, slice avocados and add to the remaining olive oil & lemon juice mixture. Transfer Tabbouleh to a serving bowl or large platter and arrange sliced avocados on top. Serve immediately.
Balsamic Marinated Flank Steak
The balsamic and soy in this marinade help to break town flank steak, which is a tougher cut of beef, so it is deliciously tender and flavorful once grilled. It's best to marinate this recipe overnight to ensure the best flavor. Try it on other cuts of beef, too! Serves about 4.
Ingredients:
Directions: In a small mixing bowl, whisk together the shallot, garlic, olive oil, balsamic, soy sauce, Dijon, salt and pepper.
Place the steak in either a 9×13 baking dish or a large re-sealable bag. Pour on or in the marinade, coating the steak. Cover or seal, removing excess air, and marinate in the fridge for at least 2 hours or overnight.
To cook: Remove steak from the fridge for at least 30 minutes before grilling. Preheat an outdoor grill to medium-high heat. Lightly brush grill with oil.
Shake off any excess marinade from the steak and place steak on the grill. Cook for 6-8 minutes a side, turning once.
Let the meat rest about 3-5 minutes before slicing against the grain to serve.
Simple, Pan-Seared Grass-Fed Steak
There is a saying I like to remind myself of in the kitchen every once in a while: keep it simple, stupid. I find that sentiment to ring most true when it comes to steak. Just salt it, pepper it and throw it on the grill, baby! Serves 2-4. Serve with the Slow Roasted Confit of Tomatoes, Red Peppers & Sweet Red Onions (recipe follows).
Ingredients:
2-4 local, grass-fed steaks, such as Ribeye, New York, Filet or Flat Iron from Open Space Meats in Newman, Calif.
Salt (Kosher would be best) and pepper
1-2 TBL Sigona's Fresh Press Sicilian Nocellara extra virgin olive oil
Directions: Preheat the oven to 450 degrees F. A half-hour before cooking, remove steak from refrigerator and rub in salt and pepper. Let it sit on the counter to come to room temperature.
Heat oil in a large skillet over high heat. Add steak to the hot skillet and sear for about 2 minutes a side, flipping once.
Transfer skillet to the oven and roast for about 6-8 minutes (that'll be for medium-rare, depending on the thickness of the steak). Remove from oven and transfer steak to a cutting board. Let it rest for 5-10 minutes before slicing/serving. Remember to cut sway from the bone, if present, and cut meat across the grain.
Slow Roasted Confit of Tomatoes, Red Peppers & Sweet Red Onions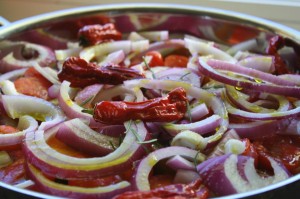 Recipe courtesy of Veronica Foods. This confit, or tomato "jam" can be used to dress pasta, slather on crusty bread, or as an accompaniment to slow roasted meats, grilled steaks or poultry.
Ingredients:
1 1/2 pounds small whole sweet tomatoes, such as cherry or grape
1 large red onion, sliced thin
1 red bell pepper, sliced thin
8 large garlic cloves
1 – 2″ sprig fresh rosemary, leaves only, stem discarded (optional)
1/2 cup Sigona's Fresh Press extra virgin olive oil, such as the Leccino, Frantoio or Nocellara
1/3 cup crisp, good quality white wine
1 TBL Sigona's Traditional Balsamic
2 tsp sea salt or kosher salt
Fresh ground pepper to taste
Directions: Adjust rack to middle of oven, and preheat to 300.
In a medium roasting pan (9″x13″) or a 12″ oven safe skillet, combine the tomatoes, onion, bell pepper, garlic and rosemary. Whisk the olive oil, wine and balsamic together, drizzle over the vegetables and toss to combine. Season with salt and pepper.
Place the pan on the middle rack in the oven, uncovered, and allow the vegetables to cook slowly, stirring only a few times during the process, being careful not to break the tomatoes. Slow roast for 4 – 4 1/2 hours.
Allow the mixture to cool slightly then transfer to a jar or other storage container. Top with a little more olive oil, if desired, or use right away. Will keep for about 4 days in the refrigerator.
Grilled Spring Onions
I love the sweeter flavor of spring onions! They're a perfect side for a grilled steak. Choose spring onions that are young and tender. If overgrown, peel down the tough outer layers when prepping for the grill. Serves 4.
Ingredients:
4 spring onions, sliced in half lengthwise
Sigona's Fresh Press Sicilian Nocellara extra virgin olive oil
Salt and freshly ground pepper, to taste
Directions: Drizzle the spring onions lightly with olive oil and season generously with salt and pepper. Place cut side down on a grill or BBQ over medium high heat and cook about 3 minutes on one side, or until char marks begin to appear. Flip the onions and cook a few more minutes. Remove from grill and serve with a steak.