Mini Strawberry-Oatmeal Cakes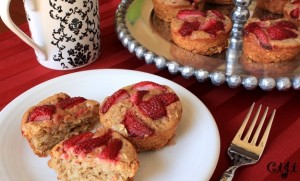 Delightful for breakfast, brunch or a mid-afternoon snack with coffee or tea. They come together quickly in the morning, but do note the oats need to soak overnight. These are great to make over the weekend, and it's easy to double this recipe, so you can freeze the extras. Adapted from Eating Well. Makes 12 cakes.
Ingredients:
2 ½ cups old-fashioned rolled oats
1 ½ cups milk or almond milk (almond milk will add a bit more flavor)
1 large egg, lightly beaten
1 cup quartered fresh strawberries (larger berries may need extra slicing)
1 tsp brown sugar
1/3 cup pure maple syrup OR a mix of maple syrup and honey
3 Tbsp Sigona's Fresh Press Extra Virgin Olive Oil, divided
1 tsp vanilla extract
1 ½ tsp ground cinnamon
1 tsp baking powder
1/4 tsp nutmeg
1/4 tsp salt
Directions: In a large bowl, combine oats and milk. Cover and let soak in the refrigerator until much of the liquid is absorbed – at least 8 hours and up to 12 hours.
Preheat oven to 375°F. Using about 1 tablespoon olive oil, grease a 12-cup nonstick muffin tin.
In a small bowl, mix together the quartered strawberries and brown sugar. Set aside.
To the oat mixture, add the egg, maple syrup or syrup/honey mix, 2 remaining tablespoons oil, vanilla, cinnamon, baking powder, nutmeg and salt. Mix well until combined. Divide the mixture among the muffin cups (about 1/4 cup each). Top each with 1 tablespoon of the strawberry mixture.
Bake the oatmeal cakes until they spring back when touched, 25 to 30 minutes. Let cool in the pan for about 10 minutes. Loosen and remove with a paring knife. Serve warm.
Fresh Strawberry, Kale and Orzo Salad with a Balsamic Vinaigrette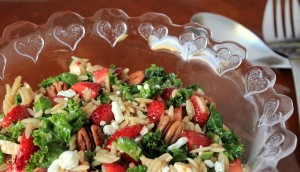 This hearty salad serves nicely as a side or as a main dish, and is just lovely with any fresh berry. If you go with blueberries, try our blueberry balsamic in the vinaigrette. Instead of orzo, you can use farro, an ancient grain, if you'd like. Enjoy! Serves 3 to 4.
For the Salad:
3/4 cup uncooked orzo
1 cup chopped fresh strawberries
1/4 cup chopped walnuts or pecans (look for some of our glazed varieties at Sigona's)
1/3 cup cubed or crumbled Feta or goat cheese
2 cups shredded kale (massaged a bit to tenderize the tough leaves)
2 Tbsp minced basil, optional
For the Vinaigrette:
1 garlic clove, minced
1 Tbsp minced shallot
2 tsp honey, such as Orange or Eucalyptus from Honey Hole Honey, Co. (available at Sigona's)
2 tsp fresh lemon zest
1 Tbsp fresh lemon juice
2 Tbsp Sigona's Strawberry Balsamic
Salt and pepper, to taste
Directions: Cook the orzo just to al dente, according to package directions. Fluff and allow to cool in the fridge for about 20 minutes, stirring once.
Meanwhile, in a small bowl, whisk together the garlic, shallot, honey, lemon zest, lemon juice and the balsamic. While whisking briskly, drizzle in the olive oil and mix well to emulsify the mixture. Season with salt and pepper. Set aside.
In a large bowl, gently mix together the cooked and cooled orzo, the strawberries, nuts, cheese, shredded kale and basil, if using. Drizzle the vinaigrette over the top and toss to incorporate. Season with salt and pepper.
Serve chilled or at room temperature.
Creamy Strawberry-Balsamic Salad Dressing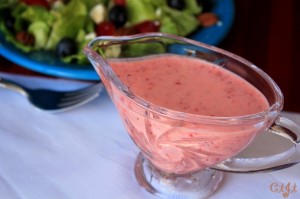 Imagine this drizzled over the top of a leafy green & berry salad with feta, or even as a sauce served with fish, such as halibut or salmon. Delicious! Adapted from the California Strawberry Commission. Serves about 5.
Ingredients:
Directions: Place all the ingredients in a blender or food processor and blend until it is as smooth as you'd like. Serve chilled.