In the Kitchen with Sigona's Featuring: Healthy Fall Treats
This is a great time of year to go all out and have fun with cooking. Here's some simple, healthy and delicious recipes  you'll just love and not feel guilty about! 
Glazed Pecans with Pumpkin Pie Spiced Balsamic
A Fantastic Topper for Marianne's Pumpkin Ice Cream. The unique flavor of these candied nuts with a hint of salt will add the perfect touch to your ice cream. Adapted from Saveur.
Ingredients:
Directions: Heat oven to 325°F. Spread pecan halves on a parchment paper-lined baking sheet and bake until lightly toasted and fragrant, about 10 minutes; set aside.
In a 12″ skillet over medium-high heat, bring the brown sugar, balsamic and olive oil to a boil. Cook until mixture is foamy and slightly thickened, 2 to 3 minutes. Add pecans and cook, stirring constantly, until well coated, about 3 minutes. Spread on baking sheet that is lightly rubbed with olive oil. Sprinkle the pecans with sea salt; let cool completely. Give them a rough chop or break into bite-size pieces before serving on top of the ice cream
Fresh Pumpkin Puree
It seems there is a pumpkin version of almost everything floating around the internet this fall, so why not make your own pumpkin puree and join in on the fun! It's so much easier than you might think. Once you have pumpkin puree, you can mix it into pasta dishes, waffles or pancakes or even make your own pumpkin butter. A quick search on Pinterest will show you the pumpkin possibilities are endless.
What you need:
Directions: Cut the pumpkins in half and scoop out the seeds and pulp, as you would a melon (save the seeds for toasting!). Cut each half in half and place face down on a baking sheet. Roast at 350°F for about 45 minutes, or until pumpkin is fork-tender.
Allow pumpkin to cool a bit, and then peel the skin from the pumpkin, using a spoon to scrape off any pumpkin left on the shell.
Using a food processor or blender, puree the pumpkin, working in batches. If necessary, add a little water, a tablespoon or two at a time. Some recipes note that if the puree is too watery, it should be strained in a fine mesh sieve or cheesecloth.
Use the puree now or freeze for later in zipper-top plastic bags with the air removed.
Roasted Pumpkin, Corn, Black Bean and Feta Salad with Chipotle-Lime-Honey Vinaigrette
When Luisa Ormonde Hancock of Luisa's Catering in San Carlos posted this picture on Facebook, it garnered so many likes and comments we asked if we should share her recipe with our customers. You won't be disappointed in this salad! Serves 4.
Salad:
1 cup cubed (bite-size) pumpkin (peeled and seeded)
1 cup fresh corn kernels
Sigona's Fresh Press Extra Virgin Olive Oil, for drizzling
A sprinkle of brown sugar
2 ½ cups chopped romaine lettuce
1 can black beans, drained and rinsed well
1 cup chopped, seeded tomato or halved cherry tomatoes (look for a medley of colors)
1 fresh red bell pepper, seeded and chopped
Optional: a bit of red onion, thinly sliced
1/2 cup crumbled feta cheese
Chipotle-Honey-Lime Dressing
1/4 cup fresh-squeezed lime juice
1/4 cup Sigona's Fresh Press Extra Virgin Olive Oil, such as Hojiblanca from Australia
2 to 4 Tbsp honey, such as Orange Honey  from Honey Hole Honey Co., available at Sigona's
2 Tbsp chopped fresh cilantro
1 garlic clove, peeled and minced
Canned chipotle pepper or fresh minced jalapeño pepper, to taste (chipotle gives it a smokey flavor)
Directions: Place the cubed pumpkin and corn on a rimmed baking dish. Drizzle with olive oil, season with salt, pepper and a sprinkle of brown sugar. Bake at 400°F for about 30 minutes. Set aside.
Meanwhile, whiz together the dressing ingredients in a blender or use hand blender.
Toss all salad ingredients (except the feta) together in a large bowl. Pour dressing over mixture and toss again. Top with feta and serve.
Heirloom Apple & Pumpkin Soup with Red Gold Saffron
Blending this soup makes it seem creamy without the calories – that's the beauty of pumpkin! It's a delicious dish to serve on a crisp fall day, accompanying a salad, pork or chicken. Inspired by Clean Eating. Serves 4.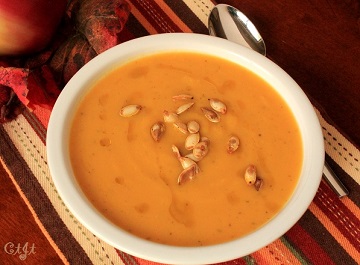 Ingredients:
1 Tbsp Sigona's Fresh Press Extra Virgin Olive Oil, plus more for drizzling
1 (about 2 lbs.) squash, such as pumpkin or butternut, peeled, seeded and cut into 1/2-inch cubes (about 4 cups)
1 local heirloom apple, such as Empire, Newton Pippin or Braeburn, cored and diced
1 small onion, diced
1 Tbsp finely chopped fresh sage leaves
1/8 to 1/4 tsp nutmeg, more or less to taste
A pinch Red Gold saffron
Salt and pepper, to taste
2 ½ to 3 cups chicken broth, more or less depending on thickness desired
Optional: Toasted pumpkin seeds, for garnish (recipe follows)
Directions: In a stock pot, heat oil over medium heat. Add the pumpkin, season with salt and pepper, and cook, stirring occasionally, for 3 minutes. Add onion and cook, stirring frequently, until onions are just softening, about 5 to 7 minutes. Stir in apple, sage, saffron and nutmeg. Cook, stirring occasionally, for another 4 minutes.
Deglaze the pan with the broth, scraping up any brown bits. Bring to a boil, reduce to a simmer and cook until pumpkin and apple are very tender, about 8 minutes.
Using a food processor, blender or an immersion blender, purée soup (working in batches if necessary).
Serve soup warm, garnished with a few toasted pumpkin seeds and a drizzle of olive oil.
Toasted Pumpkin Seeds
Perfect for salads, snacking, topping soups and more, toasted pumpkin seeds should be on everyone's must-do list for fall.
What you need:
Pumpkin seeds, freshly scooped from pumpkin(s)
Sigona's Fresh Press Extra Virgin Olive Oil
Salt & Pepper
Any other spices you desire (salt, cinnamon & sugar, chili powder, Cajun seasoning, garlic, etc.
Directions: Rinse the seeds well under cold water to remove any stringy pulp. Pat them dry. Place seeds on a rimmed baking sheet, drizzle with olive oil, season with salt and/or any other desired seasonings. Toss to coat evenly.
Spread the seeds out in a single layer. Place them in the oven at 375°F for 7 to 10 minutes or until lightly toasted.



Gluten-Free Mini Pumpkin Pecan Muffins
These petite treats make the whole house smell like fall as they bake. Makes about 30 to 35 mini muffins. Adapted from Bob's Red Mill.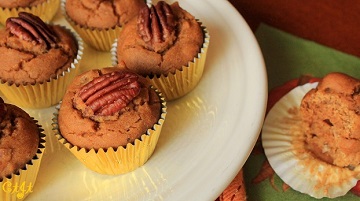 Ingredients:
1 cup fresh pumpkin puree (recipe above)
1/2 cup almond milk, milk or buttermilk
1/4 cup applesauce
1 tsp vanilla
1 ½ cups all-purpose gluten-free flour, such Bob's Red Mill or Antico Molino Caputo
3/4 cup brown sugar
2 tsp gluten-free baking powder
1/2 tsp baking soda
2 tsp pumpkin pie spice
1/2 tsp cinnamon
1/2 tsp salt
1/3 cup chopped pecans, plus 30 or more whole pecan halves, for topping muffins (optional)
Directions: In a large bowl, mix together the pumpkin puree, milk, applesauce and vanilla.
In a medium bowl, sift together the flour, sugar, baking powder, baking soda, spices and salt.
Stir the dry ingredients into the wet ingredients, and then stir in the nuts.
Spoon batter into mini muffin cups (greased or use liners). If using, place a whole pecan half on top of the batter in each cup, pressing one end down a bit into the batter.
Bake at 350°F for 17-19 minutes or until an inserted toothpick comes out clean.
After seeing some of these treats on Pinterest and other DIY sites, we decided to give some a go in our test kitchen. Have any other spook-tacular Halloween treats you make with fresh fruits and veggies? Share them with us: share@sigonas.com or post to our Facebook page. Check out our treats from last year, too!
Boo-nana Ghosts
Though these treats are dipped in melted white cholate, bananas make for a healthier option than ice cream. You can do the same with strawberries too. Makes 4 ghosts.
What you need:
2 bananas
4 popsicle sticks
About 10 to 12 oz.** Guittard white chocolate, for melting (available in bulk at Sigona's)
8 to 12 mini chocolate chips
Coffee mug
Directions: Cut the bananas in half and insert a popsicle stick in the cut end. Place cut bananas in the freezer for at least an hour or up to one day.
Place the chocolate in a (preferably tall and skinny) coffee mug and microwave for 30 second increments, stirring in between sessions, until chocolate is melted.
Once melted, dip the frozen banana halves, one at a time, into the white chocolate, rotating the mug as necessary to coat the entire banana. Working quickly, lay the banana on a parchment-lined plate and add two chocolate chips for eyes and one for a mouth, if desired.
Place the bananas back in the freezer until ready to serve.
**You'll have some chocolate left over, depending on the size of bananas. Either make more banana ghosts or use remaining chocolate for making frozen strawberry ghosts, following the same instructions. You can always eat the leftover chocolate with a spoon, too. It'll be our secret.
Yam-o'-Lanterns
Cute, fun to make and healthy to boot, these little Jack-o'-lanterns, made from garnet yams (sometimes referred to as sweet potatoes), will appeal to kids and grown-ups alike. The beautiful deep orange color of Garnet yams works perfectly for imitating pumpkins.  
What you need:
Large garnet yams, the fatter the better
Sigona's

Fresh Press Extra Virgin Olive Oil

, for brushing
Salt and pepper, to taste
Seasoning of choice, for sprinkling (Some suggestions: 1). Chili powder, cumin & garlic. 2). Pumpkin Pie Spice. 3). Cinnamon. 4). Mace
Optional: Sigona's Dark Maple Balsamic or maple syrup, for drizzling
Directions: Rinse and scrub the yams (no need to peel). Slice into medallions at least 1/4 inch thick.
Using small cookie cutters or a knife, cut or slice designs into the yam slices. Place the yams on a parchment-lined baking sheet. Brush yams lightly with olive oil and sprinkle on a bit of seasoning of choice. Bake at 400°F for 18-20 minutes or until tender.
Arrange slices, underside up, on a serving dish. Sprinkle with a bit more seasoning and drizzle with Sigona's Dark Maple Balsamic or maple syrup, if the flavor pairs well with your selected seasoning.
Orange & Black Fruit Kebabs




These festive kebabs are a simple and healthy treat. You may consider using mango or even tangerine segments in place of the melon, if desired.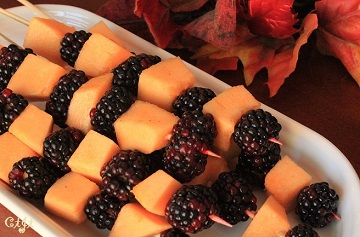 What you need:
• Cantaloupe, seeded and cut into 1" cubes
• Blackberries
• Wooden skewers
Directions: Alternating between berries and melon, thread 3 to 4 blackberries and cubes of melon each onto wooden skewers. Arrange skewers on a serving platter. Serve.