In the Kitchen with Sigona's Featuring: California Okra
Fresh Okra, Tomato & Corn Sauté with Diced Ham and Peppers
This simple side is a great way to introduce okra to the family. It goes well as a side to grilled meat, accompanied by cornbread. Adapted from Garden Smart. Serves 4.
Ingredients:
About 6 oz. ham, diced, such as Niman Ranch, available at our Redwood City store
2 Tbsp. Sigona's Fresh Press Extra Virgin Olive Oil (Mix it up! Try Sigona's Basil Oil.)
1 1/2 cups sliced okra (about 6 to 7 oz.)
1/2 cup chopped bell or sweet mini pepper, seeded
1 cup fresh corn from the cob
1 cup halved grape tomatoes
Salt and pepper, to taste
2 Tbsp. chopped fresh basil or chives
Directions: Heat oil in a large skillet over medium. Add the ham and sauté until ham has started to caramelize, about 3 to 5 minutes.
Add the sliced okra and chopped peppers to the ham. Season with salt and pepper; sauté for about 3 minutes. Stir in the corn and tomatoes, then reduce heat to low to allow the mixture to simmer, stirring occasionally, until the vegetables are tender, about 5 to 7 minutes.
Remove from heat, stir in the basil or chives and season to taste with salt and pepper.
Charred Okra with Tomatillos, Garlic and Sweet Peppers
This dish has a bit of a Thai twist to it, thanks to the lime zest and a splash of balsamic vinegar, believe it or not. Add in more or less crushed red pepper to your liking. Adapted from Cooking Light. Serves 4.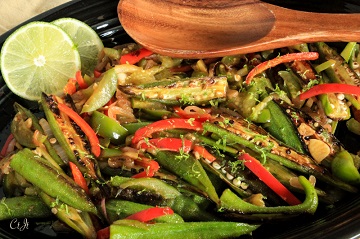 Ingredients:
1 Tbsp. Sigona's Fresh Press Extra Virgin Olive Oil (Mix it up! Add some heat with Sigona's Harissa Oil.)
1/2 pound okra, halved lengthwise, stems removed
1 shallot, sliced
1/2 cup julienned red bell pepper or mini sweet peppers
3 garlic cloves, thinly sliced
1/2 cup peeled, julienned tomatillo
1/4 tsp. crushed red pepper
1 Tbsp. butter
2 tsp. chopped fresh oregano
1 tsp. lime zest
Salt and pepper, to taste
Directions: Heat a large skillet over high heat. Add oil to pan; swirl to coat. Add okra in a single layer; cook, without stirring, 3 minutes or until charred.
Stir in the shallot and julienned peppers; cook for two minutes or until lightly charred. Add the garlic and cook for 1 minute more. Stir in the tomatillo, balsamic and red pepper flakes. Cook for 1 minute then remove from heat.
Stir in the butter, oregano, lime zest, salt and pepper. Serve.
Fried Okra and a Kickin' Creamy Creole Dipping Sauce
We couldn't give you okra and not include a recipe for frying it! You'll love how the cornmeal gives the fried slices an extra crunch and flavor. Serves about 4 as an appetizer.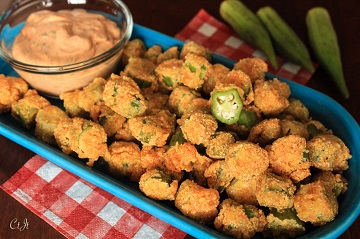 Ingredients:
1 cup buttermilk
1 lb. fresh okra, sliced into 1/2-inch thick pieces, tips and stems discarded
4 to 6 cups oil, for frying
3/4 cup yellow cornmeal
1 1/2 cups all-purpose flour
3/4 teaspoon paprika
Salt and pepper, to taste
Dipping Sauce:
1/4 cup plus 2 Tbsp plain yogurt (preferably Greek, such as Fage)
2 Tbsp. mayonnaise
1 Tbsp. chopped fresh parsley
1 tsp. Dijon mustard
A couple shakes hot sauce, or to taste (we recommend Tabasco)
2 1/2 tsp. ground cumin
2 tsp. paprika
1 tsp. fresh lemon juice
1 clove garlic, minced
Salt and pepper, to taste
Directions: Heat oil in a large, heavy-bottomed skillet or Dutch oven to 350 degrees F. (Do not fill the pan more than halfway up the sides with oil.)
In a medium bowl, mix together all the dipping sauce ingredients. Scrape into a smaller serving bowl and set aside.
In a medium bowl, combine the cornmeal, flour, paprika, salt and pepper.
Pour buttermilk into a separate medium bowl.
Dip the okra in the buttermilk then toss it in the cornmeal mixture, placing coated pieces on a plate. Being careful, and working in batches if necessary, place the okra in the hot oil and cook until golden, about 4 to 5 minutes. Using a slotted spoon, scoop out the fried okra and place on a paper-towel-lined sheet to drain.
Transfer okra to a serving tray and serve immediately, with the dipping sauce on the side.