Turkey Roasting Instructions
Diestel Family Farms Roasted Turkey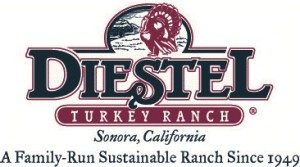 Directions: Remove turkey from the bag. After removing neck and giblets from the body cavity, rinse the bird with cold water. Pat cavities lightly with a paper towel. Rub body and neck cavities with salt if desired, and stuff loosely. Truss neck cavity with metal skewer and truss legs.
NYLON TRUSS: To remove the truss just lift the ring and pull it up and over the end of the drumstick. To secure the truss, hold the drumsticks together, lift the ring and pull it over the drumsticks. The nylon truss is oven and microwave safe and can withstand oven temperatures of up to 450º F.
THE PASTE OR RUB: Spread exterior of turkey with a blend of your favorite herbs and spices or with a paste made of the following ingredients:
Heat oven to 325º F. Place bird in open pan, breast side up. Pour two 8 ounce cups of water in bottom of pan. Place in oven. See table below for suggested roasting times (stuffed turkey).
NOTE: If roasting turkey unstuffed then decrease roasting time by approximately 30 minutes. When the turkey is done, the thickest part of the drumstick will feel soft. Remove from oven. Let stand 15 minutes before carving.
NOTE: Please click here to see the roasting times suggested, being careful not to over-roast. There is no need to turn the bird while roasting as it will brown to a rich, golden color. However, a piece of foil should be placed loosely over the turkey for approximately the last hour of roasting.