Sautéed Brussels Sprout Leaves with Persimmons, Heirloom Apricots and Walnuts
If it's local persimmon season (usually November – December) then consider using fresh Fuyu persimmons in place of the dried persimmons. We carry dried persimmons year-round in our markets, as well as these fantastic, unique and locally grown heirloom Blenheim dried apricots from Hollister.
This is a fantastic dish to serve at Thanksgiving, if you're wanting to add a little local flare to your traditional meal.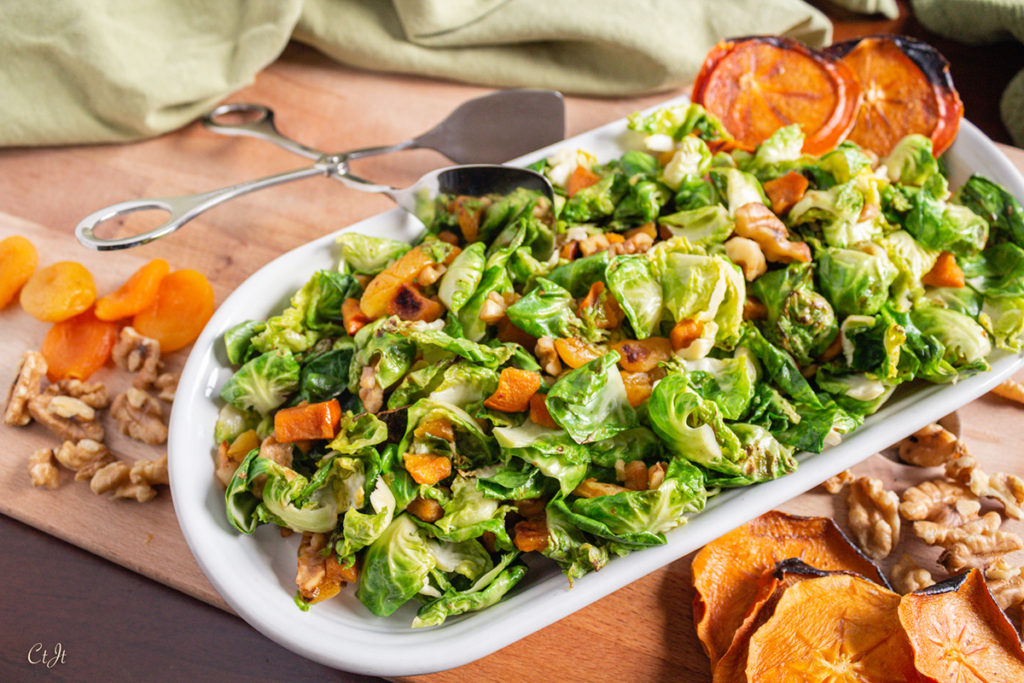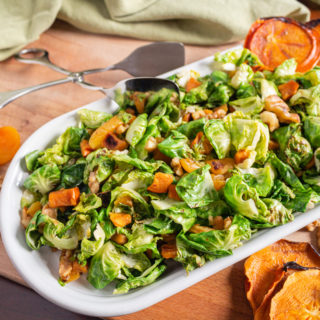 Sautéed Brussels Sprout Leaves with Persimmons, Heirloom Blenheim Dried Apricots and Walnuts
This quick sauté comes together in just minutes. It's a delicious vegan and vegetarian friendly dish that would be lovely for Thanksgiving. It's packed with delicious flavor and nutrients. Adapted from a recipe by Stephanie Stiavetti Fearless Fresh. Stephanie grew up in Redwood City and remembers shopping at Sigona's. Serves about 4.
Ingredients
Ingredients:
2

oz.

dried heirloom Blenheim apricots

about 1/4 cup, see note

1 1/2

oz.

dried heirloom hachiya persimmons

about 4 slices, see note

Boiling water

8

oz.

Brussels sprouts leaves

rinsed and spun dry

1/4

cup

coarsely chopped walnuts

see note

1

Tbsp

Sigona's Fresh Press Extra Virgin Olive Oil

see note

1/2

tsp

salt

or to taste

1/2

tsp

freshly ground black pepper

or to taste
Instructions
Place the apricots and persimmons in a bowl and cover with boiling water. Allow to sit for 5 minutes to reconstitute. Drain and dice. Set aside.

Heat a large sauté pan over medium heat. Add the walnuts and toast for about 3 minutes, shaking pan occasionally. Transfer to a bowl and set aside. Wipe out pan with a kitchen or paper towel.

Add the olive oil to the same pan over medium heat. Add the Brussels sprout leaves, salt, pepper, apricots and persimmons. Sauté, stirring almost constantly, for about 5 minutes then add the walnuts and cook for another minute or until heated through. Taste and adjust seasoning if needed. Transfer to a serving dish and serve immediately.