Mandarinquat, Fennel & Meyer Lemon After-Dinner Salad
Serving fruit after dinner is something our Sicilian grandparents used to do after every meal. Refreshing citrus cleanses the palate, yet leaves you feeling as though you've enjoyed a sweet treat. What's more is the rind on both the mandarinquats and Meyer lemon are all edible, so you don't need to fuss with peeling these fruits. Serves 2 to 4.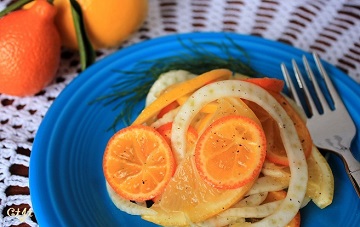 Ingredients:
1/2 a bulb of fennel, harder bottom core trimmed off (save the fronds or garnish, if desired)
3 to 4 locally-grown mandarinquats
1 Meyer lemon
About 1 to 2 Tbsp Sigona's Fresh Press Extra Virgin Olive Oil
Salt and pepper, to taste
Directions: Using the smallest insert on a mandoline, thinly slice the fennel. Place slices in a medium bowl.
Using a knife, thinly slice the mandarinquats on a bias. Remove and discard the seeds; place slices in the bowl with the fennel. Thinly slice the lemon on a bias and then half or quarter the slices. Discard any seeds; add the lemon slices in the bowl.
Toss the mandarinquat mixture with 1 to 2 tablespoons olive oil. Season with salt and pepper, to taste.
To serve: Pinch a bit of the salad from the bowl and place on the center of a small bread or salad plate. Garnish with a bit of the fennel fronds, if desired.
Mandarinquat Margaritas
All you really need to make this happen is a blender and a fine-mesh sieve. Boom. Margaritas! It's 5 o'clock somewhere! No need to peel the mandarinquats – the peel is edible. Makes 2 (about 8 oz. each) margaritas.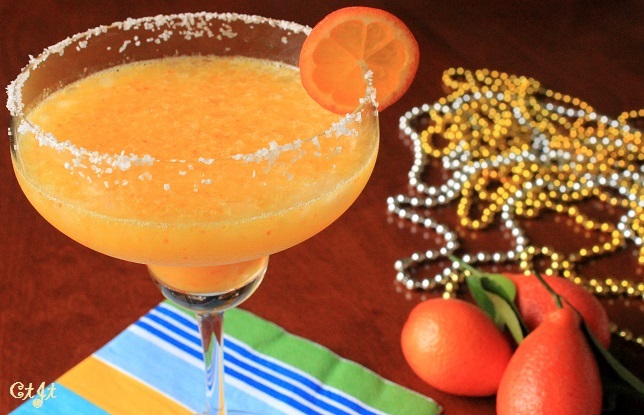 Ingredients:
1 lime
About 1 Tbsp kosher salt, to rim the glasses
4 mandarinquats
About 3 oz. tequila
About 1 ½ cup crushed ice
1 to 2 Tbsp agave nectar, or to taste
Directions: Slice the lime in half across the middle. Slice one half into quarters; juice the other half to yield about 1 to 1 ½ Tbsp lime juice (juice up to two of the quarters from the other half, if more juice is necessary)
Sprinkle salt onto a small plate. Rub the rim two margarita glasses with the two lime quarters; dip the moistened rims in the salt to coat the rim. Set glasses aside.
Halve the mandarinquats, then cut and set aside two nice and thin slices for a garnish. Remove and discard the seeds from the halved mandarinquats (you may need to slice some of the halves to ease this process) and place the halves in a blender. Blend until well pureed.
Place a fine-mesh sieve over a bowl and pour the puree into the sieve. Press on the pureed pulp and rind to extract as much juice as possible. It will be thick; you'll have about a 1/2 cup. Discard remaining pulp/rind.
Return the juice to the blender and add the tequila, lime juice, agave and ice. Process until well blended then pour into the salt-rimmed glasses. Garnish with reserved mandarinquat slices; serve immediately.
Mandarinquat & Avocado Salad with Shrimp and a Sweet Balsamic Vinaigrette
Light and flavorful, this salad will help keep your "New Year, New You" resolution intact. The peel of mandariquats is all edible, so all you simply need to do here is slice them and you'll be set. Adapted from Uncommon Fruits and Vegetables. Serves 4.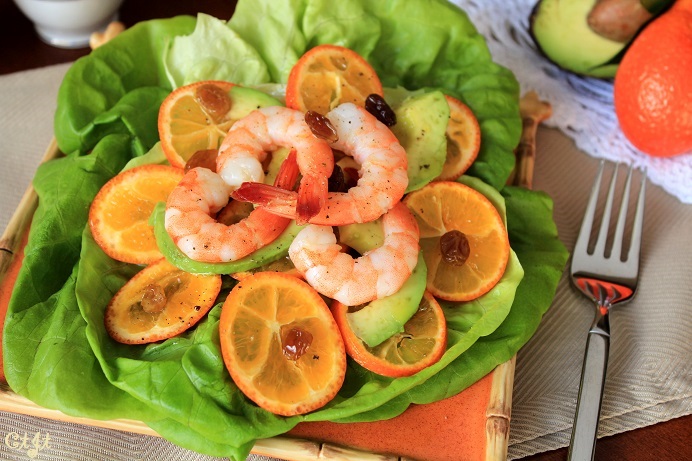 Ingredients:
1 ½ Tbsp golden raisins (look for them in our dried fruit & nuts section)
1 Tbsp Sigona's Balsamic (Mix it up! Try Sigona's Grapefruit White Balsamic, Sigona's Satsuma Vanilla Balsamic or Sigona's Tangerine Balsamic.)
3 Tbsp Sigona's Fresh Press Extra Virgin Olive Oil
1 Tbsp water
A pinch of salt, or to taste
4 mandarinquats
1 head of Butter or Boston lettuce, rinsed and dried
1 large avocado
16 or 20 large, tail-on cooked and cleaned shrimp (remove tails if desired)
Black pepper, to taste
Directions: In a small (nonaluminum) saucepan, mix together the raisins, vinegar, oil, water and salt. Simmer for one minute. Cover and let stand until serving time.
Thinly slice the mandarinquats on the bias; remove any seeds. Set aside.
Half the avocado and remove the seed. Use a large spoon to remove the fruit from the peel then slice the halves, on a slant, into about 8 slices each.
Arrange the lettuce on 4 salads plates. Add on a layer of mandarinquats, then gently lay about 4 slices of the avocado atop the mandarinquats on each plate. Top each dish with 4 or 5 shrimp.
Heat the dressing, stirring. Drizzle over the salads. Season with a bit of black pepper. Serve at once.