In the Kitchen with Sigona's Featuring: Celery
Refreshing Salty Dog Cocktail with a Organic Celery-Cucumber Infusion
A traditional salty dog is simply grapefruit juice with vodka, on the rocks, but we've eased the tart bite of the grapefruit with a slightly sweet celery- and cucumber-infused simple syrup. It's a fantastically refreshing and light citrus cocktail that is perfect for brunch or warm afternoon.  Inspired by Cooking Light. Serves two.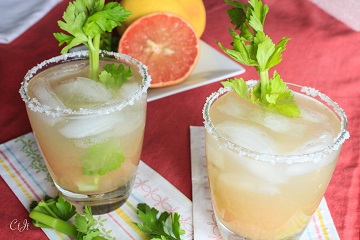 Ingredients:
3 stalks organic celery (with nice leafy tops)
Half a cucumber, peeled, halved, seeded and thinly sliced
3/4 cup water
3 Tbsp. sugar
Kosher salt, for rimming the glasses
Ice cubes
At least 1 1/4 cup freshly squeezed pink grapefruit juice
1/2 cup vodka, more or less as preferred
Directions: Thinly slice one stalk of celery into half moons, setting the remaining two stalks aside (preferably the two with more attractive tops), to be used as garnish).
In a small saucepan, stir together the sliced celery, cucumber, water and sugar. Bring to a boil over medium-high heat then reduce heat and simmer for 15 minutes, stirring occasionally. Strain the infusion using a fine mesh sieve, discarding the solids. Place the infusion in the fridge to chill until cooled completely.
Meanwhile, wet the rim of two short cocktail glasses, Old Fashioned work well, by either dipping them in the grapefruit juice or rubbing the edge with a segment of grapefruit. Sprinkle some kosher salt on a plate then evenly dip the rim in the salt to coat.
To each glass, add equal amounts of the cooled infusion (about 3 tablespoons each), ice cubes, about 1/4 cup vodka and about 1/2 cup grapefruit juice. Add more ice or whichever ingredient you wish to fill the glass. Garnish with a trimmed stalk of celery and serve.
Honey & Cayenne Roasted Organic Celery with Blue Cheese and Almonds
This side would be the perfect complement to Buffalo-seasoned chicken; it'd be a sort of classy version of hot wings, accompanied by blue cheese and celery, from the local pub. Adapted from Fine Cooking. Serves 4 to 6.
2 Tbsp. butter, melted*
1 Tbsp. honey, such as Wild Mountain by Honey Hole Honey Co., available only at Sigona's
Salt and pepper, to taste
1 bunch organic celery (about 1 1/2 lbs.), leafy tops reserved; stalks trimmed, peeled, and cut into 2-inch pieces (about 5 cups), rinsed but not dried
3 oz. crumbled blue cheese, such as Stilton (about 3/4 cup)
1/2 cup chopped blanched almonds or hazelnuts
*If you'd like to more or less spice to the dish, adjust the ratio of butter and oil as desired.
Directions: Preheat oven to 450°F, ensuring a rack is in the center.
In a large bowl, combine melted butter, oil, honey, salt and pepper. Add the celery and toss to coat. Transfer to an 11-inch quiche dish or a 9×13-inch baking dish, spreading the celery out in an even layer. Roast until crisp-tender and starting to brown in spots, 25 to 30 minutes.
Meanwhile, roughly chop about 2 to 3 tablespoons of the celery leaves. Set aside.
Remove from the oven, sprinkle evenly with the cheese and almonds. Return to the oven to roast until the cheese melts and the almonds are lightly toasted, about 10 minutes.
Sprinkle the dish with the chopped celery leaves and drizzle with balsamic. Serve warm.
Crisp Organic Celery, Cucumber & White Bean Salad with Tomato, Baklouti Green Chili Oil and Avocado
This protein-packed salad is crisp, light and refreshing, yet it packs some heat as a result of the Baklouti Green Chili Oil. It's a nice side for a spicy meal, such as pork carnitas. Inspired by Sunset. Serves about 6.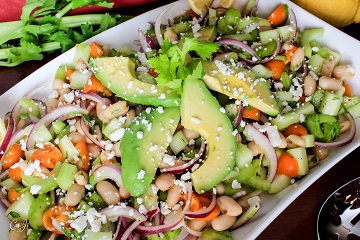 Ingredients:
1 (15 oz.) can white beans, such as Cannellini, drained and rinsed
1 cucumber, peeled, seeded and cut into 1/2-inch cubes
4 to 5 stalks celery, leaves removed and chopped; stalks trimmed and thinly sliced
Half a red onion, thinly sliced*
Half a pint of grape tomatoes, quartered
Salt and pepper, to taste
2 Tbsp. Sigona's Baklouti Green Chili Oil** (it's spicy!)
1 lemon, halved
Half an avocado, sliced
Optional: crumbled Cotija or Feta cheese, for sprinkling
*To take some of the heat out of an off-season red onion, place the sliced onion in a bowl of ice water and allow to soak for about 10 minutes. Drain and pat dry before adding to the salad.
**The Baklouti Green Chili Oil packs a punch, so if it's too spicy, use 1 tablespoon regular Sigona's Extra Virgin Olive and 1 tablespoon of the Baklouti (or any other ratio that will please your palate).
Directions: In a medium bowl, mix together the beans, cucumber, celery, about 3 tablespoons chopped celery leaves, red onion and tomatoes. Add the salt, pepper, oil and juice of half the lemon; stir gently until combined, taking care not to break up the beans.
Transfer the salad to a serving dish. Top with slices of the avocado, squeeze on the juice from the remaining half of the lemon and sprinkle on the cheese, if using. Serve.