In the Kitchen with Sigona's Featuring: Light Summer Recipes
Chopped Caprese Salad with Arugula
Caprese is common in summer, and while we love a traditional caprese with basil, we thought we'd mix it up a bit by using arugula, small tomatoes and pearl mozzarella to make a chopped version of the classic. Serves about 4 as a side.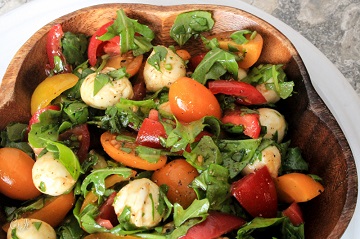 Ingredients:
1 1/2 cup roughly chopped arugula
About 2 cups halved grape tomatoes, such as a mixed medley for a variety of color
8 oz. Galbani fresh mozzarella, drained
Optional: 1/4 cup cooked, crumbled bacon
2 Tbsp. Sigona's Fresh Press Extra Virgin Olive Oil
Salt and pepper, to taste
Directions: In a large mixing bowl, toss together the chopped arugula, tomatoes, mozzarella and bacon, if using. Set aside.
In a small bowl, whisk together the olive oil, balsamic, salt and pepper. Drizzle nearly all of the oil mixture over the salad and toss to incorporate. Add the remaining vinaigrette if necessary. Serve immediately.
Tomato and Zucchini Skillet Breakfast with Pastured Eggs and Pearl Mozzarella
This flavorful, substantial breakfast dish is also waistline friendly! Don't be intimidated by poaching eggs — it's quite simple, really. You can always use fried eggs, if you wish. Adapted from Pioneer Woman. Serves 2 to 4.
2 Tbsp. Sigona's Fresh Press Extra Virgin Olive Oil (Mix it up! Try Sigona's Garlic Oil or Sigona's Basil Oil!)
1 medium zucchini, diced
1 onion, chopped
4 mini sweet peppers, sliced into rounds, seeds removed
3/4 to 1 cup sliced mushrooms
1 cup halved or quartered grape tomatoes, such as a mixed medley for a variety of color
4 pastured eggs, such as Marin Sun Farms or Alexandre Kids, available at Sigona's
2 Tbsp. white vinegar
1/2 cup Galbani fresh mozzarella
Directions: Fill a medium saucepan half full of water and place on the stove to bring it to a gentle boil while you prepare the other ingredients.
Heat oil in a medium skillet over medium-high heat. Add the onions, peppers and mushrooms and cook until 2 to 3 minutes, or until starting to soften. Add the zucchini, sprinkle with salt and pepper, and stir to cook for 3 to 4 minutes. Fold in the tomatoes then dot the top of the mixture with the mozzarella. Remove from heat, cover with a lid and set the skillet aside while you prepare the eggs.
Add the vinegar to the gently boiling water. Use a spoon to carefully stir the water into a circular "whirlpool." Crack one egg at a time into ramekin. Slide one egg gently into boiling water and allow it to swirl a little and cook for about 2 to minutes until the white begins to set; more or less if you desire a different degree of doneness. You want the white part cooked, but the yolk to remain runny. Gently remove the egg with a slotted spoon and set it on a plate. Repeat with the remaining eggs.
Gently place the poached eggs on top of the veggie mix or scoop the vegetable mixture into two individual serving bowls and then top with eggs. Season with salt and pepper. Serve.
Caprese skewers
Nothing is easier than this dish, which is good, because your guests will gobble them up and you'll have to make more!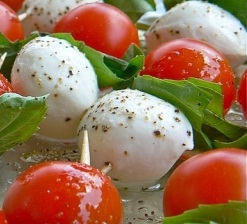 What you need:
Cherry tomatoes, we recommend Sweet 100s or mixed medley for a variety of color
Fresh basil leaves, washed and patted dry
Fresh mozzarella, we recommend Galabani Ciliegine
Sigona's Fresh Press extra virgin olive oil
Salt & pepper
What to do: Thread a sweet 100 cherry tomato onto a wooden skewer with a basil leaf and a piece of fresh mozzarella, drizzle with olive oil and aged balsamic. Sprinkle with salt and pepper.
Expecting a hungry crowd? Don't present skimpy skewers. Thread the skewers with 2-3 pieces of each ingredient.