Fresh Asparagus with Tarragon Butter
Springtime means local, fresh asparagus. While there are many ways to prepare asparagus, we find that sometimes simple is best. Tarragon adds a sweet, almost fennel-like flavor, which pairs nicely with the fresh, sweet asparagus. This delightful dish is ready in just minutes. Serves about 4.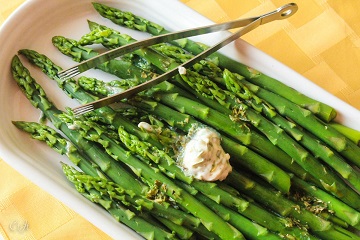 Ingredients:
1 bunch locally grown asparagus
Salt and pepper, to taste
2 to 3 Tbsp. butter, at room temperature
1 to 2 Tbsp. minced fresh tarragon
Directions: Snap off the woody ends of the asparagus and discard.
In a small bowl mix together the butter and tarragon. Set aside.
Bring salted water to a boil in a large skillet. Add the asparagus and cook for about 3 to 4 minutes or until just tender. Drain and transfer to a serving dish and season with salt and pepper.
Dollop the butter mixture over the top of the asparagus. Gently toss the asparagus with the butter just before serving.